Chicago PD Round Table: What's With All The Scare Tactics?
Paul Dailly at .
A new Halstead, another brutal case and an emotional Ruzek.
That pretty much sums up Chicago PD Season 2 Episode 18, in which Ruzek took center stage when someone he knew was killed.
Below, TV Fanatics Stacy Glanzman, Doug Wolfe, Mary Kate Venedam and Paul Dailly discuss the new addition to the Halstead family, the PD's scare tactics and Linstead...
What did you think of Will Halstead?
Stacy: I didn't really have much of a feel for him yet, but he's obviously hiding something and I assume we'll find out what it is next week.
Doug: I'm with Stacy. He's hard to read at the moment. I suspect he will be until he comes clean to say why he left New York.
Mary Kate: I liked him. I'm interested in seeing more of his relationship with Jay and even more so why he returned to Chicago and left a fancy doctor job.
Paul: I liked him.  It's obvious he's harboring some secrets that will need to be answered in Chicago Med.
How do you feel about the team constantly crossing the line when trying to get answers?
Stacy: It's a little ridiculous. I cringed when Ruzek started beating on the guy when he wouldn't say Sierra's real name. They get away with an awful lot.
Doug: No way is that realistic. The moment the guy's bodyguards contacted the FBI, it would have been game over for the Intelligence Unit. What they did, effectively, was kidnap the man. Still, it makes for good TV.
Mary Kate: It's very cringe-worthy in many cases. I certainly don't find it ethical, but for the drama of a fictional series it adds something. Sometimes it goes way over the top and they get away with it way too easily. But, hey, it's TV.
Paul: I agree with everyone. It's a bit much. Fair enough if it was a one time thing, but this is becoming a weekly occurrence.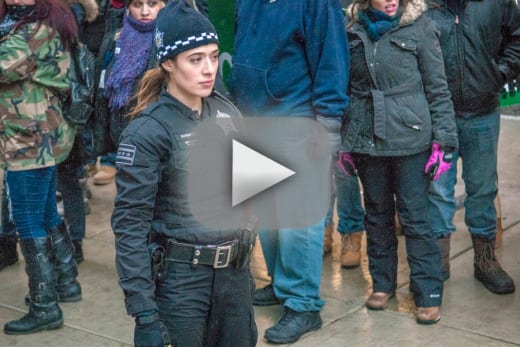 Ruzek's storyline this week. React.
Stacy: I liked seeing him take center stage and be passionate about the case. I also liked that he sought comfort in Burgess at the end. That was something they both needed.
Doug: It was an interesting story line. I didn't buy his passion over the dead girl though. We as an audience only just met her, so we never got to see any kind of history that evoke that kind of response from him.
Mary Kate: To steal Stacy's words, it was nice to see him take center stage because there haven't been a lot of episodes where he's been the lead. It was a side of Ruzek we haven't seen and I hope this means more episodes with him taking a lead.
Paul: It was an emotional gut punch. He took the death really bad and it set the stage for some tough scenes to watch.
What are your thoughts on the case of the week?
Stacy: It was interesting. I liked Ruzek going undercover. I also liked seeing Ruzek and Lindsay paired up this week instead of always seeing her with Halstead.
Doug: It got wrapped up a little too neatly. Ruzek roughs him up a little bit and then he completely caves? It didn't ring true.
Mary Kate: I was surprised it wasn't as twisty as it could've been. I was half expecting the suspect to lie to Ruzek's face and open more turns to the case.
Paul: It was good. I think the twists were traded in for the emotion we witnessed in the hour.
Does this whole Linstead storyline feel like a rehash of Dawsey from Chicago Fire?
Stacy: Not really, they were never as serious as Dawsey and neither of them are dating other people at the moment. Yeah, they both work together and that's the conflict, but at least neither one of them is the other one's boss. I feel like they could tell Voight the truth and be together if they wanted and it wouldn't be as big a deal as Dawson dating her Lieutenant.
Doug: I have a confession: I don't watch Chicago Fire so can't say.
Mary Kate: Out of stubbornness, I'll say no, just because I am a big fan of Linstead. I would say it's different because the only reason they are apart right now is because of Voight, his rules, and Lindsay's dedication to Voight. I'm still interested to see who will cave first, Voight and his rules or Lindsay and her dedication?
Paul: I really think it does. Maybe I'm just getting frustrated at both shows for keeping these couples apart. That's a strong possibility.
Remember you can watch Chicago PD online, right here on TV Fanatic. Get caught up now!
Note: Chicago PD Season 2 Episode 19 airs Wednesday 1 April at 10/9c on NBC.
Paul Dailly is the Associate Editor for TV Fanatic. Follow him on Twitter.