CSI: Cyber Season 1 Episode 1 Review: Kidnapping 2.0

Amanda Wolf at .
This Wednesday television welcomed the latest member of the CSI family with CSI: Cyber Season 1 Episode 1.
As CSI's fourth spin-off series in its 15-year run, CSI: Cyber is faced with the challenge of battling audience fatigue. However, in its favor the show has an all-star cast and a unique take on this long-running series.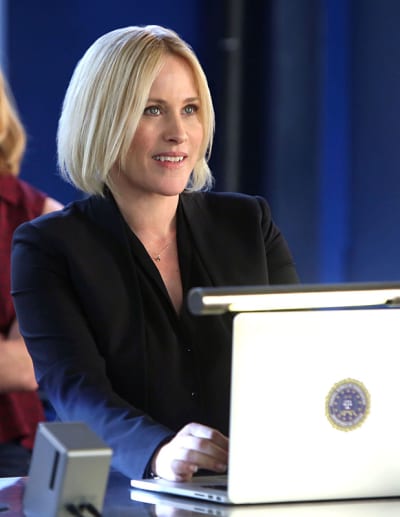 Avery Ryan, is a renowned Cyber Psychologist assigned to the FBI's Cyber Crime Division. She and the team are based out of Quantico and travel all around the country investigating cyber crimes, which means we are going to get to see a lot of different settings over the course of this series. Apparently, we will also see Washington, D.C., as Avery's choice of place to go and do her thinking. 
I like the idea of an FBI team that travels around the country to specifically investigate cyber crimes. It reminds me of the two person team of Mulder and Skully who traveled everywhere on the FBI's dime to investigate cases involving the paranormal. 
Also, on the team are TV veteran James Van Der Beek, Bow Wow and Peter MacNicol. Van Der Beek will portray Avery's second in command and essentially seems like the badass protègè, while Bow Wow is the hacker who got caught. 
The case this week involved the terrifying world of baby auctions and involved everything cyber. The idea of solving cyber crimes is certainly fresh and very relevant to today, except that I suspect the case this week involved more traditional crime solving than what is actually meant by cyber.
Numerous organizations like Sony and the US Government have been hacked in recent years, which makes our fears about safety and privacy in terms of technology very real. I thought the idea that the kidnappings were related to a company's security problems were on point and addressed our fears about what hacking and the exposure of our personal information and lives can lead to.
The fact that the company didn't say anything was legitimate, maybe they just didn't know what to do. Should they have shut down, made their privacy concerns public and potentially let hackers know they are vulnerable or work on the problem internally. 
The point is that CSI: Cyber has the potential to embody some very real concerns about technology. 
The scene with Nelson pulling Vicky's online presence, which basically meant researching her on social media to see who she hangs out with, should be unnerving to most people. Think about what you do when you view people's profiles on Facebook and how easy it is to find out who people's friends or significant other are.
Now imagine if you did this in a targeted information seeking manner and how much you could learn about someone. The more you post the more you give away. Now that this is being used in CSI as method to find evidence, you know it has become mainstream in our culture. 
Although, that platform Nelson was looking at reminded me of Facebook in the early 2000s.
Speaking of Nelson, I am not sure if I like his character yet. He was pretty bold in the beginning of the hour for being someone who is avoiding jail time because he got caught hacking. 
Daniel: You are my problem man. It is bad enough that Avery heads up the "It takes a hacker to catch a hacker program." I only support it because she is my boss and I love my job, doesn't mean I believe in it.
Brody: Okay, look I don't want to get in anymore trouble than I already am because of you.
Daniel:Then learn the job, ask questions, listen to intelligent answers.
Amen to what you said Grummitz!
The case moved along quickly and I can't say that I expected the reveal to involve an international baby auction. This is definitely a crime that needs to be reported to the authorities overseas. 
I liked the intensity of the hour, especially when Ricky and Vicky were shot in front of Avery and Mundo and when we weren't sure if Caleb was going to survive the car crash. The moments were intense and unexpected. 
However, there were a few things I want to nitpick: 
Avery mentioned that evolutionary survival instincts would instinctively take criminals to higher ground. I am not sure about this statement and also think that crime would make you more tactical about where you chose to hide, even when those criminals are trashy drug smugglers. 
Wouldn't it be wiser to have a burn phone that did not use GPS?
Wouldn't it be easier to steal an orphan baby? 
I don't think it would be impossible for the kidnappers to remember the 20-digit password, especially if this business really is worth millions of dollars. Something tells me that they could find it within themselves to remember. 
At the end of the hour I still felt like I had watched an original episode of CSI. You can't take the CSI out of CSI: Cyber after all. Overall, I enjoyed the pilot and think it could offer up some interesting cases involving cyber issues. With Patricia Arquette leading the cast, the CSI name and the unique angle, I think it could be a good addition to the plethora of shows that exist. 
Congratulations on the Oscar win Patricia and welcome to Wednesday night television! 
What did you think of this pilot? Do you like the theme of cyber? What do you think of the cast? Are you excited for this spin-off of CSI? 
If you haven't seen it yet you can watch CSI: Cyber online via TV Fanatic!