Adrienne told off Will but somehow Sami's son managed to sink even lower as he blackmailed someone's mom! Jordan finally left town, Daniel decided to go slow with Nicole and JJ actually asked Paige for a second chance.
Our TV Fanatic Christine Orlando is joined by Jack and Tony from MyHourglass a Days of Our Lives fan forum to discuss Lucas joining in on Will's blackmail scheme, Brady's love options, and their best guesses on Tori Narita's big secret.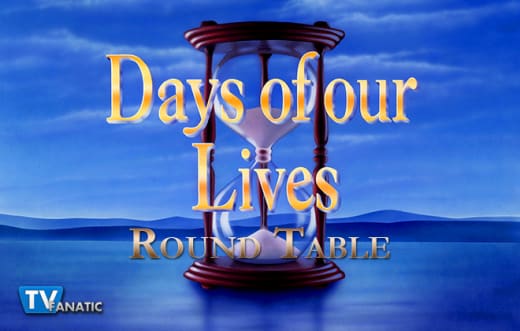 Were you surprised that Lucas was helping Will blackmail Paul's mother?
Jack:  Yes. Lucas has always been a schemer, but he also, in recent years, tried to steer Sami away from plans like this, and hates it when Kate pulls these sort of stunts. I thought he'd try to pull Sami Jr. off this path, not eagerly support it.
Tony:  No. I suppose I should be, but I'm not, really. When Lucas first came on, he was a pretty big schemer. He and Sami even teamed up on schemes from time to time. Although a lot has changed for him since then, it's not out of the ordinary for Lucas to try a little blackmail, or be a willing accomplice.
Christine:  Yes, I was. I know Lucas is used to Kate and Sami's schemes and I understand that he wants to save Will's marriage but is blackmailing Paul's mother really going to help? Is he so blind to his son's faults that making this poor woman's life miserable seems the better option?
Brady and Melanie or Brady and Theresa? Which pairing do you prefer?
Jack:  Melanie. Brady/Theresa were self-destructive together, and she lost him because he sobered up, so I don't see anything attractive about them as a couple. Melanie can be annoying, but she can also be strong, and I enjoyed her standing up to his "orders" this week.
Tony: Brady and Melanie. They're just a lot more cute together. I think their chemistry is better. I just wish the writers would give them a more adult relationship.
Christine:  Brady and Melanie. They've grown on me more than I thought they would and I really enjoyed Melanie making it clear to Brady that he didn't have the right to dictate what she does just because they're sleeping together. I like Theresa but she's got a long way to go before she's ready for a real relationship with anyone. 
Any guesses on Tori Narita's big secret?
Jack:  It's too early to tell; I think all the clues so far are red herrings. But I'm guessing a one-night stand with Paul's father is part of the story. 
Tony: My best guess would be that either John Black or one of Stefano's children, is Paul's father. I say Stefano's children because I doubt Tori would be directly connected to Stefano. However, it's not out of the question for her to have hooked up with either E.J. or Tony.
Christine:  I'm hoping that Paul will end up being John Black's child. That will give John more storyline and give Paul a real reason to stick around Salem and interact with several characters. 
Jordan's left town. Who should follow her first, Ben or Clyde?
Jack:  Hmm...tough choice, but I'm going with Ben. He literally adds nothing to the show. Clyde is irritating but Ben is a brick wall.
Tony: Ben. Honestly, Clyde is the most interesting member of the Weston family. I don't hope any of them stay around long term, but I hope Clyde stays longer than Ben.
Christine:  Ben. His only reason to be in Salem seems to be to have sex with Abigail and even that is boring. I may not like Clyde but at least he's occasionally interesting, although I'll be happy when he's gone as well. 
Do you want Paige to give JJ a second chance or move on?
Jack:  If this were real life, move on. But moving on means Eve, who really has been interfering since the get-go, wins, and that's not acceptable to me. Besides, the dramatic reveal will be much better if JJ and Paige are together.
Tony:  Move on. There is no way that they could ever get past the J.J./Eve affair. As much as I loved them as a couple, their time has passed.
Christine:  I find Paige incredibly boring so I wish she'd move on…right to Stanford. However, I really am looking forward to her finding out about JJ and Eve so having her give JJ a second chance will make that even more dramatic. Then once it comes out, she can leave town. 
Was there anything that disappointed you this week in Salem?
Jack:  A certain blonde reporter who has lost her backbone. If Nicole had to go getting jealous of Jennifer, couldn't she at least have pointed out that he reacted the exact same way to her investigation of Serena? Also why are these elephants still on my screen?
Tony: Will. I've been disappointed in him for a while. I don't like what has been done to his character ever since Paul came into town.
Christine:  That Will has become such a snake. I wish Sonny were around to see what the love of his life has become. And Jack, you're not kidding about those stupid elephants. Who came up with that ridiculous story and when will it be over?
What was your favorite scene from this week's Days of Our Lives"?
Jack:  I am enjoying the heart to hearts JJ is having with Jen. Something good from this storyline FINALLY. Also any scene where JJ plays his guitar is awesome in my opinion.
Tony:  Adrienne confronting Will! I think that that was one of the better scenes this week! I loved it! Although I don't believe in using violence, Will deserved that slap.
Christine:  Adrienne telling off Will. She said everything that I'd been thinking. Also, the sweet thing between Aidan and Hope. I really wish we could see more of them. 
C. Orlando is a TV Fanatic Staff Writer. Follow her on Twitter.