Forever Season 1 Episode 17 Review: Social Engineering
Paul Dailly at . Updated at .
Watch out, the traffic lights might be trying to kill you.
On Forever Season 1 Episode 17, a hacker killed a man named Eric by hacking into his radiator and gassing him – or did he?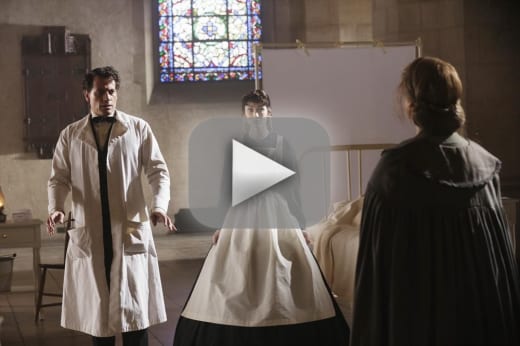 I must comment that it was one of the best ideas for a case yet. It had me on the edge of my seat the whole hour and I had no idea the killer was Irene. Before the killer reveal, I was thinking to myself that it'd be nice to see more of the cyber crimes unit, but not anymore.
I should have known it was one of them. It was just staring me in the face, but because they were in the law enforcement, I overlooked them. The best cases are when the killer is a shock and boy this one was the biggest one yet.
I immediately thought Liz was going to run off when Henry and Jo showed up at her work. It turned out she was actually one of the good guys, even if she did threaten to reveal that Henry only appeared in databases six years ago. She came through in the end after Henry helped save her life.
One click and your partner knows your entire life is a lie.

Liz
I never questioned once if he would follow Irene's wishes and let her die. This was out of the question. Even if it meant him having to come clean, he would never let an innocent person die. It all built up really well to a point were Joe nearly found out that he just appeared out of nowhere six years back.
I gasped as she told him he's been keeping things from her, but I quickly let out a sigh of relief when she made a comment about Oxford and the subsequent video chat with Liz confirmed that she did him a favor. Heck, she owed it to him.
You've been keeping secrets from me, Henry.

Jo
We also got to see more of Henry's wife who got him committed to the asylum back in the 1800s. This time round, Nora had aged. She was old and wanted to prove to the world that Henry was immortal. It must have pained Henry seeing her again after the way they ended it. Could she have been Henry's first love he saw as an old woman?
It was good that she was the one who appeared crazy for a change and Henry was firmly out of the spotlight. We all knew she was going to shoot Henry's current girlfriend by mistake, didn't we?
I hope we get to see more of Nora, but I much prefer the Abigail years to these in the 1800s.
It was funny that Lucas had developed feelings for Irene so quickly. He still managed to be funny even though he was nervous as hell when he was talking with her.
"Social Engineering" was another fantastic episode of this ABC series. It showed us how technology is taking over all of our lives and how it is affecting the way in which killers work.
Other tidbits from the episode:
Did anyone else think Liz looked like Rebecca from How To Get Away With Murder?
Could any of Henry's former loves turn out to be immortal? Now that would be a major twist.
The scene with Jo chasing Liz was well shot and edited. It was like something from an action movie.
Remember you can watch Forever online right here on TV Fanatic! Get caught up now.
What did you think of the episode? Did you guess the killer? What era of Henry's life would you like to see more of? Chat with me in the comments.
Note: Forever Season 1 Episode 18 airs March 24th at 10/9C on ABC.
Paul Dailly is the Associate Editor for TV Fanatic. Follow him on Twitter.