Grey's Anatomy Season 11 Episode 14 Review: The Distance

Stacy Glanzman at . Updated at .
Well... that was certainly a nail biter! 
If I hadn't been busy taking notes, I'd probably be in need of a manicure right about now. Grey's Anatomy Season 11 Episode 14 did not fail to keep me on the edge of my seat. 
First off, I loved the superhero theme. I can't even fathom how real-life surgeons can operate for hours on end under immense pressure to keep another human being alive. I have the utmost respect for all of the people out there saving lives every day. 
It was awesome watching Amelia and Stephanie do the superman pose in the scrub room, especially when both of them uttered the official Grey's catchphrase, "Seriously." It might look silly, but hey, whatever works, right? 
I loved the parallels drawn between the two surgeries showing Arizona's confidence and Amelia's self-doubt. While Amelia was near a breakdown and ready to call in reinforcements, Arizona stood her ground. Standing up to Bailey is not an easy feat. Even when Alex came in and took Bailey's side, Arizona didn't back down. 
Luckily, Richard was there to calm Amelia down and help her regain her confidence. If she'd called in Derek to take over, she never would have lived it down. I'm not sure she would ever be able to regain her confidence again after that. 
She more than made up for it though when she took her gloves off and exposed herself to the radiation. Even though I knew she'd be fine, the scene was incredibly intense. I wonder if they had Stephanie pass out just so they had an excuse to get Meredith in there. 
I was expecting a cliffhanger ending when Dr. Herman didn't wake up right away. Thank you Grey's writers for not doing that to us! It's sad that Herman is blind now, but it does kind of make it all feel a little more realistic, doesn't it? 
I wondered for awhile how this all was going to end. If Dr. Herman died, what would that do to Amelia? At first I believed she was too confident and that had me worried, but when she started showing doubt last week, I knew she had to save her. 
But, what about the Arizona project? Dr. Herman's been grooming her to take over in the event she died, so if she lived, where does that story go? Having Dr. Herman live but wake up blind was the perfect solution. Amelia succeeds and Arizona can take over for her mentor while still being able to learn from her. 
The point is, I'm going to get to figure it out. Something is going to happen next. The point is, I'm alive, and I wouldn't be if you hadn't been such a pain in my ass.

Dr. Herman
For now, Dr. Herman is in good spirits. It's going to be a hard adjustment, but at least she's happy to be alive. After losing her leg, Arizona could be the perfect person to help her through it. 
Some final thoughts:
That dye that made the brain glow was kind of trippy. It looked like an alien. 
I loved the intern that kept asking Meredith questions as a way to keep the viewers at home informed. Meredith snapping at him to read a book was hilarious.
Were those the only two surgeries going on that day? Everyone not in the OR was watching in the gallery. I have to assume they didn't all sit in there the entire time. 
Calzona had some really sweet moments. I'm glad they're at least friends again. 
Don't forget, you can watch Grey's Anatomy online any time.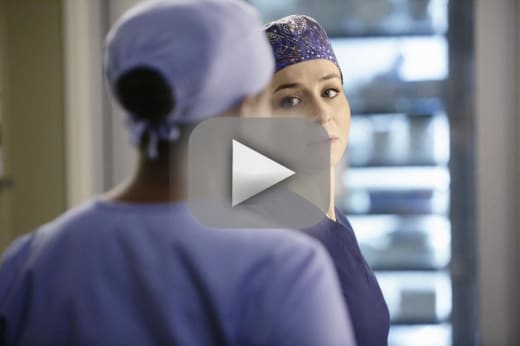 NOTE: Grey's Anatomy Season 11 Episode 15 will be titled "I Feel the Earth Move" and will air on Thursday, March 12. 
Stacy Glanzman was a staff writer for TV Fanatic. She retired in March, 2019.