Hart of Dixie Season 4 Episode 10 Review: Bluebell

Amanda Steinmetz at . Updated at .
There's no other town like Bluebell.
Wade and Zoe could have been speaking on behalf of the audience when they talked about how much they loved their town.
Bluebell deserved a heartfelt send off, and Hart of Dixie Season 4 Episode 10 certainly delivered one!
It's hard not to describe this episode as anything but a series finale. Unfortunately, we still don't have official word from the studio on that decision.
However, the episode was written in such a way that if the show doesn't return next year, I will be satisfied with its conclusion.
Wade and Zoe's love story developed perfectly over the course of the show.
Zoe walked into Bluebell with her high heels and New York attitude and became the doctor who won over the townspeople and opened her heart to love.
Wade started off as the town playboy who became the man he was meant to become once he found the right woman. He just had to win her over, lose her, then win her over again. 
Zoe and Wade getting married in the hospital as she was about to give birth was perfect. I never pictured them having a grand wedding anyway.
Their rushed, but sweet vows as she was rolled down the hallway were representative of their journey together. 
Zoe: Wade, you are the piece of me that's always been missing. Through your eyes I see myself in a whole new, better way. And with you I know true love.
Wade: Zoe Hart, you turned my damn world upside down. But you made me a better man, and I am so excited to be your husband and to be our little boy's daddy.
Having everyone surround them was adorable and silly. Tansy could not have made Zoe's hair any more ridiculous! 
Everyone gathered at the hospital also provided the other characters a chance to resolve their issues. Lemon was perfectly content before Lavon revealed he hadn't actually proposed to her.
I loved how, after everything they've been though, Lavon proposed to Lemon in the car on the side of the road. It was short, simple, and just right. 
Our life together is going to be perfect. I don't need the perfect proposal.

Lemon
I liked that we were allowed see their wedding during the ending montage. Lemon making Zoe a bridesmaid was the cherry on top. 
George and Annabeth may not have figured out what their future holds, but they admitted they loved each other. I wish we could see what happens to them down the road, because their chemistry took me by surprise this season. They've been a pleasure to watch.
This final episode provided some great moments that tugged at my heartstrings:
Brick making Zoe a partner was touching and made me say, "About time!"
Rose calling Zoe her role model was adorable. YAY for Columbia University!
Lemon and Wade showed once again why we needed more scenes showing their friendship when Wade asked permission to steal her thunder.
Zoe sitting at her father's grave was a nice moment for her to reflect on everything that's happened to her since moving to Bluebell.
I finally found love. I finally found a home.

Zoe
I'm always weary when new characters are added in a finale, but the addition of a new love triangle was a cute way to show how the series first started. It was also hard not to love The O.C. reunion between Rachel Bilson and Autumn Reeser. 
Even with everything wrapping up neatly, Hart of Dixie still managed to surprise me with that ending. What was with the singing and dancing?!? I thought I had accidently watched the series finale of Glee in that moment.
Yes it was absurd, nonsensical and cheesy, but I don't care. It was a charming way to say goodbye to a town that's never been realistic. 
Bluebell is what we want all small towns to be like. 
Zoe: Do you think all small towns are like this one?
Wade: I'd like to think so, but something tells me probably not. I know I love ours.
Zoe: Me too.
So there you have it! It's been an absolute joy reviewing this season of Hart of Dixie. If this is indeed the end, then I'm glad it went out like this. 
So over to you guys! What did you think of the finale? Were you satisfied if this is, indeed, the end? Do you wish we had learned the name of Wade's and Zoe's son? Which character(s) will you miss the most?
Sound off below, and don't forget you can relive all the small town fun because you can watch Hart of Dixie online anytime via TV Fanatic!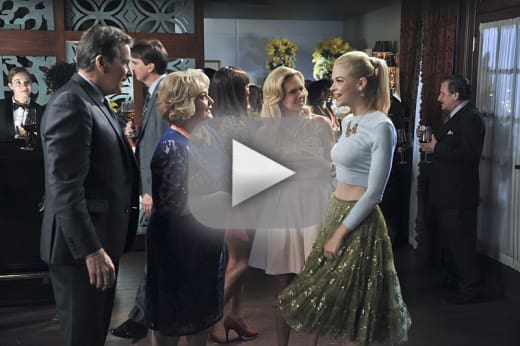 Amanda Steinmetz was a staff writer for TV Fanatic. She went into retirement in June of 2027. Follow her on Twitter.