After an awkward rejection, how did Jane and Rafael move past it? For starters, they didn't.
Sure, Jane made the right decision in holding off a proposal, however, on Jane the Virgin Season 1 Episode 16, Rafael did not exactly have the same feelings. 
Even with the awkwardness between the couple, there was plenty else going on around them.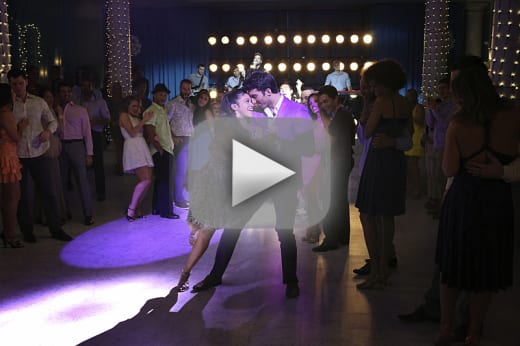 First, there was the home drama at the Villanueva household. It seemed too simple for Alba to just be OK with her only daughter moving out to live with Rogelio. Even if Alba does like him. 
The fight got big, but you gotta love Jane for trying her darndest to mend fences between mother and daughter, in addition to the number of other problems she was trying to fix. 
Alba probably had a point. Maybe Xo should've lived on her own first after living with her mother and daughter for her entire life. It was heartbreaking to see Alba come upon the empty room and get the ultimate cold shoulder from Xo. Here's hoping their fight doesn't last long.
Rogelio had his own adventure with Michael to learn more about being a cop. While Rogelio has had most scenes with the Villanueva women, it was nice to see him bond with the other male characters. Most entertaining was the bromance between Michael and Rogelio. It was like watching a buddy cop comedy as Rogelio and Michael bickered, bonded, and apprehended the bad guy. And who else wants more Michael impressions? I know I do.
Rogelio continued his hilarious comments when he had a heart-to-heart with Rafael. You have to love his insistence on making up for lost time with Jane. The poor guy just wanted to be involved with his daughter's maybe engagement. 
While Rafael was having issues with Jane, he actually bonded with ex-wife, Petra. Well, they bickered, but it was entertaining to see the two get along with each other in a way we have actually never seen them do before. However, I noticed Petra had a glint in her eye at the end of a day of babysitting and losing a dog. It seemed like Petra could be feeling more than friendship feelings for Rafael again. That could be an interesting turn.
Jane coped with Rafael's frustration in a different way; writer's block and a workshop. While there she met new people, made someone cry, and learned about writing from an author she admired, played by Jane Seymour. It sounds worse than it was, but it could get interesting when Jane realizes who one of her classmates was...Michael's ex-girlfriend. 
The narrator mentioned that someone would change her life in the workshop and Michael's ex-girlfriend is an interesting choice. What does she have to do with Jane? That's another reason the narrator's commentary is oh-so-important to the show.
Even while Jane and Rafael were not on the most comfortable on terms, they were somehow still able to share the corniest, yet sweetest, of scenes Jane's imagination. They shared a dance at the Marbella with everyone around her getting along and joining in. It would seem weird on other shows, but it fit in perfectly with what Jane the Virgin is, and I loved the scene for that; it didn't feel out of place at all. 
Eventually, Rafael came to the conclusion everyone else did, the proposal was too soon. After Jane's emotional – not to mention to the point – speech, I'm glad Rafael understood Jane's reasoning for saying no. 
This led to a revelation I was not expecting that came somewhat out of the blue. Rafael is beginning the search for his mother. With a warning from the narrator, it sounded like the search will be interesting and, for Rafael's sake, lead to something good down the road.
How do you think the search for Rafael's mother will go? Do you think Petra is starting to have feelings for Rafael again? What changes will Michael's ex-girlfriend bring to Jane's life?
With another break ahead of us, what do you think we can expect in Jane the Virgin Season 1 Episode 17? 
In the meantime, you can catch up when you watch Jane the Virgin online via TV Fanatic.
Mary Kate Venedam is a staff writer for TV Fanatic. Follow her on Twitter and on Google+.