NCIS Los Angeles Season 6 Episode 17 Review: Savoir Faire

Narsimha Chintaluri at . Updated at .
Even though Sam was just in the hospital, fighting relentlessly for his life, he's back and as powerful as ever – dodging bullets, pulling people out of cars, and showing Granger up at the gym.
And, regardless of their nationalities, Sam also managed to form some sort of bond with Kamal, a fellow soldier from Afghanistan. 
NCIS: Los Angeles Season 6 Episode 17 showed us that human intelligence can only get us so far...we're more mercurial than that (according to the sage words of Henrietta Lange).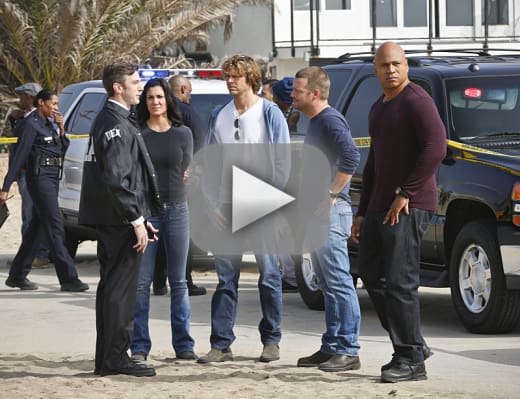 Nell wasn't able to accurately assess the mind-state of Kamal, and that definitely got to her a bit. On the other hand, Sam was in tune with the "die for his country" mentality of Kamal and his fellow soldiers from Afghan right from the jump. He turned out to be on the right side of the fence, but that's not to say that Nell didn't do her job well. 
Humans aren't always quantifiable like that.
Heck, even Callen, whose known Sam for ages, can't really figure out what they even have in common. Yet they're basically brothers, as Sam put it.
Sam: G, I love you like a brother, but we basically have nothing in common.
Callen: Sure we do!
To extrapolate, even Kensi and Deeks are perfect examples of the same enigma. At certain times, hey couldn't be more different. Maybe there's some truth to the old adage that "opposites attract."
Or maybe it's as simple as the fact that we are indeed mercurial beings – that we're unpredictable by nature. 
Hetty: Well, intelligence only takes us so far.
Nell: Why is that?
Hetty: We're human.
Either way, Sam's impalpable connection to Kamal ends up leading to the rescue of Ahmed as well – leaving poor Farhad as the only victim. 
You could tell that Sam really wanted Kamal to remain in the States, and truly experience what the country has to offer for a young man such as him. However, Kamal comes from a turbulent area to begin with, and his return to help his home country was inevitable (the terrorist attacks probably didn't help either).
Sam: Take care of yourself.
Kamal: Don't do anything stupid, got it.
Speaking about the terrorists, although they seemed to be effective at times, I was getting mixed signals from them. 
On one hand, they're attempting to infiltrate Afghanistan's military intelligence, but on the other, they have a driver as prone to intimidation, and as poorly trained, as the "fourth-year student from the two-year college" Sam and Callen managed to capture. 
Callen wasn't only able to intimidate this man, but he was able to obtain usual information as well. And he didn't even need help from Deeks, his "new partner."
Despite the convenience, at least it led to the hilarious scene with Deeks talking to "himself" as Beal, Nell, and Granger watched via webcam. 
The entire episode had multiple entertaining and lighthearted moments amidst the race-against-the-clock tension.
The group faced the challenge of trying to rescue Kamal and Ahmed before they were harmed, and they almost succeeded. And in the middle of all this, they found the time to make us laugh by switching partners for a mission, or arguing over the validity of doing "burpies" in the middle of the office to prove one's health. 
Sam: Burpies??
Granger: Burpies.

Side-note, when compared to how much of a mess the DEA was, I'm glad we're following a team as great as ours. 
When all your subordinates know that you're a drunk, it's probably about time to make a life change. 
Told ya I was screwed.

Agent Richards
Tonight's episode was another solid hour from a consistent season, and made up in action for what it lacked in depth.
Head over to NCIS: Los Angeles quotes for more highlights from tonight's hour, and make sure to watch NCIS: Los Angeles online if you feel as if you missed anything. 
NCIS: Los Angeles Season 6 Episode 18 seems to offer more of an insight into the office dynamics surrounding the relationship between Kensi and Deeks, as well as an intense main story arc featuring a deadly explosion and three dead FBI agents. 
As always, feel free to leave your own thoughts down below!