Snow White and Prince Charming are so worried about their unborn child turning dark that then ended up on the dark side themselves in Once Upon a Time Season 4 Episode 17.
When Snow and Charming are told that the only way to protect their unborn child from darkness is to send that darkness to another being, Snow decides to steal Maleficent's egg.
When the spell is performed the egg is sent to another realm, leaving Snow unable to keep her promise about giving it back. Before it disappears they see that there is a baby inside, not a dragon.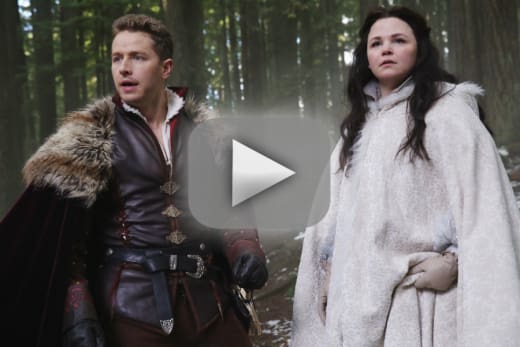 In Storybrooke, David and Mary Margaret are still scrambing to protect Emma by hiding the truth. They almost decide to burn the author's page in the book. Realizing the dark road they are on, the pull back and tell Emma the whole truth. She is horrified. 
Later, August reveals that there have been many author's but that this one was locked inside the book for a reason. 
Don't miss out on a minute of the magic. Watch Once Upon a Time online any time right here at TV fanatic. 
C. Orlando is a TV Fanatic Staff Writer. Follow her on Twitter.