Pretty Little Liars Round Table: Who is the Big A?
Paul Dailly at .
Who is the Big A?
That is the main question we are all clamoring to be answered after Pretty Little Liars Season 5 Episode 24 in which Alison was found guilty and the remaining liars were all arrested.
TV Fanatics Winston Rice and Paul Dailly are joined by Destinee from PLLNewsFeed and TV Fanatic Super Fan, Meaghan. They discuss Ali's verdict, shooting arrows and Andrew's involvement in all of this. Remember to post your observations in the comments.
Alison is found guilty and the liars are arrested. React.
Meaghan: What are they even being arrested for?! Are they being arrested for helping Ali lie about the kidnapping or for Mona's murder? Tanner really has it out for these girls, doesn't she?
Destinee: I cried for at least an hour. I feel bad for every one of those girls because they didn't do anything, but I have a feeling we are going to need to have more answers in order to get them out.
Winston: As A put it best, bulls eye, bitches! It will be interesting to find out exactly what they were arrested for. Did Tanner dig up something more on the girls?
Paul: This shocked me to the core. I expected Alison to walk free and Hanna to stay in jail, but for all of them to end up inside, it was just crazy. I'm excited for next week already!
Is Andrew A, Varjack, or a red herring?
Meaghan: Andrew has to be a red herring for my sanity. I swear to god if Andrew Campbell is A I will protest this show. I am sticking with my theory that he helped Mona fake her death. Other than that, he is just another creepy borderline stalker obsessed with one of the girls.
Destinee: I am starting to believe Andrew is A because he had cuts on his hands and also when Aria needed him to drive her up to the cabin, he was nowhere to be found and ironically the time he was no where to be found A had attacked Mike
Winston: I'm with Meaghan on this one. I will be very annoyed if Andrew is anything more than a jealous boyfriend. He hasn't been seen on the show enough (his first appearance was in Pretty Little Liars Season 3) to warrant being anything else.
Paul: I think that previously A has been someone who just randomly re appeared and they stayed away from the obvious. For that reason, I think he could be A, or at the very least, be involved with A. Could he be B? LOL
What did you think of the guys being attacked by arrows?
Meaghan: With that scene followed by Ali's archery award and then her revealing that it was actually her bunk mate who won the award for her, I think it was a hint. Is A Ali's bunk mate from camp? That narrows the suspects down to females and I would have to say probably just Jenna because of things she has said that makes it seem like she has known Ali longer than we think.
Destinee: When the guys were getting attacked by arrows, I thought I was in the Hunger Games for a second (lol) I was in shock that arrows were shooting at them and on top of it, that court they found Ali's archery plaque.
Winston: Is Katniss A? That's as good a prediction as any at this point.
Paul: It came out of nowhere, but it showed us that the guys are now in as much danger as the girls and it made them sort of realize that A has got to go down once and for all.
Is Lesley crazy?
Meaghan: Lesley is a nut job, but that isn't surprising to me. Lesley is most likely the infamous Bethany Young. Whether or not we will see that play out right now is more of the question.
Destinee: Lesley is completely crazy. She makes me so mad now that all of the sudden she appears with a letter saying Ali threatened to have worms eat Mona. What kind of madness was that?
Winston: Crazy doesn't even begin to cover it. Her flare for dramatic exaggeration pretty much proves that. But I think the letter Mona sent Lesley was all part of her master plan to put a final nail in Ali's jail coffin.
Paul: One hundred percent. I expected her to pop back up, but not in that capacity. She managed to make the whole jury think the liars were in on all of this.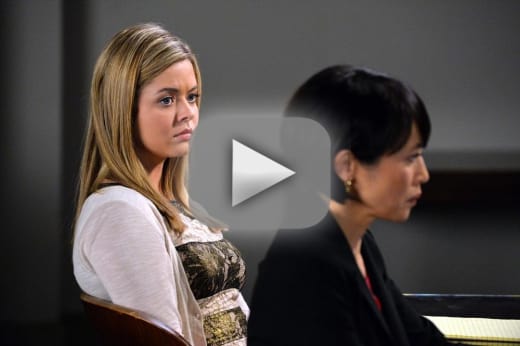 Make some predictions for next week's big finale.
Meaghan: I don't even know what to think anymore. I guess seeing as it is a PLL finale someone is going to die, we will have an A scene where the girls confront A who manages to get away without being unmasked, but hopefully, with all the hype, we will actually have the clue that puts it all in focus and we will finally really be able to figure out who A is.
Destinee:I think that some how A will have all the girls together, then trap them in a giant doll house forcing them to be A's little dolls
Winston: I think the audience will find out who A is, but the girls won't find out until next season. That will give the audience all season to yell at their screens every time our favorite PLLs are in a scene with whoever is revealed to be A.
Paul: There will be a viewers reveal as Winston stated, and going by the name of the episode, then Destinee's observation could be true. I think there will be some death, but who will the deceased be?
Remember you can watch Pretty Little Liars online, right here on TV Fanatic. Get caught up on the drama now!
Note: Pretty Little Liars Season 5 Episode 25 airs Tuesday March 24th at 8/7C on ABC Family.
Paul Dailly is the Associate Editor for TV Fanatic. Follow him on Twitter.