Jack's mom stormed into town to save the day, Louise told the truth and Margaux managed to make her tragedy even worse on Revenge Season 4 Episode 17. 
Below, TV Fanatic staff members Miranda Wicker, Ashley Bissette Sumerel, Paul Dailly and Christine Orlando are joined by Laura from Revenge Agenda to decide if Nolan should consider himself married, if Stevie should stick around and what the consequences will be of Margaux losing the baby after "Loss."
Were you surprised that Louise told Nolan the truth?
Laura: I am not surprised. I believe that Louise knows she can trust Nolan and she was, after all, protecting Nolan's secrets on his laptop safe. I think, if anything, this should earn her some brownie points for risking something to protect Nolan and it was after all an accident.
Miranda: She told him the truth, but not the whole truth. There was no mention of the jump drive she found Lyman using to steal information from Nolan. THAT surprised me. 
Ashley: I don't think I expected her to tell the truth since she didn't in the beginning, so maybe I was a little surprised. But, I'm glad she told him. To Miranda's point – I didn't catch that and now I'm really curious what's going to happen next!
Paul: Yes. Only a week too late. I get that she was frightened, but their relationship is so much more stronger and he would have believed her.
Christine: A little. And I, too, was wondering about that drive he was holding. Was it washed away? Do the police have it? That seems like the wild card that's going to come back and haunt Louise. 
Should Nolan consider himself really married?
Laura: One would think so, yes! With all of Nolan's money and Louise now claiming her trust why not just an annulment? I have been wondering why they are still acting married, especially since Louise seems charmed by the notion of the marriage, whereas Nolan not so much!
Miranda: I feel like they need to have a discussion, and fast, about just how real this marriage is. Nolan clearly married her solely to help her wrest control of her money while Louise seems in it for the relationship. Methinks he's going to cheat and she's going to lock someone else in a steam room. 
Ashley: I never saw their marriage as a real one, so no, I don't think he has to consider himself to be really married. Yes, they have a relationship that has developed, but it isn't a romantic one.
Paul: I think to an extent, yes. It is the most unconventional of marriages, but they love each other. Just not in a sexual way.
Christine: Until he and Louise have an honest conversation about what this marriage means to them, yes. He should treat it as real until the rules are made very clear to both of them. I see disaster looming otherwise.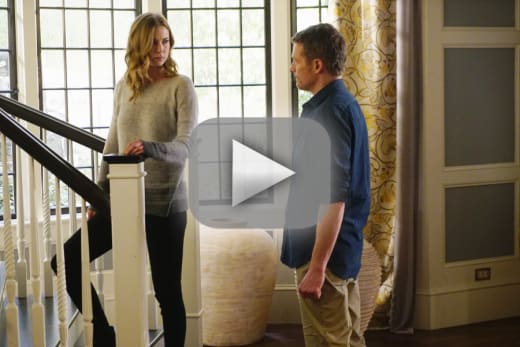 Do you think Margaux losing the baby was the right way for the story to go or a lost opportunity to carry on the Grayson line?
Laura: I am wondering if this is part of the last remnants of revenge no more Grayson's except Vicky and what's her name ...oh yes, Charlotte...of course, it's a reason for Vicky to go after Emily again, so it just renews Vicky's Revenge Agenda! :)
Miranda: I was actually pretty disappointed in this development. If the Graysons are sticking around, and if there's this idea of redemption lingering out there somewhere, then what better way to redeem the family than with new life? Margaux could have told Victoria that Emily pushed her without losing the baby. 
Ashley: I don't like that the baby was lost, but I do think it makes Margaux a more interesting character. If it weren't for the baby, and now the loss, I'd have no sympathy for her at all. But now, no matter how evil she becomes, you still have to think about what she's lost. 
Paul: As I said last week, the Graysons are over. The show needs to get with the times and leave the name in the dust and roll on with a new storyline if it wants any hope at another season.
Christine:  I'm already bored with crazy Margaux. At least the baby gave her a plausible link to one of the Hamptons main families. Daniel's dead. His baby is gone and Margaux continues her quest for revenge. Now I'm just depressed.
Should Jack's mom stick around the Hamptons?
Laura: I like Stevie. I wouldn't mind Daddy Clarke and Mommy Stevie hooking up and becoming a Hamptonite couple. Plus, I think Jack needs his mom!
Miranda: I totally see a hookup coming for Stevie and David, probably right about the time Jack and Emily finally get together, making for one awkward family dinner. 
Ashley: I like her, too, and I'd be happy to see a decent love interest for David. 
Paul: I really like her, so yes. Hopefully she can stick around. Jack needs help with Carl and it looks like her relationship with David could blossom into something more. 
Christine:  I really like Stevie and Jack could use his mom around. Plus, if David Clarke is going to stick around, he needs more of a story line and Stevie could help provide it. 
Was there anything in "Loss" that you found disappointing?
Laura: Disappointing? Well...I hate anyone losing a child but we saw this coming. I was surprised by Nolan's behavior being "married" and all charming the social worker. 
Miranda: Margaux being unwilling to let the revenge thing go and work with Emily to repair Daniel's name. Again, what's holding them back from going public with the truth now? 
Ashley: I think Margaux getting hit with the cab was a little too predictable. Whether or not you saw the previews, it was so obvious what was about to happen in that scene.  
Paul: I agree with Ashley. They should have taken it out of the previews and shot it a little differently so that we were in real shock. It was also annoying that Margaux told Victoria that Emily meant it.
Christine: Nolan hitting on the social worker. I really like him and Louise, but if they're only going to be friends, he needs to make that clear to her or else it feels like deceit. 
What was your favorite quote or scene from the episode?
Laura: I liked when Emily really did have the right intentions to end the Revenge cycle with Margaux and how it tore her up knowing what it cost...Daniel's child along with the others that went down before him. Going to David and bearing her guilt as well as hurt for trying was touching. 
Miranda: That was my favorite, too, Laura, even if Stevie's comments that one day Emily would need her dad were flashing lights that the moment was coming. Emotional Emily is my favorite Emily because we see that side of her so sparingly. 
Ashley: I agree. To me, the driving force of the show is the relationship between Emily and David, and for him to be able to comfort her was a really nice scene to watch. 
Paul: My favorite scene was Emily showing up at the hospital. Victoria's reaction to her presence was priceless.
Christine: For me it was Louise coming clean with Nolan, "You are the only person in my life who doesn't keep secrets from me and I owe you the same." These two make a great team. I hope they find a way to keep that going. 
Don't forget to check back after Sunday's new installment to check out our review of Revenge Season 4 Episode 18, and if you can't wait until then you can watch Revenge online now right here at TV Fanatic. 
C. Orlando is a TV Fanatic Staff Writer. Follow her on Twitter.