Margaux moved forward with her own plan for revenge and nearly took Jack down in the crossfire.
Elsewhere, Nolan and Louis continued to bond, while Natalie Waters revealed her real connection to Victoria on Revenge Season 4 Episode 15.
Below, TV Fanatics Miranda Wicker, Paul Dailly and Christine Orlando are joined by Laura from Revenge Agenda debate whether Emily has gotten too cocky, if Natalie Waters should stick around the Hamptons for a while and why Emily dumped Jack before they could even get started in "Bait"."
Jack finally found the guts to tell Emily how he feels and she turned him away. Why?
Miranda: Emily is scared. Plain and simple. She's scared of how to integrate her old life with her new one, and she believes she's made the decision to leave Amanda in the past. Doing so means leaving her love of Jack in the past too, but I don't think she'll be able to stick to her resolve on this one. All roads lead to Jack. 
Paul: I agree with Miranda. Emily really doesn't know how to live a life without a hint of revenge. We saw is much in the season premiere. I don't think we will ever see Emily in a normal relationship.
Laura: Hmmm...maybe I am not being kind But...I feel like Jack had his chance when he kissed her and dissed her in the Stowaway! I don't like Emily with Ben either but I am a little perplexed about this childhood fantasy romance. I saw it happening in S1 and s2 but now it seems so much has happened. Maybe a case of too little too late but that's just my opinion.
Christine:  I don't think Emily feels like she deserves Jack after everything she's done and I also think she believes she's protecting him. Both of the men she's loved, Aiden and Daniel (and I do think on some level she loved Daniel) have both ended up dead due to their association with her. I'm not sure if she'd survive if something happened to Jack.  
What do you think of Nolan and Louise's marriage?
Miranda: I'm actually okay with the idea of Nolan and Louise's marriage being one built on mutual affection and admiration for one another and not romantic entanglement. TV and movies don't often show the friendship side of a marriage. I'm feeling really odd about what I see is a romantic entanglement in their future. 
Paul: These two make a fantastic double act, so I'm also okay with this. The two of them really are best friends and they are both benefiting from this marriage in the long run.
Laura: I too agree that I am OK with Lolan:) I was worried it would interfere with Nemily but I think it added to it!
Christine:  I'm really loving them. As Nolan pointed out, they are actually more alike than you'd originally think and I love how their friendship is blooming. I look forward to seeing their affection for one another grow.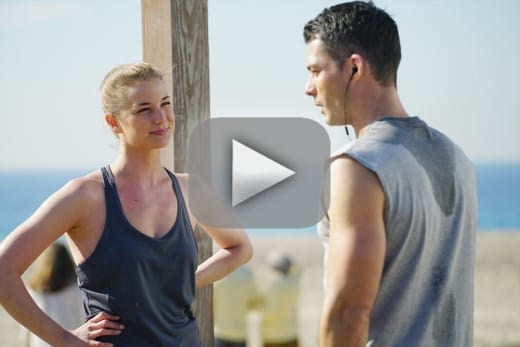 Has Emily gotten too cocky?
Miranda: Oh yes. YES. It's fun to watch but at the same time, pride comes before a fall, you know? 
Paul: She sure has, but I love it. The way she owned Margaux in her office was one of my favorite scenes this season.
Laura: I totally agree with Paul and Miranda Yes she has gotten a tad cocky! But I guess after 4 years of Revenging maybe she has earned that right but it's not really flattering on her!
Christine:  Yes, and as much fun as it is to watch at time, you just know it's going to come back and bite her at some point. 
Are you surprised that Margaux was willing to take down Jack in order to get to Emily?
Miranda: I was, yes. I didn't think she would have it in her to do that. After he played her? Sure, but before that, it was surprising that she was throwing him under the bus along with Emily. 
Paul: Not really. He was in cahoots with the woman who took her baby daddy away. She was out for blood. She won't give up anytime soon.
Laura: Honestly I don't know what it is but Margeux drives me nuts! She is so blinded by this "get Emily" idea she has lost sight of what she is doing and could hurt the only friend she has in Jack! 
Christine: Yes, I really thought she cared more for Jack than that or at least little Carl who will end up an orphan if his daddy is sent to prison. Margaux is pregnant but she's not thinking like a mom just yet or that just might bother her. 
How long would you like to see Natalie Waters stick around the Hamptons?
Miranda: For as long as it makes Victoria squirm. It looks like Victoria's gaining the upper hand in this fight and I have to say, I don't like it. That Queen V always ends up on top again is pretty tiring. Honestly, I think it's time for the character to go. She's the last remaining Grayson and we don't much need her anymore. 
Paul: As long as it doesn't mean less Gina Torres on Suits, then I'm okay with her sticking around for a while. As Miranda said though, Victoria's story is over. She should find another town to reign supreme over off screen.
Laura: Not sure? I think she adds to the show so I have no problem with her making herself cozy in the Hamptons if it brings Vicky some much needed discomfort I am all for it:)
Christine:  I love Gina Torres so as Paul mentioned, as long as it doesn't take away from her role on Suits, I'm all in.
Was there anything about "Bait" that you found disappointing?
Miranda: Natalie being Victoria's mother-in-law and Victoria's plan to ruin her. It's so been there, done that. 
Paul: Louise's brother returning. I hope he gets killed off. He annoys the life out of me.
Laura: I agree with Paul why is Lyman still sticking around? Not sure I am head over heels about his character! 
Christine:  As mentioned above, now that Charlotte, Conrad, and Daniel are gone, and she's broken up with David, Victoria is kind of aimlessly floating along. I love Madeleine Stowe and I really hope the writers have a plan that brings this character back to her former glory. 
What was your favorite scene from this episode?
Miranda: I loved Jack giving Margaux advice on being a single parent. Even if it's borderline ridiculous that he's all "well, you won't have time for anything again" when he's constantly seen sans Carl, it was a pretty light moment. Runner up goes to Ben and Emily's scenes. 
Paul: Emily in Margaux's office. So many bitchy comments! The snide comments on this show can't be replicated in any other show. It was vintage Revenge.
Laura: I enjoyed all things Nemily and adding Lolan to the mix made it even better! After all Nemily are super heroes...who doesn't love a super hero and friends:)
Christine:  Victoria finding out that her inheritance from her father-in-law were Ralph and Alice, to incontinent Corgis with Burberry beds. That was priceless.
Remember you can always watch Revenge online any time right here at TV Fanatic. 
And remember to come back next week when we do all this again for Revenge Season 4 Episode 16, "Retaliation."
C. Orlando is a TV Fanatic Staff Writer. Follow her on Twitter.