Revenge Season 4 Episode 16 Review: There Will Be Blood
Miranda Wicker at . Updated at .
What's that saying about a woman scorned again?
Most of Revenge Season 4 Episode 16 was spent waiting for the good stuff to get here. And then the good stuff got here and basically my mind is blown by how EVIL Margaux LeMarchal has become.
This woman is out for blood, and it's actually shocking she hasn't gone to that length yet.
After Emily Thorne's cocky office visit to Margaux, the leader of the LeMarchal empire is even more serious about her resolve to take down the woman she deems responsible for Daniel's death. Even if that's not how it happened, but hey, since NO ONE WILL JUST TELL THE TRUTH to make her stop, this is what we're getting.
Margaux LeMarchal is now dead to me, you guys. Completely, totally dead to me.
It makes sense that when coming after Emily herself isn't enough, she'd go after those Emily loves and/or loves sleeping with. From a revenge standpoint, that makes sense. Find out what makes Emily Thorne tick and then grind her gears until she breaks.
Margaux started with Ben because she wants to know why all of these people will lie to protect Emily and that backfired. Emily and Ben teamed up to protect his ex-wife, which isn't awkward at all, right? As it turned out, April blamed Ben for the predicament she was in, what with having to run away and start her life all over as "Kim" and the girl Ephram Brown once knocked up on Everwood told Amy Abbott Emily that she and Ben were perfect for one another. 
They do make a great team, as evidenced by their little sting operation on Wes Perkins, the bad guy Margaux sent after April, middle finger in the air to whatever consequences may have come April's way.
Seriously, Margaux. The woman could've been killed! Or worse! 
But that wasn't the worst thing Margaux did all night. 
When Victoria lost her court case against Natalie – and her millions – she fired Lyman for being too soft. Victoria eventually found her way back to her money when she recorded Natalie telling David, whom she was setting up for battery, that she was one of Conrad's mistresses, and she only married Teddy to get the Grayson fortune, but first she had to starve a dying man so he'd sign the changes to his will. 
Not sure who's worse, Natalie or Mama Ellis.
Without Victoria, Lyman had to find a new cash cow to bankroll his political hopes and dreams so he knocked on his sweet sister's door and claimed family bonds and love and connection and Louise ate it up, welcomed Lyman into her home, and didn't tell Nolan until after giving Lyman permission to stay there.
Nolan, as you can imagine, wasn't happy about this development. Louise wasn't happy that Nolan kept forgetting to wear his wedding ring, so evens?
(No, not evens. What is up with this fake marriage? Is it fake? Is it real? Nolan wants to be married to Louise, is attracted to her because she's beautiful but doesn't want to make this an actual, real marriage and wants to be attractive to other people, hence the reason he leaves his ring all over the house. I'm so confused.)
Lyman won't be a problem anymore, and once again Margaux's plan was thwarted. 
Lyman Ellis is dead. Louise sort of killed him when she found him stealing information from Nolan's hidden computer, which wasn't in a safe but was just behind a dresser. It apparently wasn't encrypted despite the fact that Nolan is a computer genius hacker. 
Oh. Okay.
Louise sort of pushed Lyman off a cliff after arguing with him about how her friends have been better to her than he's ever thought about being, but it was probably all too similar to the memories her mother tried to plant in her head about how Louise killed her father. The poor girl is a wreck. A smart wreck, but a wreck. And it's Margaux's fault.
And that wasn't even the worst thing Margaux did all night.
That honor goes to her plan to have Jack arrested for drunk driving causing father and son to be separated in a semi-horrifying manner on the side of the street. The rage was strong in me during that scene.
Sure, Jack's not exactly the most present father, and he likely owes his nanny a mountain of overtime he can't begin to pay her because he's almost never with his kid. But that doesn't mean he doesn't love the toddler Fauxmanda birthed!
My guts were in knots as I watched that go down, and the timeliness of Ben asking Emily who her weak spot was just as they rolled past Jack being arrested was perfection. Yes, Jack is her weak spot, but she doesn't realize it yet. 
(Please don't make us watch that kid-wedding on the beach again...)
Margaux ain't seen NOTHING yet. Emily's whole crew is coming for her after messing with Jack. Or maybe they'll all just sit down and have a conversation like grown ups.
Where's the fun in that?
What did you think of Retaliation? Were you shocked by the lengths Margaux went to get to Emily? How do you feel about Louise and Nolan's marriage?
Revenge Season 4 Episode 17 airs Sunday night at 10, or you can watch Revenge online right here at TV Fanatic.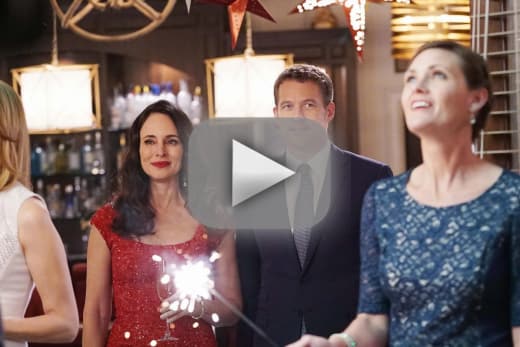 Miranda Wicker is a Staff Writer for TV Fanatic. Follow her on Twitter.