Rizzoli & Isles Season 5 Episode 16 Review: In Plain View

Christine Orlando at . Updated at .
Who steals your identity but sends you the items?
That was my first question in Rizzoli & Isles Season 5 Episode 16 but it was quickly answered when we found out that the boutique had made a mistake in sending Maura those shoes. What surprised me most of all was Maura's reaction.
Was Maura Isles really that dissatisfied with her life that she romanticized a woman who was stealing from her? Was all it took to make her doubt herself a creative spa appointment? And wasn't she smart enough to realize that the longer this woman was allowed to roam free, the more things she will charge on her credit cards?
Not that Maura will have to pay the bills, but someone eventually pays if those items aren't returned.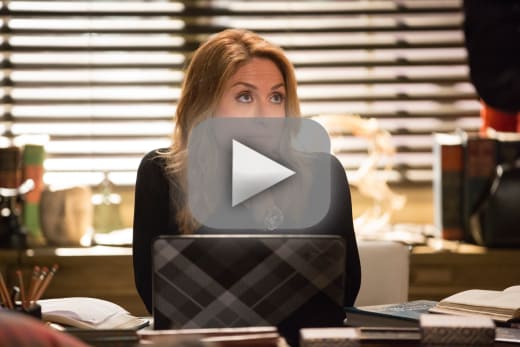 The normally very smart Dr. Isles came across as someone who was short sighted with low self esteem. Thankfully, she brought Angela along with her on her sting operation. If it weren't for Angela taking that photo as the imposter fled, the con woman would have simply moved on to her next mark.
The murder of the week shook me up. Poor Todd. The guy was just coming home from work. It was an attack that could have happened to anyone. Was there a message here to those who bully? That your victim may come back to haunt you years later? Then again, hopefully not many ten-year-olds were up watching this episode. 
I found it interesting that a person's ability to recognize a voice diminishes with time; as much as 70% over two weeks. That was certainly incentive to report more quickly. 
The moment the sprinklers went off due to the fire alarm, I knew that Detective Guthrie had to be the killer. It suddenly made sense that he would turn over all of his evidence only to be sure to have it destroyed. 
I have to admit that my favorite Rizzoli & Isles quote came from Guthrie's sleazy step-dad as he continued to taunt his grown step-son…
You're a cop in Maine. Who's going to hurt you there, huh? A big moose?

Dana Slowey
Jane's interaction with Logan was all a high point although it made me wonder what Jane would have been like as a mom if she hadn't lost her unborn child last year. And I really thought she was going to give the kid Barry Frost's action figure, but perhaps that's not hers to give away.
Doesn't Frankie own that now? Either way, it was nice to be reminded that one of their team will always be missed.
Don't forget to check back next week for our review of Rizzoli & Isles Season 5 Episode 17 and you can always watch Rizzoli & Isles online any time right here at TV Fanatic. 
C. Orlando is a TV Fanatic Staff Writer. Follow her on Twitter.