The two-hour season finale of Rizzoli & Isles was basically two very separate episodes so we'll take them one at a time. 
My favorite was Rizzoli & Isles Season 5 Episode 17, where a man who believed he was a werewolf took a "Bite Out of Crime."
As Maura eventually deduced, their was nothing supernatural about Michael (aka McGruff's) behavior. The homeless man living in the park wasn't a werewolf or mentally ill. He actually had a brain tumor and he still turned out to be a hero, despite the delusions and hallucinations it caused. As Angela later pointed out, if it weren't for Michael biting that sniper, two more people would probably have been killed.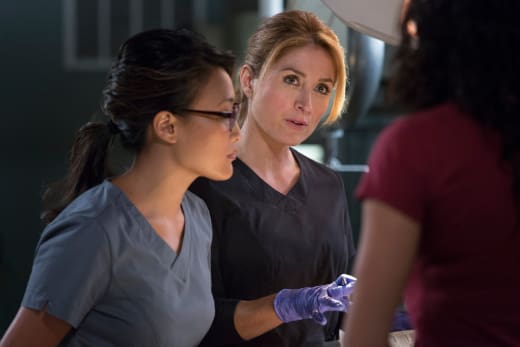 I was impressed with Maura when she spotted the sniper in the hospital and immediately grabbed the scalpel and tracked him down. I bet Wesley wasn't expecting the beautiful doctor to stab him in the leg. 
But the part that disappointed me was Maura and Jack. Once again, I was proud of Maura. Despite how much she cared for Jack, she could clearly see that a 12-year-old girl needs her father around full-time. What bothered me more was that Jack couldn't see that and didn't make that decision on his own. 
Maura made the selfless, responsible, grown up decision for both of them and Jane was quite right when she later toasted in this Rizzoli & Isles quote…
Here's to being an adult. It sucks.

Jane
Some days it does. 
From there we moved on to Rizzoli & Isles Season 5 Episode 18 which was all about figuring things out on your own or maybe with a little help from your friends. 
The murder of the week was comical…well, not for the victim but it led to a lot of jokes and debate about superheroes. When Ron turned out not to be a gambler, I guessed that he probably had a second family stashed somewhere. Thankfully tracking it down led to Maura and Jane rocking out to a '70s mix tape in the car. What else do you need for a road trip?
The killer turned out to be killers and if Linda had just kept her mouth shut the two wives might have gotten away with it. 
Elsewhere, it was good to see Tasha again and even better when her college dilemma led to the Barry Frost scholarship fund. I've appreciated that they haven't forgotten Frost and that they've frequently remembered his passing this season. Although, Jane chasing after his ghost was a little odd, sometimes those things happen when you're mourning a friend. 
With all of the introspection, I was surprised that the loss of Jane's pregnancy was never discussed. Maura seemed to allude to it but the fact that it was never mentioned made me feel as though the show was trying to sweep the entire storyline under the proverbial rug. 
As the season ended we were left to wonder if Korsak will decide to make the jump to Lieutenant  and start a romantic relationship with the as of yet unseen Kiki. Will Maura ever have a love life that lasts for more than a few episodes and will everything really turn out okay for Jane? Check back in this June when Rizzoli & Isles Season 6 returns. 
If you're already missing the show, you can watch Rizzoli & Isles online right now here at TV Fanatic. 
C. Orlando is a TV Fanatic Staff Writer. Follow her on Twitter.