Shonda Rhimes ripped Scandal Season 4 Episode 14 straight from the headlines, and if anyone is qualified to do so, it's her.
"The Lawn Chair" was a story which ran parallel to the events of Ferguson, MO and which saw Olivia Pope determined to find the truth, even if the truth wasn't what her client wanted to hear.
First of all, there was a glaring visual cue in tonight's episode. Olivia Pope was dressed head to toe in black instead of her signature white. Perhaps this portends a darker side of Olivia to come or maybe she's just in mourning for all she lost during her kidnapping and the auction. Either way, she's a little broken now.
What we witnessed tonight was a very fragile Olivia Pope walking into what could have been a deadly situation, consistently putting herself between Clarence Parker and the police, probably knowing that she could be shot at any moment but hoping that wouldn't be the case. 
Was it smart? Not at all. But in terms of our character it illustrated where she's at right now after her kidnapping.
Olivia's suffering from PTSD. She's making rash decisions. She's neither thinking nor feeling. She's just doing. If she stops doing she has to think about what she experienced. That's why she can't sleep. 
When she walked away from Mr. Parker--which, by the way, major, MAJOR props to Courtney B. Vance on an amazing guest spot--when she walked away from him, her hand trembling so hard she had to grab her coat to stop it, we saw a woman on the edge, barely holding it together.
All of this is making her a little dangerous, and somewhere inside she knows it. Jake understands this place she's in and knows she needs a friend. The question is to whom she'll turn when she needs someone. Or maybe she turned to David when she confessed to him that she thought she would die in that cell. 
Opening up about her experience caused David to help her with the case, which in turn helped Mr. Parker exonerate his son and begin the process of grieving, but not after Olivia, David, and the police force witnessed a brutal tirade about "those people" spew from the mouth of the shooting officer. 
That scene was so well-written and directed, even if it was incredibly hard to watch due to the nature of what he was saying. I pretty much wanted to kick him in the throat the whole time he was talking and I commend Olivia for not reaching out and slapping him in the face. The stunned silence when he was finished was incredibly poignant.
Millions watched news reports of Ferguson last year. For many, the emotions surrounding that moment are still raw, particularly with the recent release of the Justice Department's findings, which made "The Lawn Chair" a risky endeavor. Tonight's episode of Scandal would've been powerful without the real-life counterpart, but current events certainly strengthened the story Shondaland told.
There will be criticism because things were wrapped up neatly in a single episode. There will be those who say Shonda pandered to a particular demographic. Others probably believe tonight's story to have been in poor taste, or too soon.
Law & Order has been doing this same thing for years. Ripping stories from the headlines and playing them off with some schlocky twist on Anna Nicole Smith's death or whatever. 
Art imitates life and Shonda Rhimes took discussions happening in the corners of America and put them in the spotlight. She highlighted racial tensions existing today and drove a conversation. Was it perfect? No. Was it pretty bold? Yeah, she definitely gets credit for that.
I watched this episode with my heart heavy for how real it all felt, the lines between fiction and reality blurry. I'm entirely unqualified to dissect and discuss the many ways Olivia Pope's Black-ness was called into question, how and why she chose which side of the police tape to stand on and whether or not she should've, or the statements the writers made about current events through their 42 minutes of airtime on a Thursday night. 
All I can say is I'm listening. I heard you. 
If you felt something while watching tonight, Shonda Rhimes did her job. You were supposed to feel something. We all were.
What did you think of tonight's ripped from the headlines episode? Too soon? Too much? Not enough? Sound off in the comments below and let's talk as we wait for Scandal Season 4 Episode 15 next week.
Remember you can watch Scandal online if you missed tonight's episode.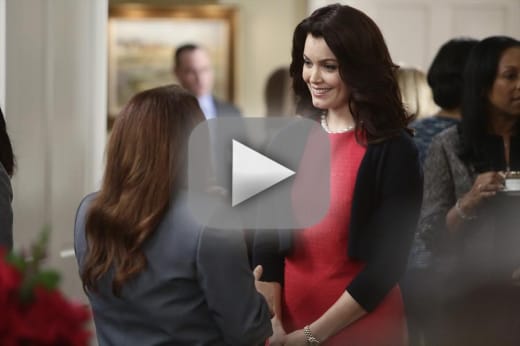 Miranda Wicker is a Staff Writer for TV Fanatic. Follow her on Twitter.