Secrets and Lies Season 1 Episode 3 Review: The Affair
Paul Dailly at . Updated at .
How many secrets can one family have?
On Secrets and Lies Season 1 Episode 3, Ben attempted to take action to make sure his family was safe, but how can he do that when most of the family are lying to him?
From the opening scene in the gun shop, it was obvious Ben's life was set to get even more complicated. He can't go anywhere without abuse being thrown at him. Hasn't the town heard of innocent until proven guilty? This man's life is in ruins, all because he found Tom's body.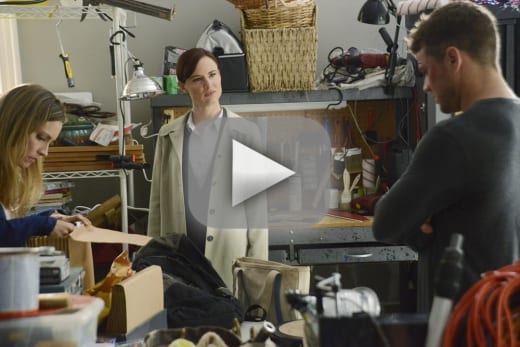 Now, I don't believe that Ben really doesn't remember what happened on the night of Tom's death, I think something went down and he is most certainly blocking it out.  It sure doesn't explain the return of the flashlight, but i'm also not quite sure that his version is really the murder weapon.
Why did Ben put the flashlight with the Christmas presents? We all know that someone will open them early or something. It would have been a complete shock if Christy found the flashlight while Andrea was in the garage. That'd have made for a big twist.
Ben: I didn't protect him.
Christy: You didn't know it was your job.
The only logical person who could have put the flashlight in the car is Dave and the fact that he even offered to dispose of it made him a suspect in my book. It would be too easy to rule him the killer at this stage. He seems to act like he is loyal to Ben, but he just comes off as free loader. He is taking advantage of the Crawford family.
Could Dave really have slept with Natalie? Considering his comments throughout the episode, I'd say this is a strong possibility. Natalie was drunk and he could have easily taken advantage of her. However, I think these are all red herrings. If we were to take what happened in this episode, Dave alone would be ruled the killer.
Ben really has no right to scold Christy for cheating, or even having a baby with someone else. Ben's been there, done that and had the baby.
I love how calm Christy is about everything. I don't think she's raised her voice once in any of her scenes. She could have easily flew off the handle with Ben, but she just takes a breath and thinks about things before saying them. It'll be interesting to see more of her story. I do think she is having an affair, but it's doubtful it's with anyone we've saw yet.
Ben: Screw the money. We need to talk about this right now.
Christy: We will talk about this when I get home.
Elsewhere, Scott showed back up and it looks like he's off the hook for now. At this stage, the chances of him killing Tom are slim to none. Sure, his alibi could be pulled from under him at any point, but he seems to be in the clear. It looked like there was going to be a big fight between them at the cemetery, but there wasn't. 
"The Affair" was another solid episode of this new ABC series. It's moving at a brisk enough pace to keep me glued to the screen. Let's hope they can keep the momentum going for the duration of the season.
Other tidbits from the episode:
Abby has got to be one of the most annoying characters. I understand she is a kid, but they could at least give her more material to work with.
The show has one of the best casts of any show currently on the air. Indiana Evans from the Australian soap, Home & Away is one to watch.
There wasn't nearly enough Andrea this week. I get that the show is mostly from Ben's POV, but it'd be nice to see her more.
The panic attack scene was well edited. The jump cuts to Ben finding the body and him in the car really built up the suspense.
Remember you can watch Secrets and Lies online right here on TV Fanatic. Get caught up on all the drama now!
Over to you, fanatics. What did you think of the episode? Should we rule Dave out as a suspect now? Chat with me in the comments.
Note: Secrets and Lies Season 1 Episode 4 airs 15th March at 9/8C on ABC.
Paul Dailly is the Associate Editor for TV Fanatic. Follow him on Twitter.