The Bachelor Season 19 Episode 11 Review: The Women Tell All Special
Miranda Wicker at . Updated at .
It's that time of year when the women tell all of the bachelor's dirty little secrets!
Tonight on The Bachelor Season 19 Episode 11 Chris Soules will confront each of the women he sent home this season, including Kaitlyn, whose exit shocked fans who thought she was a shoo-in for the finale.
Chris Harrison will, of course, guide us on this journey, with commentary from previous Bachelor/Bachelorettes along the way.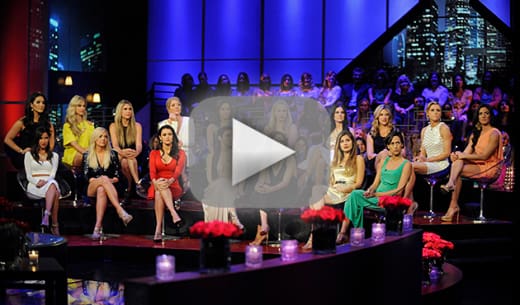 Whitney and Becca are Chris Soules' two remaining women, so they will not appear on tonight's special. The Bachelor spoilers can tell you which woman will be on Chris' arm during the After the Final Rose special if you're just too impatient to wait.
From the looks of the previews alone, this is going to be one heated and tear-filled night!
Chris Harrison calls this the "craziest, most unpredictable, and shocking" season we've ever had. Chris cracks a joke about Ashley S., aka Onion Girl, and peeling back the layers. Minus 3.
Do women (non-college aged) really gather together week to week to watch The Bachelor? Is this a legitimate thing people do? Why? Who are these people?
The women are all on stage and the fireworks are about to begin! Britt is NOT amused watching the playback of the night Carly sold her up the river. And she's crying again in the studio.
Britt wants to know why Carly acted like they were friends and Carly doesn't think she did. Carly won't answer the question Britt keeps asking and Trina finally speaks over the both of them and says it wasn't about friendship. It was about Chris. 
Chris Harrison calls Britt to the hot seat. She says her connection with Chris was great until Carly told him Britt was being fake. It devolves to half of the women supporting Carly and Jillian finally calling Carly out on her insecurity. Plus 10.
Britt is still holding back the tears and putting together how the editing on this show works. The women of the house are shown being catty behind the back of whomever is on a date and very often footage of the couple is mixed in which shows someone being contradictory. To hear her tell it, Britt's a victim of bad editing.
Ashley I. would like the world to know she really, really loves Britt, but she heard Britt say she wasn't in a rush to get married and have kids. Britt says that what she MEANT was that she's happy with where she is in her single life and that's necessary before getting married. 
Chris has Britt in the hot seat but then he lets Carly do all the talking and she keeps rambling about how much she didn't trust Britt. Finally, Britt says "You've narrated my love story for the past three weeks now can I just talk?" 
Round of applause! Plus 10.
Britt doesn't think Carly's a bad person, and she thinks Carly's more intelligent than jealousy, but she thinks Carly demonized her out of her own pain. That's probably true.
Britt was thisclose​ to falling in love with Chris. Until Carly wrecked it for her.
In between takes, Britt tells Chris Harrison that she really thinks she could've ended up with Chris and that she'd never felt that way about anyone else before. He asks if it was jealousy and she says she doesn't know.
The cameras are rolling for real again and Britt's still crying. But now it's Kelsey's turn to get crazy. Again.
Kelsey made a great first impression and it was all down hill from there. She looks like she's about to cry as she tells Chris her story and then when the camera shows her saying "Isn't my story amazing" Tara's face in the inset looks like she's about to vomit.
Tara only stuck around for one week and she could see through Kelsey's BS. Plus 8.
No one believes Kelsey's panic attack story and Kelsey's face is very...hmmm. It's not mad? And it's not exactly hurt? Probably all of these women should sleep with their eyes open. 
Once her clips from the season roll, Kelsey says she's feeling "betrayed" and like she's "grieving all over again." She asks for a tissue and Chris Harrison hands her his pocket handkerchief.
"Are you sure? It's silk." And then she wipes her nose on it. 
She looks at the other women and tells them they have a lot of contempt in their faces and it's clear that some of them do not like her. Hahaha. Yep. That'd be true. Plus 10.
Kelsey maintains that telling Chris her story and sneaking to his room wasn't tactical. She just needed to tell her story in a "protected" environment. Her panic attack, she says, was coincidental as well.
She just wants to be accepted, warts and all. Bwahahahaha. Minus 5
Juelia is dying to speak and Chris won't let her. After Kelsey apologizes to Ashley I. for the mean things she said in interview, Chris tells the other women it's almost their time.
Juelia finally gets to speak and says she's literally never met someone so fake in her entire life and Kelsey is the most calculated person in the room. Juelia, remember, has also suffered a great loss, and says that Kelsey totally used her "story" to her own advantage. 
Megan, Samantha, Amber, Trina, they're all loading up on Kelsey. It's amazing. Plus 8
Kelsey asks the girls for forgiveness for offending them and gets a shrug from Ashley I. Ashley says it's hard to accept an apology from someone who said such hurtful things. Truth.
Kelsey tries to explain her "isn't my story amazing" comment and fails. No one is buying what she's selling. No one. 
Now it's time for Ashley S. to explain why she's so insane. Her eyes look totally normal as she steps up to the hot seat carrying an onion for Chris Harrison.
Okay, maybe she's still insane. She's apparently growing onions now. This woman is nuuuuuuuts.
One night while she was still on the show, Ashley S. got bored and went exploring the house. She came upon a room full of people she assumed were betting on the outcome of the season. Chris Harrison references Fight Club and says that the first rule of the Bachelor betting club is they can't talk about it. 
Ashley S. also talked to a cat while she was on the show. And then Chris asks her who--or what--is she. She likes to...ride bikes?
"While all of them were inside crying, I was outside picking pomegranates." Plus 10.
Chris Harrison asks her on the spot to join them on Bachelor in Paradise. She says "It's so weird." "What is?" "Just that we're on TV." 
Jade, who seemed like she'd won Chris' heart, gets her chance to speak next. After Chris said he didn't judge her for her nude photos, he sent her home. They both cried.
Chris Harrison asks if she was falling in love with Chris Soules and she says she felt like she had a very strong connection with him. She thinks Chris wasn't being honest with her and she was "crushed" when she read that it was "disturbing" to him that she seemed so shy to everyone except her family.
She's looking for closure, which Chris Harrison says she might just get. Chris Soules is going to be here eventually, but not before we get a chance to talk to Katelyn. She's so sad to watch her story played back before her. 
She could pinpoint the moment her heart was crushed to the second Chris said Whitney's name at the rose ceremony in Bali. She still misses Chris and is still so confused. She's thought about Chris every day since he put her in the limo.
Britt begins crying immediately upon seeing Chris walk into the room and asks if she can come up to the stage to give him a very long, very uncomfortable hug which Carly has a hard time watching. minus 9
She holds his hand as she tells him she knows why he did what he did. Carly duped them both. He says things didn't work out not because he believed or didn't believe Carly but because he felt some things that told him they wouldn't work out. She still says they ended on a confusing note and then showers him with a million compliments before Chris Harrison sends her back to the rest of the women.
Kaitlyn gets the floor next and she doesn't rush the stage for a long and uncomfortable hug. He says he remembers the shock on her face the day he sent her home. She brings up their night in the Fantasy Suite and asks for an answer about where they went wrong.
He can only say that he doesn't have an explanation. He was falling in love with three women and threw some darts at a dart board in the dark and the Kaitlyn dart didn't hit the bullseye. Minus 12. What a terrible explanation!
She wants to know why he didn't pull her aside and give her the courtesy he gave Becca and which Andi gave him. He says he had no idea what he was going to do walking into that rose ceremony. That kind of sounds like maybe he's not so sure about who he ended up with.
All he can say is that he did the best he could in that moment.
Jade gets the chance to speak next and she also asks to come sit with him on the couch giving a short hug instead of Britt's long, uncomfortable one. He tries to touch her arm while she speaks and she just goes "No, it's okay." Plus 9.
She really wants to know about that comment in his People blog. He says he should've said "caught off guard" instead of "disturbing" and then throws her brothers under the bus for calling her a "wild mustang." He tries to reassure her that he didn't make his decision because of her decision to pose naked for Playboy, and then she calls him out on writing that seeing the photos and videos was awkward for him.
I kind of have to wonder how much of that was the producers making them look to drum up the ratings...
He just says "hey, you know, it WAS awkward." And, well, yeah, it probably was. Plus 7.
EPISODE TOTAL: +43 SEASON TOTAL: -99
Next Monday night we'll find out how it all ends when Chris Soules chooses his intended wife. Will it be Becca? Whitney? Neither?
Catch it live or watch The Bachelor online to see for yourself!
Miranda Wicker was a Staff Writer for TV Fanatic. She retired in 2017. Follow her on Twitter.