The Big Bang Theory Season 8 Episode 18 Review: The Leftover Thermalization

Ashley Bissette Sumerel at . Updated at .
It's not often that I get choked up watching The Big Bang Theory.
But this week, The Big Bang Theory Season 8 Episode 18 is an episode that brings on tears. "The Leftover Thermalization" not only pays tribute to the character of Mrs. Wolowitz, but also to the actress who played her – Carol Ann Susi.
Don't get me wrong, there's no room for ugly crying here. It is still a comedy, after all. The way the tribute is done is the perfect balance. It still allows the characters to be themselves, and it still leaves room for plenty of laughs.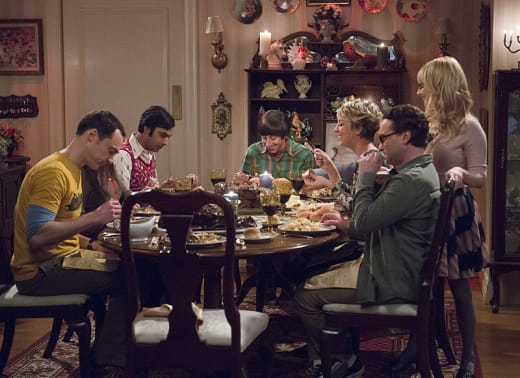 If there's one thing we ever learned about Mrs. Wolowitz, it's that she was serious about her cooking. So of course, she left behind her a freezer full of food after she passed away.
The power has gone out in the house, and as soon as Howard finds out, the freezer is the first thing he checks. The power has been out long enough to cause the food to start defrosting, and he becomes emotional. By the way, kudos to Simon Helberg for making me cry. He plays this scene so very well.
Since there's no saving all that food, he decides that everyone should come over for dinner.
Okay, then, how about this. Let's invite everyone over to dinner. It'll be like Ma's feeding us one last time.

Howard
And that's exactly what they do. The dinner itself lends itself to humor, especially with the entire group together in one place. With the power out, Amy comments that it feels like they are all part of an old fashioned salon. From there, they pick a topic that begins with The Hunger Games and feminism, and leads to a female Thor.
We won't know if there's equality until female Thor has a baby, and the avengers are cool with her pumping breast milk at work.

Amy
Unfortunately, that friendly conversation takes a turn because of the tension between Sheldon and Leonard. Honestly, I'm over the constant competition between these two that always places Sheldon as the successful one. This particular story line takes a back seat to the dinner until this point.
Then something amazing happens.
Bernadette, unsurprisingly, has had enough of the arguing and takes Sheldon and Leonard out of the room. We hear her yelling at them, but she sounds less like herself and more like Mrs. Wolowitz. As she yells, the others sit and listen, particularly Howard at the head of the table. It's a perfect memory of Howard's mother to hear the likeness of her voice again, and it also shows how Howard's life has changed throughout the years.
The balance between the emotional moments and the humor of it all makes this episode a great one. I don't think there was any better way to pay tribute to the character and to the actress.
What did you think of "The Leftover Thermalization"? Be sure to share your thoughts in the comments below!
And as always, remember that you can watch The Big Bang Theory online any time right here via TV Fanatic!
Ashley Bissette Sumerel was a staff writer for TV Fanatic. She retired in September 2017. Follow her on Twitter and on Google+.