Everyone loves Liz Keen.
Or at least most of the people in her life have some level of care and concern for her well-being.
That was certainly evident in The Blacklist Season 2 Episode 16 as the murder case for Liz came to its conclusion.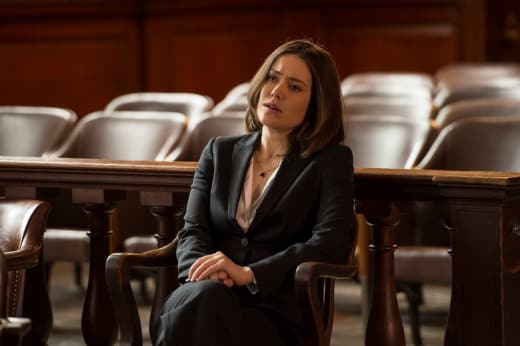 While technically Harold made his move to help Liz in The Blacklist Season 2 Episode 15, he was able to discuss his decision with her in this hour.
It was good to see him get frustrated with her and call her out for the situation she put herself and him in. It was also positive that he was able to open her eyes a bit to her having changed and him worrying about her.
Though, I've been worried about Harold and seeing him have a seizure had me thinking this could be the end for his character. Thank goodness it was not and merely just a side effect of the treatment, which is working, but I was glad that his cancer was revealed to Liz.
Sometimes, it's just better to have the truth out there, and that certainly affected her.
But Red's final comments during the hour, a sort of veiled confession and apology, also seemed to hit home for her.
Red's been doing everything he can to help her, and you could feel it in his tone and see it in his eyes the sincerity in trying to express all that he's been doing for her. He does care for her.
Why else would he go to the ends of the Earth to find Tom, a man he hates?
It may not have been the full truth like Dembe told him he should do, but it was definitely a start. I can only hope her relationship with Red grows stronger after this instead of growing further apart.
But it was Tom that really helped seal the deal for her whole predicament.
He didn't have to come back from his undercover job at all, even after Red wonderfully blew his cover (loved when the window rolled down to reveal Red and Ressler staring back at Tom).
Knowing how method Tom gets when he becomes someone else, Liz clearly had to mean something to him to even think about it and break out of character.
Was anyone surprised that Tom turned himself in? Just imagine if he didn't. That would be a totally different story from here on out.
Except, clearly Tom has feelings for Liz and that meant putting himself at risk to save her, openly admitting that he killed the harbor master.
Even his phone call at the end of the hour checking in on her sounded sincere. He just wanted to make sure she's OK.
I really do wonder where that relationship will go now that Tom has basically been cleared.
Though I will say that the fact that everything was wiped clean, that the nosy judge (who was not some bad guy or secret player) did back down from the dog fight was a bit disappointing, especially with all the buildup that came before it.
It just felt way too easy of a fix, but I guess if you've got the power to move mountains, it'll happen. And there are clearly "friends" in higher places for Liz and the others.
I assume that Tom's Germany task is over, though it would be nice to see some repercussions from him bailing on his assignment. I'd hate to think his whole experience over there won't have any affect on the larger story and was simply him waiting for Red to come get him.
So while I was less than enthralled by the super easy wrap up of the murder trial and Tom's clean slate, the episode did provide some solid character moments, especially in allowing them to see beyond themselves. Oh, and that Aram provides one killer "Get Well" card message.
What did you think of Red's final talk with Liz? Were you surprised Tom came back? Sound off below, and if you're looking for more Tom, watch The Blacklist online here at TV Fanatic.
Sean McKenna was a TV Fanatic Staff Writer. He retired in May of 2017. Follow him on Twitter.