The Following Review: Moving Right Along

Stacy Glanzman at . Updated at .
Wow, things are moving right along, aren't they?
I expected most of these plot lines to be dragged out, but instead the writers aren't wasting any time moving the story forward. 
So much went down on The Following Season 3 Episode 4 and The Following Season 3 Episode 5 that I feel like my head is spinning a little bit. Are you with me?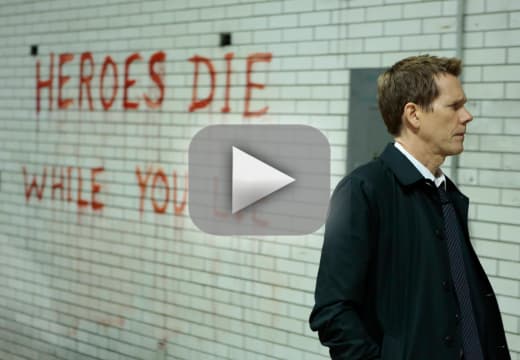 First, I didn't expect to get the low down on Kyle's and Daisy's agenda this quickly. We learned who Juliana is and why she hired them. We even found out why they were pretending to work for Mark. I have to say, I did not expect to learn that Andrew told them he'd make a good patsy. I figured Andrew was actually loyal to Mark. 
On top of that, Kyle was killed. He survived the gun shot he received in the first hour only to be riddled with a few more bullets in the second. At first I was disappointed, but now that we basically know everything about their motives, keeping him around wasn't really necessary anymore. Regardless, Daisy is still out there with Strauss.
Another development that moved quicker than I expected – Max and Mike hooked up! Not only that, but her boyfriend Tom already knows it happened. Instead of dragging out the "will they/won't they" all season, we get new drama in seeing what Tom does with this information.
I get that he's mad and has a right to be, but I can't believe he hid that laptop. If he ever cared about Max at all, he would confront her, and then warn her that her house is bugged.
I mean, yeah, she cheated, I get it, but is he really willing to risk her life over it? 
For now, at least, Max is hesitant to get back together with Mike, and for good reason. He broke her heart, and as she said, wouldn't hesitate to do it again:
Mike: It was real.
Max: Real or not, nothing has changed. You chose hunting Mark over me and you would do it again, wouldn't you?
That turned out to mean more than she realized. Mike left her alone with Strauss to go chase after Mark and that decision landed her in the hospital with a concussion and internal injuries. Something tells me Max is not going to be renewing their relationship any time soon. 
The way things were moving had me believing that maybe this would be the end for Mark as well. I never would have considered that before, but by the end I wouldn't have been shocked if Mark had been killed or arrested and the rest of the season focused on Michael Ealy's new character. That didn't happen though and Mark is still out there. 
Ryan and Mike nearly came to blows over it. Ryan's angry that Mike left Max alone, and Mike's angry that Ryan talked him out of killing Mark. Obviously, not killing Mark was the right thing to do, but maybe don't lower your weapon until Ryan has a chance to cuff him. Just a thought. 
Even with Mark's and Strauss' escape, I have to admit it's nice seeing the FBI get some wins in The Following Season 3. They got Neil last week and this week they found Mark's safe house, tracked down Kyle's and Daisy's house in Ohio, and even killed Kyle. They're still making mistakes, but they're not nearly as incompetent as they were (plus, it can't be too easy for them; that'd be boring). 
Final thoughts:
Carrie Cook is dead and we never even saw her. There goes another one of Ryan's girlfriends. Should Gwen be worried?
When was the last time anyone saw one of those origami puzzles? Interesting way to decide how to kill someone. 
Joe is back. Are you happy or disappointed? I personally did not miss him and don't really want to see Ryan working with him again. 
What did you guys think of the two hours? It was the most action we've seen so far this season, especially in the second episode.
What's going to happen next? Will Tom confront Max or will he start spying on her with the stolen laptop? Will Ryan fall off the wagon before season's end? Will Joe and Ryan work together to bring down Strauss and Daisy? 
There's so much to look forward to and you'll want to watch The Following online and make sure you're caught up!
Stacy Glanzman was a staff writer for TV Fanatic. She retired in March, 2019.