If you go on hiatus for more than a month, you better come back with something great.
Welcome back, fans of The Good Wife. We've dealt with long breaks and late starts, but now it's smooth sailing for the rest of The Good Wife Season 6. For our favorite characters though, it's anything but smooth sailing. 
Three main storylines kept The Good Wife Season 6 Episode 13 moving along quickly. We watched as Cary & Diane struggled through a case representing Colin Sweeney, Kalinda repay a favor to Lemond Bishop, and Alicia agree to take political dollars from a homophobic womanizer. 
Ahh, it's good to be back. Let's breakdown our three main storylines and see how each fared.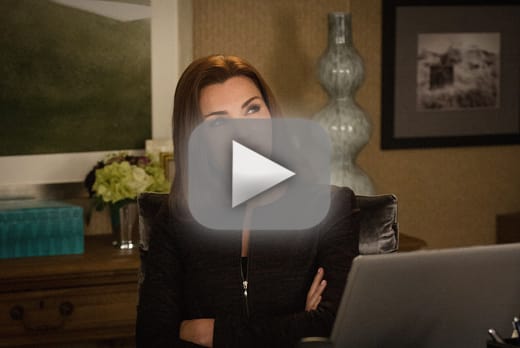 The White OJ Simpson
Cary and Diane took a television show to court for creating a pretty accurate picture of Colin Sweeney and the murder of his wife. In the defamation suit, we had the chance to get a little bit more of the Colin Sweeney we have all come to be totally creeped out by, and learned he is newly married again (will these women ever learn?). As the trial progressed, it was great to see Diane and even more so Cary in the courtroom working together.
While the two of them worked hard for Sweeney, he turned to Alicia, as he always does for advice. Alicia wasn't willing to help, but changed her tune after Sweeney mentioned he knew who was backing her PAC. In the end, it was Alicia who noticed the ChumHum logo used in the episode that resulted in another courtroom win for Sweeney. 
If there is one thing The Good Wife does perfectly, it's referencing characters who have been used before. Neil Gross and his company ChumHum had a shout out tonight. I was pretty surprised though that Neil wouldn't have found out about the logo use and want to sue himself. Who wouldn't want fifty million dollars? I also thought it was a little far fetched that Sweeney would know Bishop was the one behind the PAC. 
After the tension between Cary, Diane and Alicia on The Good Wife Season 6 Episode 12, I'm glad we didn't have to see any of it today. Besides a quick phone call, they didn't interact at all, but that won't be able to last forever. Alicia seemed to be able to better juggle her campaign run and work, but I don't anticipate that being the case as election day gets closer. 
Twenty Year Old Testicles
While Alicia handled Colin Sweeney, she also had another hush hush meeting with Frank Prady where he brought a robo call that implied Prady was gay. The robo calls were made by Alicia's PAC (unknown to her, of course), and she demanded they be stopped when she found out. They were, but the damage was already done. 
Guy Redmayne (played by guest star Ed Asner) was one of the households that received the robo call and he believed it. This, along with Alicia's good looks and family values gave her a one million dollar donation (Does a million dollars seem like a lot to anyone else? Maybe for a Presidental campaign it's not, but for State's Attorney?). Asner played Redmayne perfectly, and brought out just how ruthless the game of politics can be. 
It all got to Alicia, who broke down at the end of the episode after Grace told her she was the best person she knew. It was Prady though who said the most profound thing tonight (that campaigning is lonely) – and it couldn't be more true for Alicia right now.
I've always been a fan of their "friendship" and I think it really humanizes how candidates must feel during the process. I was on the fence as to whether or not Prady was playing Alicia, but tonight solidified for me that he is a good guy. 
Parenting is Hard
When Lemond Bishop calls, you answer (preferably before the eighth ring). It was time for Kalinda to repay her favor to Bishop, and it didn't seem like that much, at first. Bishop asked that Kalinda pick up his son Dylan from school for the next two weeks.
We once again had a chance to see a more human side of Bishop and I nodded in agreement when he said parenting is the hardest thing he has ever done. His love for his son is real, and he was brutally honest with himself when he said that the only thing in life he is proud of is his son. 
I want to hate Bishop, but I've never been able to. Maybe it's his dapper attire every week, but I like him. A lot. He's a bad guy, no doubt, but I find myself always looking forward to his scenes. He commands attention. My affection for Bishop might fade quickly though if he, as I anticipate, is the reason for Kalinda's departure from the show. He has to be involved in some way, but I haven't quite nailed down the how. 
Other quick thoughts:
I am still smiling from ear to ear when I think about @tobyziegler44. What an awesome reference to my all-time favorite show, The West Wing. Rock on writers!
Redmayne's daughter was named Krystal. We are going to go with a K because that's how I spell it, and I was pretty stoked to see a character named Krystal, even if she didn't really have a line. Thanks writers, it's a good name. 
Episodes are just better with Eli Gold. I missed him tonight!
Now that I've had my chance to write about the return of The Good Wife, it's your turn! Do you have any theories on how Kalinda will exit the show? Are you a fan of Lemond Bishop like me or do you prefer Colin Sweeney? 
Trying to remember how we got here? Don't forget you can watch The Good Wife online and refresh your memory. Catch up quick, though, because The Good Wife Season 6 Episode 14 will be back next Sunday. It can't come quick enough. 
Krystal Sondel is a staff writer for TV Fanatic. Follow her on Twitter.