I've had my doubts about this season of The Musketeers, but that finale just blew them all away! 
Every minute was packed with so much action, and so many 'must see' moments. You know a finale has done it's job when you're left reeling and more eager than ever for the next season, and The Musketeers Season 2 Episode 10 did just that!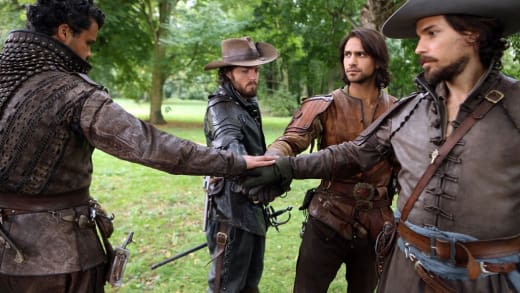 My heart was in my throat from the very first scene, where Constance nearly got executed.
We all knew that they would never actually kill Constance, but they certainly let it get down to the wire there. After her rescue, you'd think the nerves would settle, but we still had to worry about Aramis and Anne, who were both on trial for treason. Rochefort certainly did his best to convince the King that they were guilty too. 
Aramis' hearing was an incredibly powerful scene, not only because he lied under oath &ndash and we all know how seriously Aramis takes his religion &ndash but because of Marguerite's testimony. To see her slowly realize that Aramis only slept with her to gain access to the dauphin was truly heartbreaking.
It is Rochefort who is the traitor. Rochefort who is the enemy. Rochefort who should be on trial.


Aramis
While some might find it easy to mindlessly hate Marguerite for her part in Rochefort's plot, I've always felt sorry for her. Her suicide was a tragic end for a woman who'd really just been dealt an awful hand. 
Speaking of awful, I have to take a minute to point out how awful Louis has been this season. Not only is he weak, gullible, selfish, and easily misled, he actually signed his own wife's death warrant tonight. Any redeeming qualities Louis had went out the window the second he allowed Rochefort to sentence Anne to death.
Porthos' side plot to capture Vargas, the Spanish spy master, was decidedly the weakest part of the episode. His solo woodland fight scene was interspersed throughout the first half of the episode, and it became tedious after a while. It was clear that Vargas was the only solution to their Rochefort problem, so I couldn't help but feel like all the bluster about capturing him was just putting off the inevitable. 
Though Constance's appearance at his final stand might have been worth it...
Constance: Surrender, monsieur.
Vargas: You bring women to fight your battles?
Constance: Perhaps I bring men to fight mine.
Milady was surprisingly absent for most of the episode, only making an appearance to rescue Aramis and give Athos an ultimatum. Her speech about hating the creature she had become was incredibly moving, and you could practically hear the worldwide groan that was released when Athos missed her deadline.
Now Milady is off to England alone, for who knows how long.
I wonder if she'll return with a certain Duke, who has yet to make an appearance on our favorite show?
Anne's life hung in the balance for most of this episode, and those last few minutes were touch and go. Despite Rochefort's best efforts though, Aramis returned to rescue Anne, clearing her name and setting everything right with the world.
I have many friends, and they will come for me as they came for Constance.

Anne
Now we all just have to wait and see how Aramis will return to the Muskteers after resigning his commission. An oath to God is a serious matter for Aramis, but with war on the horizon, he also has a duty to his country.
All this and more is coming when The Musketeers returns for Season 3 next year. Can you stand to wait? 
Catch up on the thrilling finale and watch The Musketeers online via TV Fanatic!