The Real Housewives of Atlanta Season 7 Episode 17 Review: Fix It Therapy
Miranda Wicker at . Updated at .
If a group therapy sesh can't fix the housewives in Atlanta, nothing will. Probably. And that's where they're all headed on The Real Housewives of Atlanta Season 7 Episode 17.
Previews for the episode showed NeNe Leakes, the therapy session's mastermind, storming out! Let's get started with our recap and see what drives her to that dramatic moment!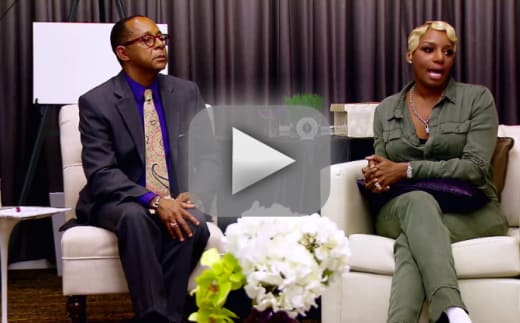 Phaedra heads over to Porsha's for dinner and laments the fact that Porsha lives out in the 'burbs. Porsha's hair is looking HOT! Plus 4.
Phaedra's not over her run-in with Cynthia at dinner where Cynthia tried to talk about Mr. Chocolate and Phaedra walked out. Phaedra doesn't understand why Cynthia's coming for her when Phaedra and her mother have supported Cynthia by ordering out of the plus-sized catalog Cynthia models for. 
Yeah, Phaedra just called Cynthia plus-sized. Minus 4.
Phaedra doesn't want to go to the Dr. Jeff session. She's too "fragile."
Todd and Kandi keep up their conversation about the family aspect of their life and the homework Dr. Sherry gave them. "Sherry was whack," Todd replies. 
Dear Todd, that's not how therapy works. Minus 10.
Kandi liked the therapy session with Dr. Sherry but that doesn't mean she wants to go to therapy with the girls. Can't say I blame her since she's married to Todd and not married to the women. 
When it's Todd's turn to come up with pros for Kandi, it takes him a minute to come up with "very family oriented" before saying he has to run to a meeting. 
Claudia's decided to venture into the world of stand-up comedy. But first she's going to hang out with her co-worker and share her lasagna with Gary. She wants to play like one of the guys on the radio and be ballsy and brash and shocking.
Gary tells her to leave the comedy to the comedian on the show. She says she's going to try stand-up and then she'll see if Rickey Smiley will let her be funny.
NeNe's rocking a new look, hopefully for her role in Cinderella on Broadway, and visiting with Phaedra in Buckhead. Phaedra thinks that NeNe driving for over an hour to see her means NeNe has a good heart.
NeNe's hoping to convince Phaedra to come to the therapy session. Phaedra says the only chocolate she knows is White Chocolate, her best friend. Then Phaedra breaks down when she talks about how she feels like Kandi hasn't been there for her during this ordeal. 
Claudia sits down with her friend Luenell, a comedian, to write her stand-up material. Luenell tells her comedy is way harder than it looks but she thinks Claudia's a funny girl. Plus 5.
Phaedra's at work when Kandi comes by to visit. Kandi kicks the visit off by telling Phaedra that her sex life with Todd sucks and then turns the chat to Dr. Jeff. Phaedra said she didn't go to NeNe about Kandi, but NeNe asked her about it and Phaedra was honest.
Phaedra thought their friendship was tighter and expected a call or text from Kandi. Kandi says she was also going through a lot and Phaedra didn't call her either. True. Not the same thing but true. Friendship works both ways.
Kandi doesn't understand how Phaedra can be such close friends with NeNe considering it wasn't that long ago that NeNe was talking all kinds of smack but Phaedra says she believes people can change. All people except Cynthia, that is, whose body she would refuse if it were in need of burial.
Claudia tests out her set on Demetria at the Uptown Comedy Center. Thank god only Demetria was there because that was terrible.
NeNe's session with Dr. Jeff is a go! Phaedra's the only one who won't be attending. She meets with Dr. Jeff and he says he'll open the session with her and she'll be held to the same standard as everyone else.
"Whatever you think is best" she says.
Porsha and Kandi walk in separately and alone while Claudia, Kenya, and Cynthia walk in together. Bad signs are bad. Minus 8.
NeNe starts the session off by saying that it's very negative being around everyone. Dr. Jeff goes straight to Kenya because she made a look when NeNe talked about the dinner.
Kenya and NeNe start talking at and over one another and Dr. Jeff stops them both and says he's here to represent all of them. NeNe says "I didn't bring you here to represent me." Oh. Okay. Minus 7
Kenya has one question for NeNe: What happened between their meeting at the tavern and their meeting at Kandi's. NeNe responds by saying she and Kenya are never going to be friends.
Dr. Jeff says he's hearing that both of them are very hurt. When he realizes that's getting nowhere, he tables their discussion and turns the tables toward Claudia. NeNe says she doesn't know what happened between Claudia at Kandi's house. 
Claudia calls her bipolar and Dr. Jeff tries to shut that down. Then it's Cynthia's turn.
She starts talking about the time NeNe called Peter a bitch and how that was the rift in their friendship. They do some more talking over each other and NeNe gets more and more sarcastic and the other girls just watch in horror and mortification that they're in the room.
NeNe calls Cynthia a mean girl and Dr. Jeff lets Kandi talk.
Kandi has a way of getting to NeNe's heart like no one else can. She points out the fact that NeNe just threw Cynthia away and that's when NeNe has to get up and leave. 
Dr. Jeff follows her out to the hotel lobby and tries to tell her it's not Attack NeNe Day while the women back up in the room keep talking about her. Minus 10.
Clearly this therapy session is not going as NeNe Leakes planned.
EPISODE TOTAL: -30 SEASON TOTAL: -591
Catch all the crazy drama and watch The Real Housewives of Atlanta online!
Miranda Wicker was a Staff Writer for TV Fanatic. She retired in 2017. Follow her on Twitter.