The Real Housewives of Beverly Hills Season 5 Episode 20 Review: Reunion Part One

Christine Orlando at . Updated at .
The beautiful and beguiling ladies hit the sofas with Andy Cohen on The Real Housewives of Beverly Hills Season 5 Episode 20 and although it was a bit of a slow start to the reunion, it had a few highlights.
Check them out in our +/- review...
We'll head straight to the top of the list. Andy Cohen compared Brandi Glanville to an aggressive dog in this The Real Housewives of Beverly Hills quote…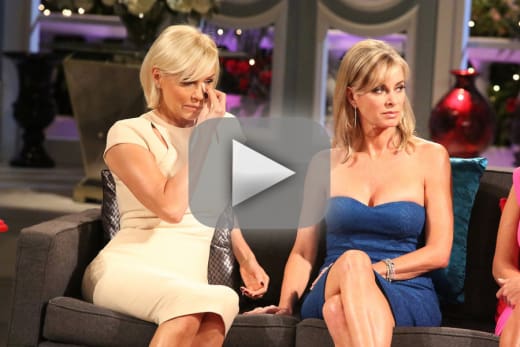 Plus 50 although I wouldn't be surprised if dog owners everywhere were offended by the analogy. Brandi wasn't too happy about it either.
As Lisa Vanderpump pointed out several times, Brandi does something stupid or takes something too far and expects an apology to smooth it all over. Well, how many times do you have to get bit before you stop playing?
Lisa Vanderpump is done playing. In this segment alone we saw flashbacks of Brandi jokingly saying Lisa has slept with multiple men, that Lisa's cheated on her husband and then there's that slap. Minus 23. The jokes just aren't funny anymore. 
Minus 30 because Yolanda Foster had to bail from the sofa early. She's had a relapse of her Lyme's disease and the reunion show was taking a lot out of her. We can only imagine. 
Yet despite all that Brandi's done, Yolanda still defended her. She believes that they shouldn't kick Brandi to the curb like a bag of trash because of her behavior. Does anyone out there disagree?
Lisa Rinna put the fun into the night as she shared that she'd made over $1 million doing that Depends ad! Plus 44. You go girl. Eileen Davidson laughed that she'd wear the thing on her head for that much money but Kim Richards wasn't laughing. 
Kim says she has more pride than Ms. Rinna. She wouldn't do just anything or a buck…but apparently Diving With the Stars wasn't an issue for her. 
Kim and Kyle haven't spoken in over three months! We hear it may have something to do with Kim's dog biting Kyle's daughter and despite Andy's well placed dog comments, we never got to hear more about that in this hour. Minus 11. 
When Kim said she was completely okay not speaking to her sister and how happy she was now, I wondered if Kyle was fighting to hold on to her poker face so she wouldn't crumble or if she'd had a Botox treatment before the reunion. Either is possible. 
The end of the episode deluded down to a lot of yelling about "The Slap" and isn't that a mini-series on NBC?
Episode total = +30! Season total = -419!
Check back next week for part-two of the Reunion and you can always catch more of the drama here at TV Fanatic and watch The Real Housewives of Beverly Hills online.
C. Orlando is a TV Fanatic Staff Writer. Follow her on Twitter.