The Simpsons Season 26 Episode 15 Review: The Princess Guide

Stacy Glanzman at . Updated at .
Well, that was cute and sweet, wasn't it? 
We haven't seen Moe take center stage in awhile, though The Simpsons Season 26 Episode 15 was certainly not the first time we've seen him attempt to woo a lady.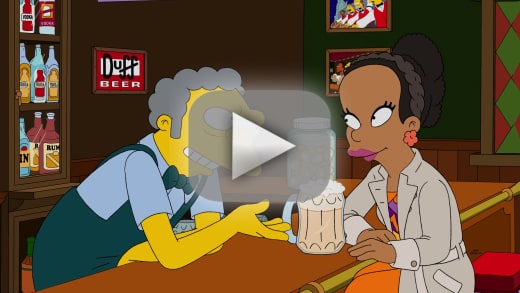 It actually seemed like it was going pretty well for him for awhile there, didn't it? Surprising, considering it's Moe, but it made much more sense when Princess Kemi revealed at the end that there was never anything romantic: 
Princess Kemi: I think he is a sweet, sweet man, but when I kissed him it was not romantic, more like when Snow White kissed Dopey.
Moe: No, no, not this comparison again!
Comparing Moe to Dopey? That I can see. His wiggling ears were pretty cute. 
I loved watching Moe and Kemi make their escape on the pedal cart and the biker's comment that as long as Homer can run, he'll catch them. He clearly does not know Homer! It doesn't take much effort to get away from him. 
Goodnight Moon was my favorite book as a child, so I admit I felt a little twinge of nostalgia listening to Moe's rendition of it. Deep down, Moe can definitely be sweet if he wants to be. 
We all knew immediately when Homer was put in charge of the princess that he was going to fail miserably. Something catastrophic was bound to happen so when he lost her in the bar, we knew it was coming. In his defense though, he did at least try to keep her in the hotel. I can't blame her for not being engulfed by The Bachelor though. 
Princess Kemi: So, all these concubines belong to this one tyrant?
Homer: It's called The Bachelor.
Reality TV is not my thing either. 
But, to his credit, Homer managed to say all the right things to the king at the end to save the deal. He may not be father of the year (he does apparently let his one year old wander off on her own), but he did offer some pretty sound advice on raising daughters. Good for him.
Speaking of, it was Take Your Daughter To Work Day! Lisa's been to the plant before, but she was still super excited about it. Too bad Homer couldn't answer a single one of her non-ice cream related questions. 
How impressive was Homer's lunch time trade exchange? He turned one chip into a pretty nice salad when Lisa's lunch was ruined. As dumb as Homer is, he has his flashes of brilliance. 
It was nice to see the "In memory of Leonard Nimoy" card for the actor who lent his voice in two classic episodes of the series. He will be missed. 
As always, if you missed anything you can watch The Simpsons online any time. 
Stacy Glanzman was a staff writer for TV Fanatic. She retired in March, 2019.