Who's that calling the shot this week on The Vampire Diaries Season 6 Episode 16?
Paul Wesley has gone behind the camera multiple times before on this CW smash, but tonight's installment of TVD marks the directorial debut of Ian Somerhalder.
Not that this means Damon won't play a key role on "The Downward Spiral." I've seen the episode ahead of time and, rest assured, there's plenty of this delicious character to come.
How will Caroline deal with turning her humanity off? How will her friends deal? And what will life back in present day Mystic Falls be like for Bonnie?
Here are 10 things you'll see go down this evening. Hold on tight. It's going to be a bumpy ride for some of our Mystic Falls residents...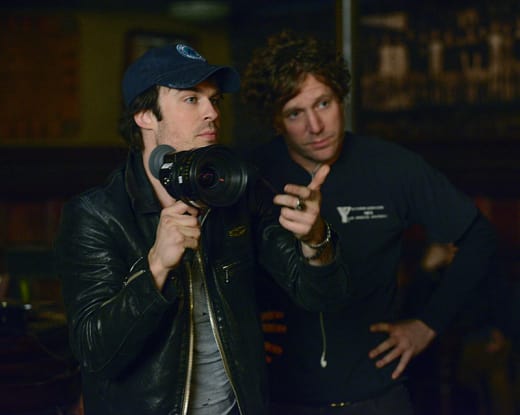 The episode picks up shortly after the end of The Vampire Diaries Season 6 Episode 15, with Sheriff Forbes' funeral having ended just hours before.
Caroline, after enjoying more than a little tequila to heal her pain, locks lips with someone unexpected.
Damon does some serious digging to find out about the whereabouts of his mother.
Bonnie has a heartfelt reunion with Elena, but someone else is too preoccupied with other things to be moved by her return.
Post merge, we definitely see a different Kai than we ever have before. 
Against Elena's urging, Caroline turns off her humanity to stop the hurt of her loss.
Sarah should probably just head out of town if she wants to live…but will she?
Jeremy's name is mentioned and we'll find out whether Bonnie has been in touch with him since she's been back.
Caroline asks Stefan to do the impossible.
While there are many strong performances in the episode (and solid directing by Somerhalder), hats off to fan (and TV Fanatic) favorite Candace Accola, who kills it - so to speak - by showing Caroline's pain... and then some other emotions once she ditches humanity. 
Are you ready for tonight's episode? What are you most excited to see?
The Vampire Diaries Season 6 airs Thursdays at 8/7c on The CW. 
Jim Halterman is the West Coast Editor of TV Fanatic and the owner of JimHalterman.com. Follow him on Twitter.