After binge-watching Daredevil Season 1 in a matter of days, both the Skye and Bahrain storylines felt a bit anticlimactic.
The way we consume television has definitely changed, and dragging out a character's arc for two seasons is ancient history. Then again, S.H.I.E.L.D. has always had pacing issues.
That said, Dichen Lachman and Chloe Bennet nailed their performances in Agents of S.H.I.E.L.D. Season 2 Episode 17.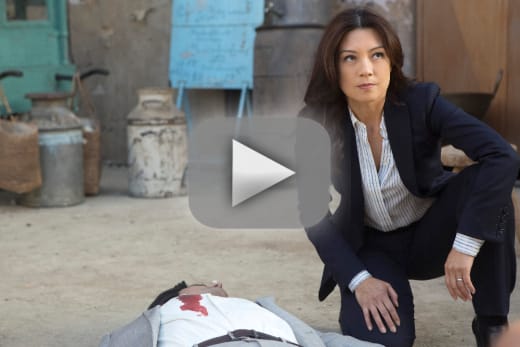 The opening sequence featured Blair Underwood as May's husband, which was a nice surprise. I mentioned in my review of Agents of S.H.I.E.L.D. Season 2 Episode 13, that he was the best part of that episode. Ming-Na did a wonderful job of portraying a pre-Bahrain Agent May. Don't get me wrong, I'm glad we learned what damaged her, but did it have to take so damn long?
Coulson casually mentioned "Earth's mightiest heroes" and it was interesting to learn why Agent May wasn't at his side in the movie. By then, she had taken that lame desk job and given up on field work. It's also a shame this incident ruined her marriage, since the couple mentioned wanting to have kids.
Who was to blame for the shift in May's life? That would be Eva Belyakov.
We believe Ms. Belyakov posses enhanced strength. This is what happened when a Russian officer tried to stop her with his car. She fled Russia unharmed. Looks pretty strong to me, so it's important we don't spook her. Just a friendly chat to bring her in for evaluation. And if all goes really well, we gain an asset before the Russian's find her.

Coulson
Since we all had an idea how things went down in Bahrain, the surprises were minimal. Not that it wasn't wonderful to see the incident rather than just hear about, there was just so much hype, I think it would be tough to meet expectations this late in the game.
In the present, May was working with the "real" S.H.I.E.L.D. but at least she still had Coulson's back. Or did she?
The more interesting stuff took place at "Afterlife" between Skye and her mother. Jiaying put a positive spin on Skye's power and made her move mountains, literally, which was kind of fun. Bear McCreary's score helped highlight the moment beautifully. He really doesn't get enough credit for the music on S.H.I.E.L.D. I think the spectacle of the show trumps everything else, including the music.
Skye bragging about causing an avalanche reminded me of the old hacker we first met.
Lincoln: You know it's really impressive for Jiaying to take anyone under her wing.
Skye: Yeah?
Lincoln: Yeah.
Skye: I like her. I just... I can't... What's her role here?
Lincoln: Her role is, in charge. So really she must like you.
Skye: If she's in charge, how often does she train people?
Lincoln: Since I've been here... let me see... never.
In Bahrain, Coulson met with Belyakov but the woman wasn't interested in what he had to say. She wreaked havoc and took out a team of soldiers. Anyway, Agent May went in alone and kicked ass. It was definitely creepy hearing the possessed say "I need your pain." The threat had to be taken out, no ifs, ands or buts.
Raina continued to struggle with her transformation, but we learned her gift is Precognition (or future sight). That's one hell of a power, but will she use it for good or evil?
I will admit the moment Jiaying revealed herself to be Skye's mother got me a little teary eyed. Again, it was all about the performances. Both actresses were fantastic in that particular scene. It was a huge emotional moment for the series.
The way May and Skye's storylines converged paid off nicely.
There was a woman once, she didn't trust my judgement. So she stole a batch of Terrigen crystals and fled. Got caught up with some criminals in Bahrain. Her name was Eva; Russian, strong-willed like you.

Jiaying
Ultimately, we learned that Agent May killed Eva, but it was the woman's daughter who was the real threat. That was a nice twist, and we now understand that killing the little girl was what traumatized May. Katya was dropping people left and right; May had no choice. That's how she got the nickname, "The Cavalry." I just always imagined May and Skye's stories were even more connected somehow.
Ming-Na took a beating this week, and as I mentioned, it's not that the story wasn't effective, it's just that it took the writers so damn long to tell it. Disagree with me? Let me know in the comment section below.
The family dinner was awkward, but Skye behaved herself and everyone enjoyed the moment. Kyle MacLachlan was wonderful as Cal, and it was nice to see him smile. I wonder where all this is going, though. As Skye mentioned, things never go her way.
What did you think of "Melinda"? Did the Bahrain backstory meet your expectations? What did you think of Skye meeting her mother? Fitz opened Fury's toolbox; what now? Your turn, please share your thoughts with me in the comments below. Look for our Agents of S.H.I.E.L.D. round table later this week.
Remember, you can watch Agents of S.H.I.E.L.D. online via TV Fanatic to catch up before the finale if you've missed an installment.
NOTE: Agents of S.H.I.E.L.D. Season 2 Episode 18 is titled "The Frenemy of My Enemy" and airs on Tuesday, April 21.