So many confessions tonight!
On American Crime Season 1 Episode 7, we were reminded how de-humanizing prison can be and how much it can mess with the psyche. Carter is clearly starting to lose his mind and Aubry showed just how far she would go to protect the man she loves.
It was another exhilarating hour and as we head into the final episodes, it's only going to get better from here.
Let's discuss tonight's heart pounding episode.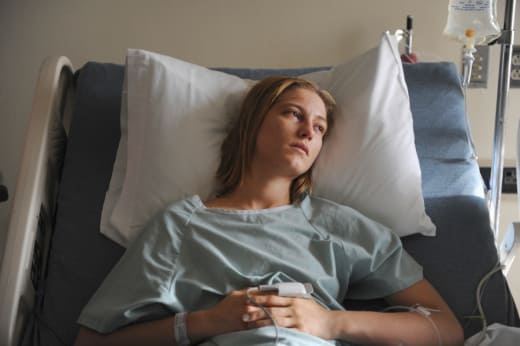 Alonzo is clearly trying to get through to Jenny, but he doesn't want to push the subject either especially considering the attitude he gets from Tony when he tries to push it. You can't blame Alonzo for trying to forget the issue and walk away; though it's definitely not the best parenting in the world.
Hector is the worst witness ever and it's becoming clear they're basing this crime entirely on circumstantial evidence and are just trying to make a conviction because this case is making them look bad. Hector wants to protect himself and he's saying things they want to hear. He's an idiot for continuing to talk when the camera was still in the room.
Tony deserved to get arrested and Alonzo is an idiot for acting as though Tony didn't do anything wrong just because they don't have the whole story. While I totally agree the guy who hurt Jenny deserved a little karma, Tony had no right to go after him and beat him with a pipe. He has fallen into this dark hole and it's going to take a lot for him to get out.
Tony, even while in juvenile detention, continues to be a smug little punk who wants to ignore the advice his father is giving him. Thankfully Jenny was there to be the voice of reason and told Tony what he did was wrong; though she does need to clue Alonzo in on what really happened to her. Jenny is smart for getting out of the house and moving in with relatives – she needs to focus on herself.
Rochelle and Barb's meeting was so awkward, but fun to watch. I give Rochelle credit for being honest with Barb and telling her exactly how she felt. Rochelle and Mark are in love and Barb is an imbecile to think Mark would want to marry Rochelle just to spite her. You'd think Barb could make a slight effort to be happy for her son.
It was odd hearing Russ talk about Barb having a heart considering the things she has said and done in the past. Tom was infuriating when he refused to help Russ out after everything Russ has done for him and Eve. While it's understandable Tom is trying to help out his daughter, he had no right to be so hateful to Russ. 
Carter being treated like an animal was exceptionally hard to watch and I found myself having to look away. Carter may not be the best person in the world, but he doesn't deserve to be treated like garbage. Even after being treated with complete disrespect, all he cares about is the welfare of Aubry.
Aliyah finally got a clear picture of who her brother is and you could see the hurt, confusion and disappointment in her eyes. I'm not entirely sure I believe any of the confession Carter gave because it's clearly a rant from a very desperate man. I just wish they would stop looking at this case as a hate crime and just look at is as a murder. 
Aubry actually surprised me by proving how far she would go to protect Carter even though it's been pretty clear Aubry has NEVER been mentally stable and it was shocking to think they would actually get her to testify against Carter.
In the end, Aliyah decided to take things into her own hands and she is getting people together to fight for Carter. The interesting thing is, she's not scared about the possibility of it turning into a violent protest. 
What did you think of tonight's episode? How do you think Aliyah's protest will go? 
Make you catch up on American Crime before the next episode. Go watch American Crime online now via TV Fanatic. 
Samantha McAllister was a staff writer for TV Fanatic. She retired in November 2018.