American Idol Recap: A Tribute to Kelly Clarkson
Miranda Wicker at . Updated at .
The OG American Idol, Kelly Clarkson, took quite a few years off from returning to the stage that launched her career into the stratosphere.
Tonight she'll return to the stage to sing alongside the American Idol Season 14 Top 9. 
And someone's going home. Who will it be? Keep reading to find out.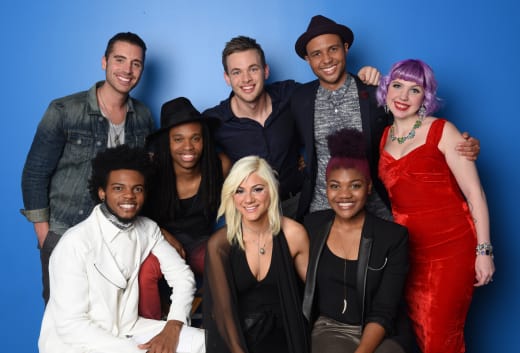 First of all, let's hope whomever's running the sound board tonight can get it together or this is going to be one long, frequently-black-screened telecast, which isn't so great when you're trying to watch and review the Top 8 talents. 
As we await Kelly Clarkson's performance, the Idol Top 8 will take turns singing songs from Kelly's various albums. Okay, so the Top 7 are going to sing. Then America will select the final contestant from the bottom 2 by a series of rapid votes on Twitter. YIKES.
Nick Fradiani is the first safe contestant to sing tonight. He's chosen "Catch My Breath" to get back to his sweet and sensitive roots. Kelly says this is the hardest song of the night. Nick starts out strong by opening his eyes and staring into the camera, but they key seems a little low. It all comes together in the chorus and that's when he shines brightest. It's a solid opening performance. 
Keith really likes the low range in his voice and still wants Nick to loosen up a little bit. Jennifer says that week to week we're seeing him blossom but maybe he needs help with choreography so he can stop thinking about choreography. Harry said it wasn't his favorite vocal, but Nick's definitely seeming more comfortable. 8/10
Up next, Jax tackles "Beautiful Disaster." She could not have picked a song more suited for her voice and skillset, but there's this over-rehearsed, lack of organic feeling that comes through in a lot of her performances, this one included. She's singing, and it's beautiful, so if I'm rating on just that, it's a 10, but it FEELS like she's trying too hard to feel.
Jennifer kicks off the commentary by calling it really pretty and pure but wished the arrangement had gone somewhere. Harry really, really loved it. Keith says he holds her to a higher standard because she's an artist, but she has too much going on and too much to think about with her staging and choreography when she performs. 8.5/10
Tyanna Jones is through to the Top 8. She's singing "Mr. Know It All." She's hoping to show a little sass and put some emotion into the song. She made an excellent choice by picking a song that has a little R&B flair to it. She's not smiling, but there's a twinkle in her eye. The arrangement needed a little work. Vocally, it's solid. Maybe not her best, but not the worst we've ever heard at this level of competition. 
Harry starts off by saying there's a mystery behind Tyanna and he always wants to know more about her. He felt like she was singing directly to him. Keith says she's sings great, but he didn't think she connected with the song and its sadness. Jennifer agreed with Keith. Tyanna has amazing pipes, but she didn't really connect with the performance. 8/10
Joey Cook is going to the Top 8! She's completely changed up "Miss Independent" and given it a little of her own flair. It's definitely a Joey Cook original and a performance right in her wheelhouse. While I love her shtick, I have to wonder how relatable it is for the long term. This is the Joey America fell in love with and keeps voting through, but how long can it last? I really want good things for her.
Keith says the great thing about what she does is that she just builds new songs and has a way of reinterpreting lyrics that make them seem new. Jennifer calls it one of the best performances of the night because it's so unique. Harry gives her an A+ for bravery but wishes the jazz parts of the song hadn't been a novelty. Jazz is still modern. He should know. 8/10
Kelly Clarkson gives a master class in How To Be An Idol singing a song of her latest album, Piece by Piece. Then Ryan announces the next safe contestant...
Quentin Alexander! He's chosen "Dark Side" and he has some really rough moments in rehearsals with Kelly. His intro is fantastic, maybe the best he's had. It's clear and on pitch, mostly. It's not perfect. When he hits the chorus, his backing singers overshadow him. He's so intense all the time. I really just want to see him cut loose and have fun. 
Jennifer liked it and thought it was perfect for him. Keith goes next and says he loves Quentin's poise and truth. Harry wants Keith to spend as much time on the creative as on the skills, or rather as much time on his technical skills as on his creative approaches like costuming. Harry's on point. 7/10
Qaasim Middleton is next. He's chosen to slow down "Stronger" and play the guitar with it. Kelly gives him credit for choosing to take a song that still gets airplay on the radio and go a different way with it to show himself as an original. With this performance, Qaasim is trying to prove why he deserved the save. It's great to see him do something less all over the place, even if it's not technically perfect. It's definitely a new twist on an old song and I love the idea of it. He botches the last note pretty terribly. 
Harry loved the set and how comfortable Qaasim looked but he shouldn't have sung the runs since he didn't sing them well. Keith thought the problem was the transition between the verses and the chorus. Jennifer said he needed more practice and gave him credit for knowing it wasn't his best. 7/10
Kelly gets TWO songs tonight. She's throwing back to the song she sang that landed her on Idol in the first place, "At Last," and she's doing it live. (In case you didn't know, the special guest performances are rarely live. And they aren't played on a screen or anything for the audience when we're watching them at home, which means the audience in the theatre just gets to sit there for five minutes or however long.)
Clark Beckham is safe! (I almost had a heart attack.) He's picked "The Trouble With Love Is" which is perfectly suited for him. Kelly tells him to work on vulnerability. He has a really hard time singing with his eyes open, but he's trying. He's trying hard to show the baby blues. And really, that's the only thing he needs to work on. He could sing the phone book and I would buy it. Jennifer looks like she's about to cry she's so excited by his performance. My husband probably wishes I would stop smiling at the TV. That was amazing.
Keith called it really, really good and wants Clark to make sure he's leading with the feeling instead of making his voice do things. Jennifer says he definitely led with feeling and she had goosies from head to toe. Harry says he nailed it. 10/10
Now American Idol will turn to Twitter to decide whether Daniel Seavey or Rayvon Owen will be sticking around. They'll both sing and then the voting will begin. At the end of the night, one of them will round out the Top 8.
Daniel Seavey, suffering from laryngitis, has chosen "Breakaway." The lyrics are perfect for him when you think about how he's the youngest in the competition and is literally learning how to fly in this environment. He's such a sweet kid and I really like HIM, but I'm just not sure he's ready to pursue his career yet. He's clearly struggling on this vocal and is also overshadowed by his backup singers for a good portion of it. It might not sound that way in the studio.
Jennifer thought he did an okay job with it. Harry tells him to keep practicing. Keith dittos Harry and says that he loves that Daniel has a lot going for him. 6/10
Now Rayvon Owen will take the stage. He's picked "Since U Been Gone." He's turned it into a ballad which has apparently, to Kelly, made the song a little sad. This. Is. Fantastic. He's singing in a lower key than in previous weeks, isn't relying quite so heavily on his falsetto, and sounds amazing start to finish. That's his best performance on this stage.
Harry says he has incredible chops, but he doesn't know where Rayvon's gravy is. Keith knows what Harry's saying but says this is his best performance. Jennifer thought he did a beautiful job and tells him to keep digging. 9/10
So now America will vote for five minutes by tweeting #SaveRayvon or #SaveDaniel. The fine print says everyone who votes has to be 13+, and while the TOS for Twitter would support that, we all know how easy it is to lie about what year you were born. This is sort of dumb.
They're calling this a "fan save" but it's not really a fan save. The fans voted last week. Last week they chose their Top 8. What's happening right now is an opportunity for America to re-vote and re-choose the #8 contestant. This is a terrible idea.
Rayvon Owen earned the save, which means Daniel Seavey is going home. In truth, it's time for Daniel to go. He's sweet, he's talented, and one day, he'll have a serious chance at being a musician or artist. Now is not his time. He needs to grow up and experience a little more life. Rayvon Owen is the better choice. 
After this week, Qaasim Middleton could find himself in trouble again, but so could Rayvon Owen. He was great tonight but will people vote twice? Once to give him the fan save and then again with his designated number?
My choice for elimination this week would be Quentin Alexander. I like him, but he's here so people can see what he's wearing and not because he's the best. We'll find out if I'm right next Wednesday when American Idol Season 14 returns.
Miranda Wicker was a Staff Writer for TV Fanatic. She retired in 2017. Follow her on Twitter.