American Idol: The Top 8 Sing Billboard Hits!
Miranda Wicker at . Updated at .
Daniel Seavey said a tear-filled goodbye to his American Idol Season 14 co-contestants during last week's Idol Fan Save round. Rayvon Owen was spared for one more week. 
Will he leave us tonight? Or will someone else be bidding the stage adieu? Let's get ready to find out.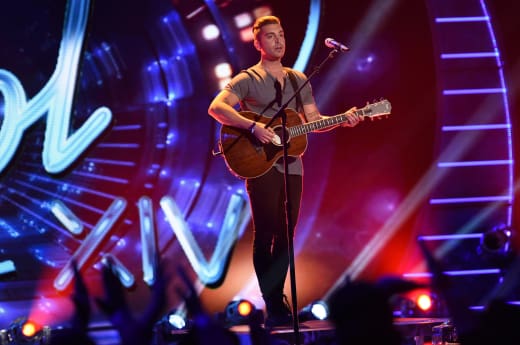 Florida-Georgia Line and Jordin Sparks' ex-mancandy Jason Derulo are this week's guest mentors. Jason works with Tyanna, Clark, Joey, and Quentin while Rayvon, Jax, Nick, and Qaasim get tips from the country-pop boys.
Jax​ is up first tonight having earned enough votes to keep her out of the bottom 2. She's channeling her inner Lady Gaga with "Poker Face." That guy from Florida-Georgia Line wasn't quite so sure about her choices, but he tried to be supportive. She's trying to put a Joey Cook spin on this which just makes her an imitator and not an innovator.
The melody is completely gone and she's having pitch issues. Jennifer's having a seriously hard time keeping a poker face. She doesn't like it. I don't like it either. Lea Michele and Idina Menzel did it better.
Keith kicks it off by calling her arrangement interesting. He loves her artistry, though. Jennifer said she crossed the line and took the song too far away from the original. Harry says she has magic in her voice and didn't feel like she owned the changes she made throughout her performance. (Last week they critiqued her overly choreographed routines...) 6.5/10
Nick Fradiani​ is here for another week. He's chosen "Teenage Dream" for this week and he's picking up the guitar again. Darren Criss set the bar high for covers of this song twice, so Nick has big shoes to fill.
He's definitely rocking it up a little, but it feels like he's struggling to sing, play, and connect with the audience. And there's a pitch issue or two. He's bringing the energy though, and the crowd loves him. That would be a solid performance in a set at one of his shows.
Jennifer, who sang along and danced around, said it was amazing for her. He changed the song around enough to make it his own and keep it current while not changing it so much that the audience didn't get it. Harry liked the energy he brought to the song but likes seeing him singing songs with more intense lyrics. Keith loved the song choice. 8.5/10
It's 8:42 and our third person through is Quentin Alexander. (Not being able to watch this show with a DVR is painful, FYI.) Quentin chose "Latch" by Sam Smith and Jason Derulo helped him with the arrangement so Quentin would be able to show off his vocal chops, particularly his falsetto.
His outfit tonight is one of the least flashy he's ever worn on the show. He just jumps into his falsetto with very little build so it feels like going into the falsetto for show and not because the song dictates doing so. It's probably the least pitchy he's been. 
Harry loves his look tonight and says he's a really good rhythmic singer. He liked it, but Quentin still has some pitch issues to work on. Keith calls it a great song choice. Jennifer agrees with Keith. It was a good performance but she could tell he was thinking too much. 7.5/10
Joey Cook is safe! She's tackling Miley Cyrus' "Wrecking Ball" and she's not changing the arrangement at all. Scott and Jason called her out on the crab hands she has during all of her performances. The song choice is excellent because it suits her voice without the need for changes. This is one of her best performances. 
Keith says she looks relieved and thought she held back a little in the chorus. Jennifer liked the verses but also felt that she was holding back in the chorus. Overall, she thought Joey did a good job with the song. Harry thought it was cool that she did the same arrangement but wishes she'd gone half a step higher so there would be a moment in the performance. 9/10
Clark Beckham is unsurprisingly safe once more. He's going after Ed Sheeran's "Make It Rain" and bringing the swagger. I could listen to him sing for a decade. I've got goosies. It's absolutely perfect start to finish. I don't even care what the judges have to say because he's just tops.
Jennifer says he's effortless and wants to have a serious conversation about the rest of his package. His style and image doesn't fit his performance style and talent, but she can see him in the finale.
Harry calls him a highly gifted young man and thought his performance could have been better if he'd been in the pocket instead of rushing. Keith thought the guitar got in his way but that at the end it all came together. 10/10
Qaasim Middleton, Tyanna Jones, and Rayvon Owen remain. One of them will move forward and the other two will duke it out for the Idol Fan Save.
And our safe contestant is Tyanna Jones. (Not shocking at all.) She's chosen "Stay" by Rihanna and to get into the emotional place she needs to be, she's thinking of her late grandmother, since emotional connection is where she's struggled.
She's so incredibly talented to be 16 years old, and this is an amazingly solid vocal. I've come to expect nothing less from her though. The arrangement was haunting and at the end she burst into tears. 
Harry started off the commentary by saying he loved that she held her emotions in check while singing and then lost them afterward. He digs her slow vibrato, too. Keith loves the maturity in her voice and thought the song sounded like it could have been hers instead of Rihanna's. Jennifer loved that she dug deep and got herself back on track this week. 10/10
Rayvon Owen will be singing "Set Fire to the Rain" for another fan save. Scott calls him one of the competition's best technical singers but weakest performers. I'm not loving this. His entrance to the chorus is slightly bizarre and could have been way better. That just wasn't his best. He sang it from his guts but it wasn't his best. 
Keith applauds his attempt to sing for his life and also pointed out the issue with the chorus. Jennifer didn't think that was a great song choice, but loved that he sang the heck out of it. Harry still wants to know what Rayvon's gravy is. 7/10
Qaasim Middleton picked "Hey Ya" by Outkast, which is PERFECT for his love of performance. But can he SING IT while he dances around like crazy? Vocally he's off to a rough start. He makes a few arrangement changes which are pretty cool, and then he starts making that stank face of his. This is actually a really great balance between his usual high energy and vocals once he settles into it a bit. 
Jennifer says he always wows them with his performance and the way he owns the stage. Harry says American Idol is lucky to have him because he can perform and get into the pocket. Keith said they both played to their strengths and made a great choice of song. 8.5/10
Judging solely by those performances, Qaasim deserves the save, but will America agree?
NO. 
Rayvon Owen gets the Idol Fan Save. Qaasim Middleton is going home. He was fun, but not a contender to win, so this is a good week for him to bow out. 
Next week, I predict we find Rayvon Owen and Jax in the bottom 2. If she ends up there, it will be because she changed "Poker Face" too drastically and went first tonight. 
We'll see what happens when American Idol returns next Wednesday!
Miranda Wicker was a Staff Writer for TV Fanatic. She retired in 2017. Follow her on Twitter.