Suddenly Bob Paris and the giant pit he's digging under the guise of a pool seem like the least of Norma's worries. Of anyone's worries, really.
On Bates Motel Season 3 Episode 8 just about everything spiraled out of control with the exception of the sweet flirtation of Dylan and Emma (Dylemma for the shippers in the audience), although Dylan's desire to help her almost got him and Caleb killed.
Scratch the notion that anything was in control by the time the hour was over. Other than the giant pit, Norma's loss of a trusted ally and friend, and a crazy shootout, Norman grew ever closer to Psycho.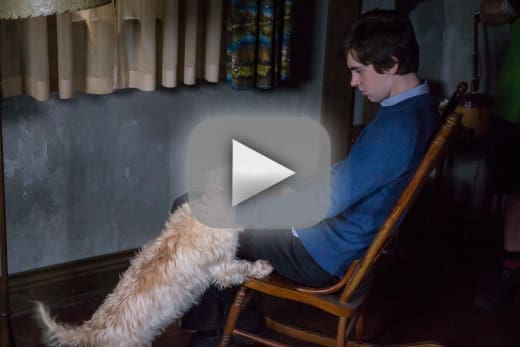 One by one, shall we?
The Pit and Other Oddities. Well, we knew things were going downhill with Bob Paris, but I am curious as to his intention for the pit. Does he plan on filling the bottom with bodies and miscellaneous clues and then building a pool on top? In White Pine Bay, even on a modest highway, nobody would probably look twice.
Bob managed to get information out of therapist James. Apparently there are some lines he will cross when his life is on it. I can't blame him! What's difficult to comprehend is why, after everything Romero has done for Norma and knowing fully well the cat is out of the bag, she didn't take the hint from him when he gave her one last chance to come clean about the death of her husband.
A part of Norma had to know Romero was onto something and he was poking her because he knew what Norman did. Norma is not a stupid woman. She certainly likes to procrastinate the bearing of truth, but she's not stupid. Now we have to hope Romero will give her another last chance.
Dylemma, Chick and Gun Running Don't Mix. First of all, if you didn't catch the outright glee Dylan's face when he called Emma from the road, then go back and watch it again. He can try to talk himself out of his crush on her, but there's no taking it back at this point. Gosh, he was adorable. That said, he should have listened to his father about taking anything Chick said at face value.
Caleb wouldn't let Dylan run drugs alone (even those disguised as "art"), and when they got to their destination, he had a wise cautionary tale on hand to try to talk Dylan out of it again. Nothing could deter Dylan's determination to try to save the girl.
If only Chick wasn't such an ass. Even his partners hated his guts. They were just looking forward to blowing his brains out. So there's no money and now Dylan and Caleb are on the line for...what? Felonies of some sort, however it pans out. This ain't good.
Compassion and Crazy Town. Norman keeps getting spun in sanity circles. Just when he thinks he's getting a handle on things, he's spun into the opposite direction. He was still under the impression he was dating Emma. They had "the talk" right beside the pit. He was thrown right into his bedroom and into some Juno time. 
Thinking things over scared him and he decided to come clean with Norma about what went down with James. Of course, it's compassion time. It's impossible to hate Norman when he's so troubled and trusts his mother enough he's willing to tell her THE TRUTH about kinda, maybe wanting her sexually. That's scary stuff. 
Norma handled it well, if Norman had been another kid. But, he's not. He's Norman. So there was probably another tactic other than snuggling up face to face in a close embrace that would have worked better. Unfortunately, Norma doesn't know what it is. Me, either.
When Norma finally ran James down and understood what was OUT THERE, neither she nor Norman took it very well. He blamed her, she blamed him. They screamed, she said he was killing her and when she stormed out (after asking that he protect himself, so there's that), he pictured imaginary, sultry Norma in her place, and he even tossed her aside. 
Running away from sultry mother resulted in him looking back at her in her WINDOW. Poetic, that, and then Juno got out and I thought to myself, "Carissa, why are you acting upset the dog is out when it's a stuffed dog?! Get a hold of yourself, you freak." But, Norman thought it was out, so I played along.
Ultimately, Juno lead Norman straight down the middle street (And I, of course, wondered if Juno would be hit by a car again. Who is crazy, me or Norman?!), where he came upon a car in front of which was standing Bradley Martin. 
Now, in my recollection, Bradley faked her suicide and left town. Norman thinks she's dead, so whether she is real or not is up for debate. I'm betting she's real and he'll think she's imaginary and he's going to kill her as a way to clear his mind and he will inadvertently wind up killing Bradley Martin! 
What do you think? That's so terribly sad, that his mind could play such tricks on him, but it's not at all unexpected, either. Lies have a way of coming back to haunt in terrible ways. The worst ways. Will Norman be made a murderer because he's trying to erase his demons?
Hit the comments kids and be sure to watch Bates Motel online right here at TV Fanatic if you need to catch up with all things in White Pine Bay!
Carissa Pavlica is the managing editor and a staff writer for TV Fanatic. She's a member of the Broadcast Television Journalists Association (BTJA), enjoys mentoring writers, wine, and passionately discussing the nuances of television. Follow her on Twitter and email her here at TV Fanatic.