I think maybe it's time to beat a dead horse. Bones Season 10 Episode 13 is interesting enough, but it does lack too much focus on our main characters.
Our readers consistently comment that they want more screen time between Booth and Brennan, and this episode starts to cry out for it. I'd especially like to see more of quirky interactions between them, whether that remains in discussions over lunch or back at home.
Maybe more than that, I'd like to see some different sort of storylines. We seem to have fallen into a very specific formula, and I'm looking forward to the next several episodes that will hopefully break free of that formula and move into something different and unexpected.
That said, that are a lot things that work really well in "The Baker in the Bits." First of all, I appreciate that Booth mentions being in prison on more than one occasion. That's a story that was wrapped up a little too quickly at the beginnings of Bones Season 10, so it's nice that we're reminded of it. Prison should have an effect on Booth's character, and maybe it has – he certainly seems to be tired and a little bit jaded.
The photograph at the beginning is also a nice touch. Brennan says her skills as a forensic anthropologist are what help her find it, and then she goes into some gross detail about finding things in feces. Classic Brennan.
Even though it's a short scene, Cam and Booth getting coffee together is also among my favorites. I'll admit, I didn't realize how much I missed interaction between Cam and Booth until this episode. It's actually almost shocking to see them spending time together and Cam asking for Booth's advice.
Let's not forget that these two have a history together, and they've actually very been close friends. With Arastoo leaving, Cam is going to need her friends more than ever, and I could see her leaning on Booth a bit more.
The storyline for Cam and Arastoo is an interesting one. They are put in a situation as a couple that that seems impossible. I don't think theres any clear right answer for Arastoo, and I also don't think there's any one expected reaction for Cam. It's complicated, not only because it involves distance and family, but also because of their cultural differences.
Arastoo could potentially go back to Iran and find himself in prison, or he could simply be able to be by his brother's side. It's a risk, but it's one he's willing to take for a family member. The downside is that he might lose the rest of his family, including a women who he recently spoke about getting married to. He also doesn't villainize his country. He tells Cam he still misses Iran and thinks of it as a beautiful place that has plenty of good in it.
It's that comment that brings us to the common theme of the episode: finding the pieces of goodness. While Cam and Arastoo talk about their situation, the team is investigating the murder of an ex-con. That investigation leads them to a bakery known for employing ex-cons, which Booth particularly appreciates after having spent time in prison himself. He notes that not all people in prison are bad, and insists to Brennan that reform is possible.
That's what the bakery owner is trying to do by employing the former inmates – he's offering them a second chance. It's devastating, then, to learn that one of his "success stories" is the murderer. That murderer is also brought down by Booth, who is forced to shoot him – something he admits later to Brennan that he never likes to do.
Booth: I never like taking the shot.
Brennan: Because of that piece of goodness you have.
Other Thoughts:
Hodgins and Angela have a very cute, very personal moment in the lab. I don't know if I needed to know those details about their sex life, but I love seeing these two together.
Does Aubrey ever stop eating? I love that we not only see that as a running joke, but that both Booth and Brennan comment on it.
What did you think of these week's episode of Bones? Share your thoughts in the comments below!
Need to catch up on past episodes? Remember that you can always watch Bones online right here via TV Fanatic!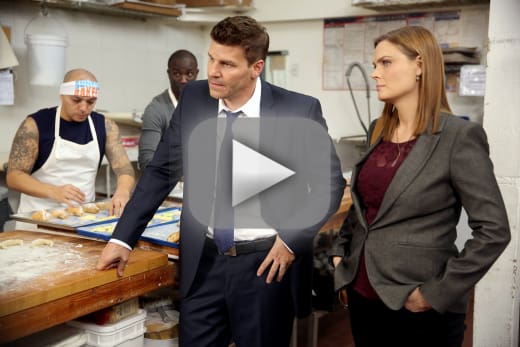 Ashley Bissette Sumerel was a staff writer for TV Fanatic. She retired in September 2017. Follow her on Twitter and on Google+.