Chicago Fire Season 3 Episode 19 Review: I Am The Apocalypse
Paul Dailly at . Updated at .
So, that was the apocalypse?
For an episode that was touted as the backdoor pilot of Chicago Med, I expected a lot more from Chicago Fire Season 3 Episode 19. I can't deny that the whole idea behind the story for the hour was intriguing, but the story relied more on scenes set up just for shock value, rather than some plain old character development.
I get that the Chicago shows pride themselves on the dramatic events that occur during them, but still, it felt a little half baked. Out of the new bunch of characters, Will stands out as the best one, by a clear mile.
April and Hannah were just plain annoying. If Laurie Holden struggled with criticism over on The Walking Dead, I don't see that changing in Chicago Med.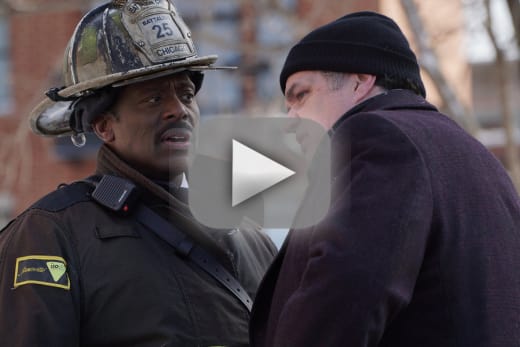 April's dialog was just all over the place. The way she spoke about the pancakes was a little too much, considering the hospital was still smoldering from the fire.
We never got any more information on her past with Severide, but that could in part be due to Severide being operated on for the bulk of the hour. Yes, he tried to play the hero and almost paid the price. It looks like he does remember what happened, though we don't quite know what affect this will have on him.
As I've stated many times, the show needs to stop featuring Lauren German as Shay. She was killed off and it isn't fair to the fans to keep bringing her up like this. It isn't giving any time for us to move on from one of the show's finest characters.
I'm sure we all have mixed emotions on that Dawsey hookup. There has been such a wedge between these two for such a long time that it feels like the chemistry is really gone from them. Whether they will be able to get it back is another story. Maybe it's because we know not to get too attached to them together because of how quickly they were ripped apart earlier this season.
It's doubtful that anyone will forget just how fast Casey moved on, so there's that.
Herrmann was a bright spot in the hour. His conversations with the woman from the hazardous unit were intriguing. He clearly didn't realize how severe the whole thing could have been. This was proven by the way he looked at the picture of his family in his wallet.
No one would have believed the disease would have been hazardous. As if the series was going to kill off the whole cast. Maybe in the series finale, but not before.
You thought ebola was a nightmare. I am the apocalypse.

Terrorist
Did anyone else think that Halstead had slept with that chick at the beginning? I couldn't help but wonder what Lindsay over on Chicago PD would have thought.
"I Am The Apocalypse" was a decent episode. There were flaws, but overall, it held my attention throughout. Expect to see Chicago Med sometime next season on NBC, but be prepared for some cast changes.
Remember you can watch Chicago Fire online, right here on TV Fanatic. Get caught up now!
What did you think of the episode? Did you enjoy your time at Chicago Med? Will you watch the full series if it goes ahead?
Note: Chicago Fire returns Tuesday April 21 at 10/9c on NBC.
Paul Dailly is the Associate Editor for TV Fanatic. Follow him on Twitter.