Chicago PD Season 2 Episode 19 Review: Get Back to Even
Paul Dailly at . Updated at .
Can you believe all those twists in just one hour?
On Chicago PD Season 2 Episode 19, the team sprung into action when a group of young men are found dead.
The case of the weak was the strongest yet. It had everything you'd expect to keep you on the edge of your seat. It looked like Voight was flirting with darkness again, but thankfully, it wasn't to be.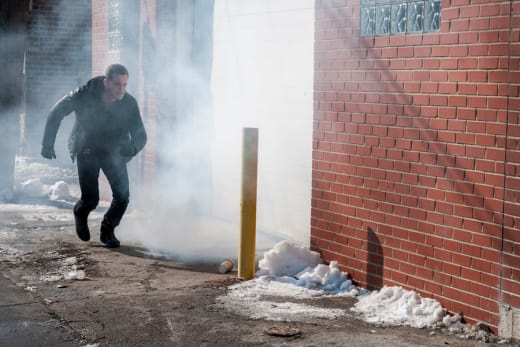 It appears that although Voight initially came across to viewers as a villain, he has been redeeming himself a lot over the course of Chicago PD Season 2.
He put himself on the line to save Charles. It wouldn't happen in real life, but it doesn't stop the events being exaggerated for the transition to TV.
I got an entire unit searching the city for him. I told my entire team he was a good kid.

Voight
It was very smart to have the promos allude to the fact that Voight had turned on Halstead. Now, that was something I was really interested in seeing, but it clearly wasn't meant to be.
Nadia was a weak link for me. It was far too obvious what was about to go down when Roman and Burgess left her to fend for herself.
It all just felt a little cringe worthy. The way the story came together was a little forced, but it didn't stop Platt from giving us some of her wit.
The scene with Nadia being shot at didn't help matters. She should have let the victims go and ensure she was safe.
I liked Lindsay picking up with Nadia after the dramatic events. She spoke to her like any other mother figure would. It sure helped Nadia.
I'm surprised that none of the events are affecting the careers of Burgess or Roman.
Speaking of Platt, she showed a completely different side when she opened up to poor, young Denise. I can only hope that Platt's face-off with Denise's aunt will help her get as far away as she can.
Could this have been making Platt think about having a kid on a more long-term basis? Remember Mouch has just recently acquired a daughter, so why shouldn't Platt?
Will Halstead showed up again this week and he became some sort of mob doctor. He sure had some good skills when he saved Charles, all while being shot at by goons.
Alright. so he's a good kid with bad friends.

Lindsay
It was good to get some insight into the Halstead brothers' family lives and it wasn't all pretty. There is clearly some animosity between them, but will they be able to put their differences to the side?
"Get Back To Even" was another strong episode of this NBC series and I can't wait to see what's next.
Other tidbits from the episode:
That operating scene was so freaking tense. I kept thinking Charles was dead and the team had risked their lives for nothing.
Lindsay kind of defended Voight a bit much. He doesn't deserve her support if he doesn't want her to be happy.
Mouse is continuing to be a grower. He's getting much more likeable by the minute.
Remember you can watch Chicago PD online, right here on TV Fanatic. Get caught up now!
What did you think of "Get Back to Even"? Did the episode live up to your expectations? What would you have planned? Hit the comments below!
Note: Chicago PD Season 2 Episode 20 airs Wednesday 8 April.
Paul Dailly is the Associate Editor for TV Fanatic. Follow him on Twitter.