CSI Cyber Season 1 Episode 6 Review: The Evil Twin

Amanda Wolf at . Updated at .
What does a cyber team do when all of the digital evidence lies? That is exactly the situation the team finds themselves in this week and must sift through the fake evidence. 
On CSI: Cyber Season 1 Episode 6 the team was forced to pursue a killer who came up with an ingenious plan that allowed him to keep someone's death secret for three days.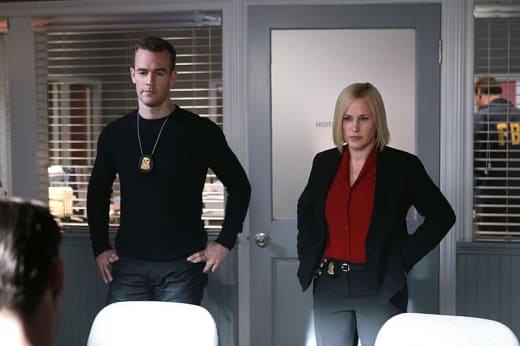 This hour of CSI: Cyber felt a little slower paced than usual, but it was nice to see the team not always in a high octane situation. For the most part, Avery and Mundo were out in the field, while the hackers back in D.C. were actually doing all the leg work.
Props to them for doing a really good job and being the main ones who solved the case. Although, there were Nelson and Krumitz fighting over the poop phone. 
As the hackers were feeding evidence to Avery and Mundo, those two were out in the field trying to follow a killer who managed to fake cyber evidence. Not only does the team have to deal with interpreting complicated cyber evidence, but as with any case the clues can sometimes lead you in the wrong direction. 
In this case, there was something known as an 'evil twin' that took the form of a fake WiFi network, which Shane used to frame Evan. Poor Evan.
According to Avery this could happen to anyone. While that may be true to an extant, a killer would need a lot of prior planning in order to pull off a cyber and murder set up. As I was thinking this, Avery came to the same conclusion that Evan must be connected to Adele on some personal level. 
Unfortunately for Evan he happened to make out with the wrong girl and be seen by her very wrong boyfriend. I was glad that Evan wasn't hurt by Shane, although it would have made for a much darker and compelling episode for Avery as a character if he had been.
Avery's return to New York brought up bad memories of her patient files being stolen. Sure, we knew that this was the reason she became a cop, but the fact that the hacker was never caught really eats away at her a lot. 
I did enjoy the back and forth about who did it between Evan and Shane, but I am really skeptical about the the team being able to match up motion detectors on the phones and replaying the entire fight between Adele and Shane.
Good luck getting a judge and jury to understand that one. A jury would most likely be lost or bored out of their minds having that explained. 
What did you think of the case this week? Do you think this show is getting better or worse? Are you looking forward to seeing it through one season? 
Remember, you can always watch CSI: Cyber online via TV Fanatic!