CSI Cyber Season 1 Episode 7 Review: URL, Interrupted

Amanda Wolf at . Updated at .
This week the team was up against the cruel world of high school students and cyber bullying. The hour focused on just how far bullying can push someone over the edge and what the potential fall out of hurtful words can be. 
However, in a twist at the end CSI: Cyber Season 1 Episode 7 showed that it isn't just kids that can be bullies, but that adults can play that game just as well.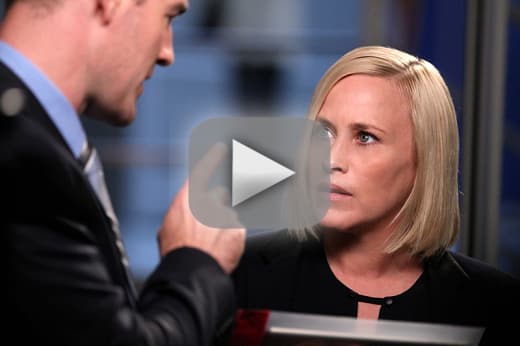 The investigation began with the team searching a park for the possible scene of Zoe's suicide. Avery quickly realized that a cyber trick, known as spoofing, was being used to manipulate Zoe's phone. 
Jordan was one of Zoe's old patients In New York, making this case very personal for Avery. I was impressed with Avery's ability to keep herself together and show a strong face and she is really proving to be another strong female character for us to root for. 
The investigation took quite few interesting twists and turns and I did not know who was going to be the mastermind behind the plot.
First, I really enjoyed that for most of the hour we were not sure exactly what Zoe's next move would be. She initially ran away from home, but then decided to return and take some vengeance on the cyber bullies. Her mindset was suspenseful to watch! 
I was suspicious when the guidance counselors were at the crime scene because it seemed massively overbearing. When it was revealed to be Arianna and her anger toward Jordan for dumping her I hit myself in the head with how obvious it was. 
Because the best way to hurt a father is to hurt his daughter.

Arianna
I was thrown off by the idea that Simon's son was the cyber bully mastermind. He claimed he did not start it, but he showed no remorse or fear when he told his dad about it. I thought it might come out that Erin had a crush on Zoe and she had rejected him so he decided to bully her online. 
Avery: I don't think I have every called one of my friends a heinous bitch or told them I wish they would die a slow painful death.
Jennifer: Well some friends deserve it.
I was thrown off by Avery's lack of suspicion towards Simon's son. All of the first responding teens would have been suspects, but that idea seemed to be brushed over. 
I did not exactly follow how Mundo, Krumitz, Raven and Nelson came to the conclusion the device being used to spoof the school computer had to be at the school. Was it a matter of distance? The concept of spoofing also seemed extremely similar to the evil twin router trick used in CSI: Cyber Season 1 Episode 7.
Did anyone else notice the team used a device similar to a metal detector to track down the cyber bully. Would you call it a spoof connection detector? I am having a hard time buying into this one. Does one of the viewers have any insight on this? 
Luckily for fans this was the first of the CSI: Cyber double feature this week. I think this hour on cyber bullying was inspired by the 16th anniversary of the Columbine shooting.
While the episode's take on cyber bullying added an extra layer of cyber intrigue, the message about bullying and pushing someone over the edge was strong. 
Your words are weapons, be careful how you use them.

Zoe
What did you think of this episode? What did you think of the reveal that it was the guidance counselor? Were you intrigued by Zoe being on the run? What did you think of Raven's back story?
You can catch up on the twists and turns of the case when you watch CSI: Cyber online via TV Fanatic!