Well, we're almost at the end of this wild ride, and it's been sensational!
There were major losses on both sides in Daredevil Season 1 Episode 11 and Daredevil Season 1 Episode 12. One, which I saw coming early on. The other, not so much. Still, watching Fisk choke the life out of Ben Urich was as brutal as anything we've seen so far.
In my previous review, I mentioned the pacing had slowed down quite a bit. That continued here, and it's pretty clear the first few episodes were front-loaded with action sequences to get us hooked fast. Once we were invested, it was more about the drama.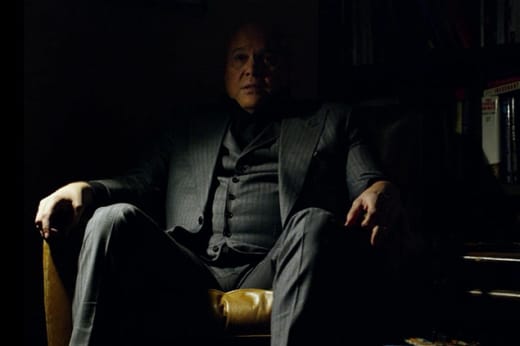 "The Path of the Righteous" picked up right where the previous episode left off, as Vanessa was rushed to the hospital after being poisoned. What's interesting is, though Fisk is clearly the villain I didn't want her to die. Partly because their relationship is so interesting, and partly because her death would destroy any humanity he had left. What makes Fisk interesting is those shades of grey.
Leland stressing he had a glass in his hand and asking several times if he needed to be checked out was a dead give away. Plus, he was all business rather than supportive. It was hilarious that Fisk pulled the "Don't you know who I am?" card.
Matt letting Karen into his apartment was probably not a great idea. It was nice to see her piece things together; she's no dummy.  
Matt: Did you speak to her, Fisk's mother?
Karen: Yeah... she's not all there, but Matt, what she said about Fisk... he killed his father... when he was 12. Bashed his head in with a hammer, and then she helped him cover it up.
Matt: Well, he was a minor. It's not gonna be enough.
Karen: To put him in jail, no. But it doesn't line up with everything that Fisk has been saying.
The awkwardness between Matt and Foggy continued, but I loved to see Foggy get a little lovin'. What a character that Marci, it was amusing the way she talks to him. If Foggy sticks with Marci, that means no love triangle between the three leads. I'm fine with that, since I'm not a fan of those.
It was great to see Rosario Dawson make one final appearance. I'm not sure exactly why, but the actress was only available for five episodes this season. There were definitely moments her absence felt off. Before she walked out of Matt's life, she once again recommended some type of body armor. I thought the connection between Fisk's suit armor and Matt's future Daredevil suit was cool.
Will we see Claire Temple again in the other Netflix series AKA Jessica Jones or Luke Cage? I'm betting that's the plan, and I hope she takes on more of a lead role.
Claire: You know, the only thing I remember from Sunday school is the martyrs... the saints, the saviors... they all end up the same way. Bloody and alone.
Matt: I never said I was any of those.
Claire: You didn't have to.
It was a little frustrating that Karen kept hounding Ben. Especially since he wanted out in order to take care of his sick wife. While her determination's admirable, I couldn't shake the feeling she was putting Ben's life in danger.
Ultimately, Karen's snooping brought her face to face with Wesley. I'm not sure why Wesley placed the gun on the table, but his overconfidence was his undoing. I wasn't expecting Wesley to die at Karen's hands though; that surprised me. Toby Leonard Moore was fantastic as Wesley, and I'm going to miss the character. Karen mentioned having shot someone before... very interesting indeed.
Karen got rid of the gun at the start of "The Ones We Leave Behind." The dream sequence was a bit predictable. I knew Fisk wasn't after her. Not yet anyway, it was way too soon after Wesley's death.  
Vanessa came out of it and again I was oddly relieved. Though I had a feeling she would stay by his side, it was surprising to hear her encourage vengeance. Birds of a feather those two. Then, Fisk learned about Wesley.
Leland: First, the attack at the benefit, now this? Somebody's not happy.
Fisk: Nobu's accounts... are they still active?
Leland: Yeah, but nothing's been touched since he went up in smoke.
Fisk: And Gao?
Leland: You think this is her? No, my money's on the Japanese. Maybe they found out about your little bonfire with their boss.
Fisk: You can go now, Leland.
Leland: Okay. But... whatever war you're thinking about starting... don't lose sight of the end game. Once Senator Cherryh has cleared the last of the zoning issues, you can tear down the rest of Hell's Kitchen and build your better tomorrow. It's a shame not everybody'll be there to see it, but shit happens.
Fisk: Find out who did this to Vanessa and to Wesley.
Leland: I'll see what I can shake loose. Just remember, uh... wind blows the hardest the closer you get to the mountaintop.
I genuinely felt sorry for Fisk, sitting there holding Wesley's hand and kissing his friend's forehead. Of course, when he he spotted his mother's number in Wesley's phone, that meant either Karen or Ben were in trouble. Since Karen's story had only just begun, it didn't surprise me I was right about Ben's demise.
Marci helping Foggy was great, and it was nice to see she wasn't the soulless shark I expected. Though Matt and Foggy still weren't talking, Foggy Bear was doing his part and doing it well. I couldn't wait for the Nelson and Murdock team to get back to work.
The parkour stuff over the rooftops was the first time Matt's abilities came across as "super" or unrealistic. The guy ditches a lot of canes doesn't he? Still, we can't lose sight of the fact this is a superhero show at its core. I thought the stunts were well executed and the sequence was thrilling. Besides, our hero needed to locate Gao's house of horrors and take her down somehow, right? She was one tough cookie. I can't wait to learn more about Madame Gao.
So, Gao and Leland were behind the poisoning; I kind of figured as much. Madame Gao left for her homeland, but it was considerably farther than China. This seemed to indicate she will return in one of the other Marvel/Netflix series. If have any insight on her homeland, please share it in the comments below.
The moment Ben entered his place, I knew he was a goner. The camera panning over his shoulder to reveal Fisk sitting in the shadows confirmed it.
Fisk: I've made mistakes in the years since I was a boy. I tried to learn from them, but it isn't always enough.
Ben: Get out of my house.
Fisk: I'll leave. But first, I'd... I'd like to have a conversation with you. Off the record of course.
Yeah, no shit off the record. It's sad that no one will ever connect Fisk to Ben's murder. That was a tough scene to watch, and it made me wonder why Marvel would take the Ben Urich character out of play in the Marvel Cinematic Universe. Since everything's connected, Urich is gone for good. In the comics, he was associated not just with Daredevil, but Spidey, Hulk, The Punisher and others.
For me, Ben's murder did away with any sympathy I was feeling for Fisk. The guy is a monster, plain and simple. Though Fisk doesn't appear to be the legendary "Kingpin" at this point, he's well on his way there.
What did you think of "The Path of the Righteous" and "The Ones We Leave Behind"? Were you surprised both Wesley and Urich were killed off? How do you feel about Karen now? You're up guys, hit the comments below and share your thoughts on these installments.
Look for my finale review of Daredevil Season 1 Episode 13 tomorrow.