Kristen claimed that little Christopher was Daniel's baby, Uncle Victor had some tough love for Sonny and Xander found out where he ranked amongst Victor's favorites on last week's Days of Our Lives.
Our TV Fanatic Christine Orlando is joined by Kathy and Simon05 from MyHourglass a Days of Our Lives Fan Forum to debate whether Sonny and Will are destined for a break up, who Adrienne should end up with and if they want to dive into Eve's sordid past.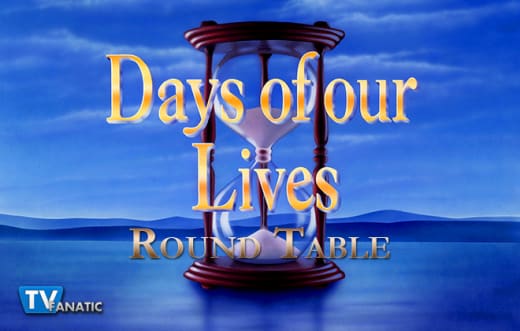 Do you think Victor is right. Are Sonny and Will destined to break up?
Kathy: I don't think they are destined to break-up. Victor did give Sonny some issues that he should seriously think about.
Simon05: Absolutely! It would be one thing if Will cheated then regretted it and apologized and they worked through it. However Will is way too self absorbed. He thinks of himself and his career first and always. Yes, he is his mother's son but I think even Sami had some sort of depth. Will does not.
Christine:  Victor, very bluntly, made a lot of valid points and I love that about him. Will and Sonny are married so I do believe they should head to therapy to see what can be salvaged but with Will's selfish attitude, I think these two are destined for divorce court. 
Does Xander have reason to be jealous of Daniel and Brady?
Kathy:  It depends on what Xander sees as his place in the Kiriakis family. I think Victor looks at him as a nephew he helped out of trouble. Xander may see himself as the next head of the Kiriakis empire, especially since Victor is receiving benefits from Xander's shady deals.
Simon05: Seriously? We are talking about Saint Daniel. Hell, I'm jealous.
Christine:  Victor treats Daniel like a god among men and Brady has had more free passes than I can count. I can see why Xander might bristle about being painted as the black sheep of the family, especially when he's lining Victor's pockets with his dirty deeds. 
Jennifer broached the subject of Eve's troubled past. Would you like to see them follow up on that storyline or leave it in the past?
Kathy: I would definitely like to see a storyline where Eve faces her past to help her deal with her current issues.
Simon05: I would like to say yes however, for me, I would just need Charlotte Ross back playing Eve to pull it off. So I say leave it in the past.
Christine:  I think both actresses are certainly capable of pulling of a meatier story than what they've been given. Diving into Eve's troubled past could be just the drama to tap into their talents. 
Who would you prefer to see Adrienne paired with, Justin or Lucas?
Kathy: I hope that Justin and Adrienne work through their problems and stay together. I would also like to see Lucas finally find a love of his own and cut his mother off for good.
Simon05: This is a no brainer for me. My vote is Justin all they way. I like Lucas but I feel like the guy just needs a woman of his own he seems to always be the rebound guy.
Christine:  Poor Lucas. I like him but he's the rebound guy in this triangle and it won't last. I think Adrienne and Justin are destined to find their way back together. 
Kristen claimed Daniel was the baby's father. What was your reaction?
Kathy: My reaction was "I hope Brady doesn't believe her". It looks like Brady considered it but rejected her claim when he saw the baby and asked for a DNA test.
Simon05: I thought it was awesome and I never expected it. The look on Melanie's face when Kristen introduced her to her new baby brother was priceless. However, the last thing we need is another Jonas running around.
Christine:  It made me a little ill, even though I knew it was all a lie. Just the thought of yet another Jonas running around made me cringe. 
Was there anything that disappointed you this week in Salem?
Kathy: Daniel and Nicole's roller coaster relationship. I hope someone jumps off soon.
Simon05: SERENA!! Also, Nicole and her continuous apology tour and Daniel berated her every 5 minutes.
Christine:  Daniel deciding that Nicole's fight with Serena had something to do with Eric. Enough already. I cheered when Nicole walked out on him but I have little hope that she'll walk away for good. 
What was your favorite scene or story line?
Kathy: My favorite storyline is Xander's trying to work his way into Victor's good graces. I'm sure he will use any means to discredit Brady and/or Daniel. His resentment could lead to some good drama.
Simon05: Hands down favorite scene was Victor & Sonny's conversation outside TBD. I loved absolutely everything about it. Uncle Vic just proved once again how awesome he is.
Christine:  Since Simon05 picked my first choice, I'm going to go with Aiden and Hope. From their sleepover while the kids were at a sleepover to the bit of tension over Hope investigating Clyde while Aiden is representing his son, I loved every minute we got to spend with this charming couple. 
And if you missed out on anything last week, check out our Days of Our Lives review here at TV Fanatic. 
C. Orlando is a TV Fanatic Staff Writer. Follow her on Twitter.