Elementary Season 3 Episode 19 Review: One Watson, One Holmes

Tanya Moat at . Updated at .
The hacker group, Everyone, was back on Elementary Season 3 Episode 19.
But, this time, they needed Sherlock's help after a member was killed and one of their own framed for his murder.
I will always have fondness for Everyone because they made Sherlock and Kitty research Twilight for some convention. The idea of ultra serious Sherlock Holmes researching werewolves and vampires is hilarious. I only wish we could have seen him deliver his presentation. 
However, circumstances were much different this time. Everyone was in trouble, so Sherlock wasn't in danger of having to humiliate (or humble) himself on their behalf. Sherlock wanted Joan's assistance but discovered she wasn't exactly the Watson he knew. Or needed.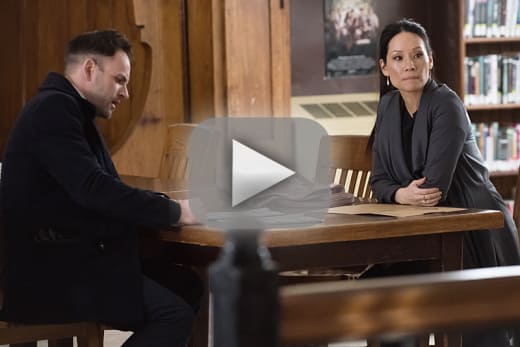 Joan was off tonight. She didn't want to talk, was abrupt and solely focused on the work at hand. Does that sound like anyone else we know? Yup, Joan was turning into Sherlock and he didn't like it.
I did find it a bit strange, however. Joan had understandably been through a lot with the murder of boyfriend (or ex-boyfriend), so it was very reasonable that she would act differently. The problem was beyond the initial episode after Andrew's murder, I thought she acted pretty much like she always had. 
Real people take longer to get over traumatic events in most cases, so her acting normal wasn't necessarily a good thing. It's possible that she was trying to put on a good face to the public, but it would seem more logical if we had some glimmers of it before tonight. 
It's really a small quibble because it did lead to some great conversations between the two of them. 
Our relationship is predicated on one Holmes and one Watson. It's a delicate homeostasis. It doesn't function properly if there are two Holmeses and no Watsons. So while I am sensitive to this is likely a ripple effect from the tragedy, turning yourself into me in response is not good for our partnership.

Sherlock
Joan didn't take to kindly to Sherlock's intervention. But he was right. Their relationship works because he is Sherlock and she is Watson. Of course, his approach was very Sherlock-like, so it wasn't necessarily a surprise that she didn't see eye-to-eye with him.
Because Sherlock has grown so much as a character, he also realized later that his approach was poor and even apologized for it. We should all mark this day on our calendar because Sherlock acknowledging that he made a mistake is not an every day occurrence. This time, he not only better articulated his concerns but also shared one of his own weaknesses.
Sherlock: One of the things I've gained from our collaboration is the working definition of the word, "friendship". Friendship, I've come to believe, is most accurately defined as two people moving towards the best aspects of one another. It is a relationship of mutual benefit, mutual gain. Another thing I've learned is that my isolationist tendencies are decidedly not my best quality. I am not a better person because of a lack of connection. So I think the healthy thing is for you to not move in my direction. In fact, quite the opposite.
Joan: That's worth thinking about.
Now that is definitely something to think about. You've come a long ways, Sherlock Holmes.
The case this week involved our favorite hacker group, Everyone. It appeared they were being split in two, with one side wanting to stay the same and the other side wanting to become more political. The hacker known as Sucking Chest Wound wanted to hire Sherlock to dig up dirt on his rival, which did not interest him.
Unfortunately when that rival, Species, was murdered, Sherlock was involved whether he liked it or not. The case had the usual twists and turns, which one expects. In this case, they seemed to take up a lot time, so the ending felt a bit rushed for me. 
While I understand to an extent how this case could make Agent Branch's career, it also seemed a little weird. I'm not completely sure I buy that an elite hacker wouldn't have done a better job ensuring that he also had the goods on the FBI agent who knew he murdered someone in case she grew a conscious. Or Sherlock Holmes figured it out and she gave him up to protect herself.
The case was pretty average, but Sherlock and Joan's partnership once again shined, which is why I watch every week. One Holmes and one Watson is all we ever need.
Sherlock: Enjoy yourself, Watson.
Joan: I'll try, Holmes.
What did you think of tonight's episode? Were you surprised by Joan's pulling back from friends? What was your favorite part of tonight's show? Don't forget you can watch Elementary online via TV Fanatic at your convenience.
Note: Elementary Season 3 Episode 20 airs on Thursday, April 16.