Elementary Season 3 Episode 21 Review: Under My Skin

Tanya Moat at . Updated at .
Sherlock made a new friend and hunted a dumb, but vicious killer on Elementary Season 3 Episode 21. 
I don't want to give killers more credit than they deserve, but this particular batch were definitely not Mensa members. In theory, their crime was much better than their actual execution. 
Replacing organs with drugs in unsuspecting patients undergoing gastric bypass surgery was actually not a bad idea. But once their plan fell apart, they weren't smart enough to pick up the pieces.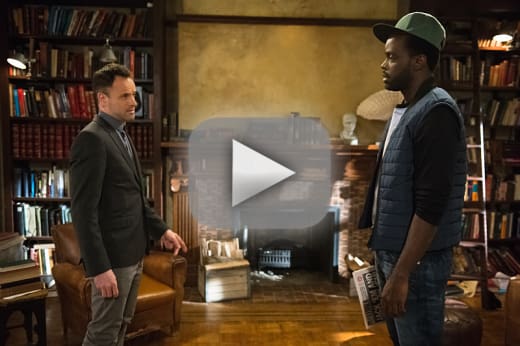 On the outside, it was a pretty intriguing case. However, as Sherlock and Joan picked apart the case, it became quite clear that these guys were no match for our master detectives.
I mean, if I was going to murder two paramedics in order to kidnap my drug mule so I can murder her to get my heroin, I'm not sure if I would do it right outside a hospital that would likely have surveillance cameras. And if I had no other choice but to do it there, which appeared to be the case, I would probably wear a mask, especially if I had a record. Just saying.
It wasn't particularly shocking to find out who the bad guy was and not just because Fisher Stevens played him. The bad thing about more recognizable guest stars is that you almost immediately peg them as the hero or the villain. He was certainly shifty, although it was quite brilliant for a drug cartel to use a dentist's office to conduct business.
I prefer police contact me through my lawyer, not my dentist

Janko Stepovic
I did find it hilarious that Joan and Bell could accuse Dr. Ward of allowing a drug cartel to do business in his office with no reaction from his patients in the lobby or even really him. Perhaps heroin is the new Novocaine?
Dr. Ward, frankly, didn't seem vicious enough to murder people in cold blood, but looks can be deceiving. He did kill, even if he felt bad about it, but he wasn't smart enough to see a con. 
You're bad at this, Marty. You're exceptionally bad.

Sherlock
They knew he did it but needed him to confess, especially since he was in the process of being granted immunity. So they did the old dress-up another police officer as gang member to pretend he was ratting Dr. Ward out to get a deal gag. It was a little embarrassing how easily he confessed.
It was a little unrealistic, too. He appeared to have a pretty smart lawyer who begged him to keep quiet. I would have listened to her. 
Smart and dumb. That's Marty.
Enough about him, let's talk about Alfredo, Sherlock's sponsor. Sherlock, who once upon a time didn't want or need friends, keeps adding people to his friend list. Alfredo was in a bit of trouble but didn't want Sherlock's help because they weren't friends.
That bothered Sherlock. Alfredo wasn't wrong in his assessment of their relationship, and logical Sherlock normally would have agreed wholeheartedly. He would have expressed his opinion because I don't think Sherlock is capable of not saying what he thinks, but he wouldn't have involved himself. His response threw him for a loop.
After many, many hours, I've come to most wretched of realizations. One that might curdle your very blood. You are my friend.

Sherlock
Yes, he is. You protect those you care about and that is what Sherlock did. It has been so much fun watching him expand his circle and become a better man for doing so.
You're firing me, so you can be my friend?

Alfredo
You should feel honored, Alfredo. It is an exclusive club. I would, however, suggest you keep the jokes to a minimum. Like the Grinch, Sherlock's heart may be growing, but he is still not much of a jokester, especially when it involves Joan.
What did you think of tonight's episode? Were you surprised that Sherlock decided to fire Alfredo so they could be friends instead? Don't forget that you can watch Elementary online via TV Fanatic at your convenience.