Can we really believe David?
That's probably the biggest question after watching Finding Carter Season 2 Episode 2. There is little doubt that he had a connection of some sort with Lori years ago, but whether it was a one night stand like he said, more of a relationship like she said, or merging somewhere in the middle (which is far more likely) will mean all the difference to the Wilson family.
The longer lies linger in the air, the bigger the risk of exposure becomes and that's a chance David never should have taken, not once Lori was established as Carter's kidnapper and especially not after Carter first learned of their acquaintance.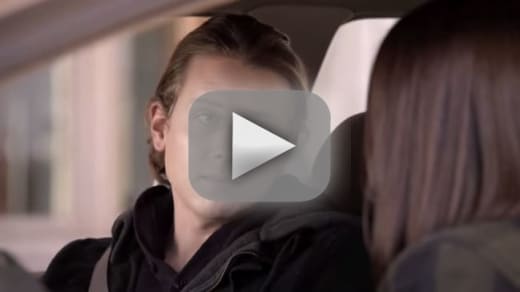 David never won my trust in the first season, so I'm kind of surprised at how willing Carter is to put her faith into him now. She pushed back at his request to keep his secret, but not nearly as hard as I would have expected. 
You have to trust me on this. This is not your burden to carry.

David
Carter has changed so much from the girl we first met. I've gone from wanting to slap her – a lot – to wanting to hug her and cheer her on from the sidelines. That David continues to mistreat her puts him in line for the (repeated) slap award. 
The way the two tales from David and Lori unfolded was brilliantly done. It was almost impossible to tell them apart unless you were really paying attention. To the casual listener, it was the same story; to the invested viewer, the layers are in need of being peeled apart and studied. There is too much commonality to dismiss either side out of turn and that's what will be the most fascinating part to the discovery process.
Unfortunately for Elizabeth, the most painful part will be the realization that the entire time they were tracking Lori for the crime of kidnapping their daughter, David had information he could have used to help and he withheld it. That, and his infidelity put them in the line of fire for the kidnapping to occur in the first place.
If they're able to survive that, it will be an outright miracle. If Taylor makes it out unscathed, yet another miracle will have happened.
Taylor is slowly falling apart at the seams, and it looks like she might become a lot like the Carter we knew at the beginning of Finding Carter Season 1. Not just yet, but she's not making good decisions, she's unable to think clearly and I think it's going to come down to the girl just wanting to have fun.
That's perfectly understandable, given what she just learned, but why, oh why, did she take it out on Max? What Max is going through is as intense as what Taylor is experiencing, and he was hoping to share it with Taylor.
Max: Taylor, we are different, but that's what makes us great.
Taylor: Maybe, but maybe not.
It's wonderful that Max doesn't want to be defined by the worst thing that's ever happened to him and it takes a hell of a lot for him to accept anything from Crash. Taylor doesn't get to be angry at him for deciding to let Crash try to make amends, however. She should support him just as he's always supported her. Sadly, her own wounds are too deep and she just doesn't see it.
I'm also worried that Taylor thinks pushing Max away is somehow good for him. The more people jumped in to help and free up her time, the more it seemed like she thought she was in the way or something. Signals were definitely crossed and communication got messy, but she needed to share what she was feeling. Or did she? My poor Taylor. 
Backing up for a minute, what the hell is up with Crash? Not only was it a complete surprise that he was out, but that Elizabeth knew he was out and didn't say anything. I really need to know the timing of all of these events. The story relies on the timeframes connecting and they're not adding up.
If Crash is out on bail, then I understand. But considering Max just got out of the hospital, Crash hasn't had the time to be tried and found innocent and for his uncle to have proven the case by way of a faulty safety mechanism on the gun. These things take more time than has passed to achieve.
While Crash is admirable in his desire to make it up to Max, the dude needs to wipe the smirk off his face and fast. He's on my slap list. He doesn't have the right to show up, smirking, to the guy he almost killed. A kid like him isn't scared straight in such a short period of time, either. Please don't make him Max's new best friend. That will be pushing the envelope just a little too far.
Other thoughts:
What if Taylor isn't Lori's? As a Twitter pal pointed out, she's the opposite of Carter. Could the odds be that Elizabeth naturally got pregnant at the same time she was implanted with an embryo?
It was good seeing the old gang again and I really loved the Welcome Back Carter party, even if Crash, well, crashed it. Now I know why he's called Crash. Dude is everywhere.
Is it too obvious for the person Lori is in cahoots with to have been David? If so, then who in the hell was it she was talking to on the phone? Any ideas? 
Then again, David wasn't keen on the idea of Elizabeth suing the clinic since Lori was able to track them down twice, first when the girls were little and then 18 years later. Was that because he's still involved?
How quickly will Elizabeth jump back into things with Kyle and can you blame her?
Would you want Carter to fall for Crash again or do you want her to continue being over him? Does his smug smirk drive anyone else crazy?
I'm a little worried nobody will notice Taylor's downfall since she's still quiet, even as she's slowly unraveling. 
So, what did you think of "Shut Up and Drive"? Are you worried for Taylor? Do you think David is still involved in some way with Lori? Should Elizabeth trust anything he has to say going forward? Are you as confused about the time frame as I am?
Hit the comments and remember, you can watch Finding Carter online if you need to go over it all again!
Carissa Pavlica is the managing editor and a staff writer for TV Fanatic. She's a member of the Broadcast Television Journalists Association (BTJA), enjoys mentoring writers, wine, and passionately discussing the nuances of television. Follow her on Twitter and email her here at TV Fanatic.