Forever Season 1 Episode 20 Review: Best Foot Forward
Paul Dailly at . Updated at .
Get out the freaking room, Abe!
Jo was clearly getting ready to admit to Henry that she wanted to go to Paris with him on Forever Season 1 Episode 20. Abe walking in really ruined the suspense for everyone. I will admit that if she had confirmed her feelings to Henry, it would have been a little premature.
I actually enjoyed Isaac on the show, but he and Jo are from two different worlds. He is a very materialistic guy and all of his comments seem to link back to his life being so much better than the rest of the world's. Just how much is the guy worth?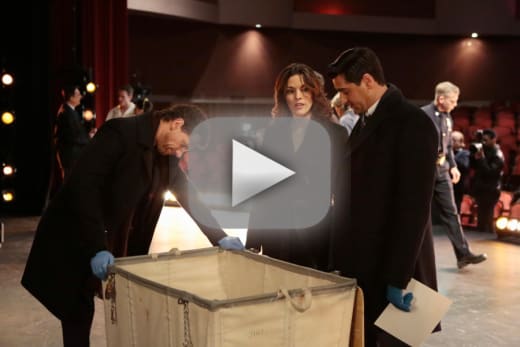 If he's acting like that with Jo, there must have been many more before her, so I think she made a good escape. It was good that the show didn't make him some sort of killer – There's still time!
Speaking of me enjoying Isaac, I was actually thinking earlier that Jo and Henry wouldn't make a good couple. I feel like the chemistry we witnessed in the first half of Forever Season 1 has faltered and they now have a relationship that would just be weird if they became romantically linked.
It could ruin the whole dynamic of the show, but I guess we'll never know until it inevitably happens.
The case of the week was interesting, but it wasn't without its flaws. I don't know if this is just me being skeptical, but I called Ava being the mastermind behind all of it the moment I realized that she was alive. That was all planned and I'm actually very surprised that Henry didn't click on to all of it much sooner. You're meant to be smarter than this, Mr Morgan!
The whole scene about lovers leaving notes on the statue made me cringe. Maybe that would have happened almost 100 years with Valerie, in Paris, but in the technologically savvy world of today, it wouldn't hold up. There'd be an app for that!
It was a good move to let Ava have her fame. There really was no evidence and since Javier accidentally killed himself concealing the truth, that was the only plausible way out. She reminded me of Jill from Scream 4; the chick who planned all the killings to achieve worldwide stardom.
The world of ballet sure is cutthroat; from being sponsored by the Russian mob (LOL), to having your foot chopped off just to be famous. It is amazing the lengths people will go to in order to be famous.
The normal one liners from Abe were notably absent this week. This is probably because of his search for his mother. The pairing of him and Lucas was a slick move. The two characters together were excellent. It should be interesting to see what became of Abigail and if she is really alive.
"Best Foot Forward" was good. Sure, there could have been some more realism to the case, but I knew we were long overdue for some flaws after a strong string without.
Remember you can watch Forever online, right here on TV Fanatic. Get caught up on all the drama now!
What's your opinion? How did you feel about the case? Do you think Jo should have told Henry how she felt about him? Hit the comments below with your views.
Forever Season 1 Episode 21 airs Tuesday April 28 at 10/9C on ABC.
Paul Dailly is the Associate Editor for TV Fanatic. Follow him on Twitter.