So. Many. Emotions.
Grey's Anatomy Season 11 Episode 20 brings back haunting memories for the doctors, all while foreshadowing what looks like another tragedy.
When a show has lasted as long as Grey's Anatomy has, it's important to remind the audience of the events that have shaped the characters throughout each season.
The plane crash from Grey's Anatomy Season 8 changed everything. It took away two beloved characters, changed the direction of Callie and Arizona's relationship, and ultimately, changed the hospital itself.
By the way, this is a tactic the show has used before. The mass shooting tragedy was brought up again later when patients of another shooting were brought in to the hospital, bringing up those memories for everyone involved.
Seriously, these doctors have been through a lot of tragedies. Bailey's list doesn't even cover them all.
Bailey: You and Derek went down in a plane, you drowned, he got shot, you gave birth in a power outage...
Meredith: Is this supposed to make me feel better?
Bailey: I'm just saying, you have every reason to be distracted. Every reason to think the sky is falling.
Revisiting that tragedy in "One Flight Down" is that much more emotional as we see how the memories affect Meredith and Arizona. That tragedy also affected everyone else in its way, and some of that comes out in this episode, too. Alex admits to Arizona that he's the one who actually cut off her leg, something he's felt guilty about all this time. Owen also still carries the guilt of the plane crash, feeling responsible for the entire incident.
This small crash in the middle of the city does two things: it brings back those memories, reminding us of the details of that story and it fleshes out the characters further; but it's also filled with foreshadowing.
The looming question since Grey's Anatomy Season 11 Episode 19 has been about Derek's disappearance, and all signs are pointing to another tragedy. From the flashbacks to perfect moments between Meredith and Derek in bed talking about their lives and their children, it becomes clearer that something bad is coming.
It's Richard's reaction to this current plane crash that solidifies that further. Throughout the episode, he retells the story over and over of how he watched the plane come down, seemingly more excited to tell it each time. April finally points out that he's exaggerating, and he tells her she's missing the point.
Let me tell you, it scared the hell out of me. Because the minute you see all the things you have, you see all the things you stand to lose.

Richard
Guys, if that's not foreshadowing, I don't know what is.
Meredith manages to do a pretty good job of holding it together, following Bailey's advice that she wait until 5:00 pm before she panics. Just as Meredith picks up the phone at exactly that time, we see her face as flashing lights from a cop car arrive to her home.
This doesn't look good, as is made more obvious from the previews for Grey's Anatomy Season 11 Episode 21, titled "How to Save a Life."
While we're talking about foreshadowing, I can't help but think of a scene early on in the series when Meredith, after just having decided to commit to Derek, had a nightmare that he died in a car crash.
Anything can happen on this show, but I guess we'll have to wait until next week to find out Derek's fate.
Other Thoughts:
Amelia and Owen are making me want to bang my head against a wall. I initially loved the idea of these two being together, but now they are just infuriating.
Maggie finding out the details of the plane crash is a heartbreaking moment, and it also shows why bringing on a new character can be useful.
What did you think of "One Flight Down"? Share your thoughts in the comments below!
Need to catch up on past episodes? Remember that you can always watch Grey's Anatomy online right here via TV Fanatic!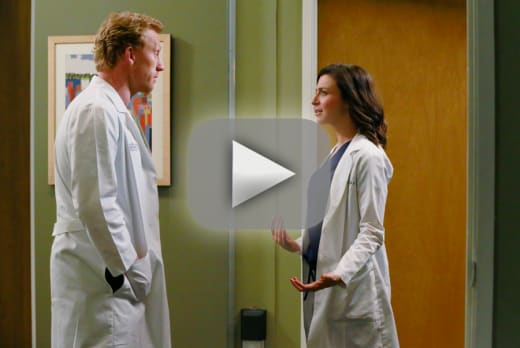 Ashley Bissette Sumerel was a staff writer for TV Fanatic. She retired in September 2017. Follow her on Twitter and on Google+.