I'm really not sure where to start.
Grey's Anatomy Season 11 Episode 22 manages to be both incredibly poignant and emotional, yet a little disappointing at the same time.
Something that I've appreciated about Grey's Anatomy Season 11, in general, is the way it has brought focus back to Meredith Grey's character.
First, we see how struggling in her marriage affects her. Then when Derek leaves for D.C., we see how she manages on her own – which includes a streak of successful surgeries and the chance to learn more about herself.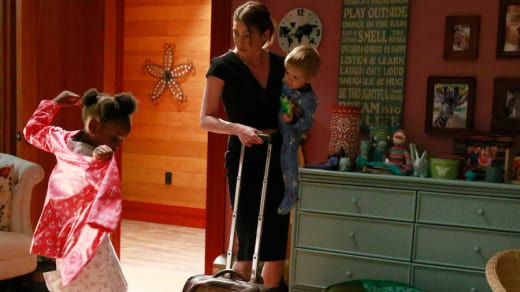 Even though this episode focuses on several other characters, it still revolves around Meredith. After breaking the news of Derek's death and attending his funeral, she inexplicably packs up her kids and takes off. All the while, there are flashbacks to her childhood when her mother did the same thing, as well as flashbacks to when Ellis Gray gave up her other child (Maggie).
The parallels are important because of how they are different. Grey's Anatomy, at its core, is about Meredith Grey becoming someone different than her mother. In "She's Leaving Here," we see how they both deal with loss... and with a new baby in the absence of its father.
That's right, because if Derek dying wasn't enough to make us cry all sorts of tears, now we know he was also about to be a father again. A major time jump shows moves us through several holidays, then brings us to Meredith having pregnancy complications. She's bleeding, and Zola asks if she should call 911.
The scene mirrors Meredith's flashback of watching her mother try to kill herself, and Zola is a parallel to young Meredith. The difference? Meredith isn't trying to take the easy way out. Maybe leaving wasn't the best idea, but she's powering through all of this the only way she knows how.
This episode also pulls at our hearts with plenty of MerDer flashbacks, and the final scene when Meredith puts on Derek's ferryboat scrub cap. She is going to be stronger now, all with the memory of the man who made such an impact on her life, particularly by helping Meredith to be someone who was different from her mother in the first place.
Amelia struggles with Derek's death in a different way. As time passes, we see that she isn't really dealing with it all. Instead, she's focusing on work and making inappropriate jokes. She finally breaks down when Owen returns from oversees (again, major time jump going on), first pulling out a bag of pills that she hasn't yet taken, then finally crashing to the ground in tears.
Kudos, as usual, to Caterina Scorsone for portraying such difficult emotions in such a raw way. On top of that, I think we might finally see Amelia and Owen together as they should be – particularly since we now see just how good for her Owen will be.
Okay, now for the part where I rant.
The male lead of a show that has been on for eleven seasons has been killed off, yet a large amount of time is spent focused on other things. That's not to say it isn't important to see how the characters move on, particularly since his death affects everyone, but this episode simply tries to do too much. And that's saying a lot, since it happens to be two-hours long.
There is so much focus on other characters and other stories that opportunities are lost. We only see a glimpse of the funeral, with no appearances from people who would have certainly been there to remember Derek (such as a Cristina and Addison). At the very least, I'd have liked to see more than just a brief overview of people trying to console Meredith after the funeral. It's a disservice to Derek's character not to spend a little more time honoring him in that way.
I do, however, see the importance of April going oversees with Owen, Bailey and Ben talking about their futures, Richard and Catherine finally getting engaged, and so on. It shows that everyone keeps on with their lives. Ahem, the carousel never stops turning.
That time jump also appears to be remarkably similar to the one used after George died, which showed a daily progression of how each character handled that loss, as well. In fact, Lexie's death was also followed with a time jump, as we held on to see if Mark Sloan would make it. So, at least there is consistency.
It's also clear from the previews for Grey's Anatomy Season 11 Episode 23 that the characters will continue to deal with Derek's death beyond what just one two-hour installment can do, so that's something I am looking forward to.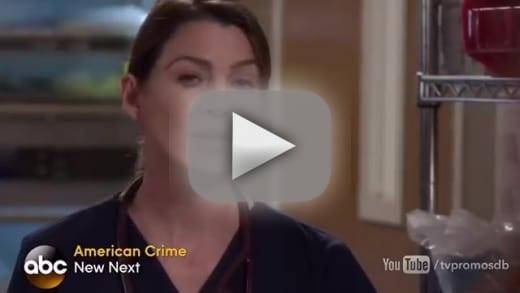 What did you think of this episode of Grey's Anatomy? Share your thoughts in the comments below!
Need to catch up on past episodes? You can always watch Grey's Anatomy online right here via TV Fanatic!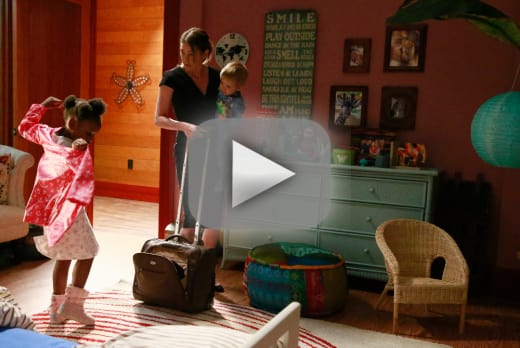 Ashley Bissette Sumerel was a staff writer for TV Fanatic. She retired in September 2017. Follow her on Twitter and on Google+.