Hawaii Five-0 Season 5 Episode 20 Review: Instinct

Amanda Wolf at . Updated at .
Happy Friday everyone and welcome back Hawaii Five-0! After leaving us for two weeks H50 came back swinging with two deaths in one hour, and it was fantastic! 
Hawaii Five-0 Season 5 Episode 20 pitted Grover's intuition against the doubt of the rest of the team, and it made for a very compelling case that focused on a character who doesn't get a lot of screen time to himself.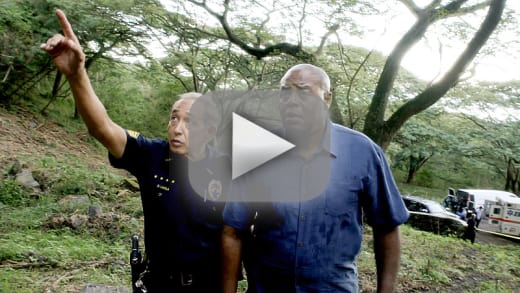 Normally I am not a fan of this, but I actually liked the characters splitting up into teams to tackle two cases. Unfortunately, Danny and Mindy really didn't have much of a story.
I have seen many things happen in elevators thanks to Gossip Girl, but I have never seen anyone conduct an autopsy. I guess it didn't matter considering the body barely got any screen time or mentions. I can only imagine how humid it must have been in there. 
Nothing takes your mind of your stomach like an autopsy.

Mindy
On the flip side, Diane's death and the subsequent investigation were intriguing enough to make this a great installment.
Grover and Clay had been friends for 20 years and I was shocked and very intrigued by how dead-sure Grover was that Clay killed Diane. At first I thought Grover was obsessing, especially when everything he was saying was so circumstantial with no motive and no evidence. At the same time, Grover is a cop and relies on his intuition, which is usually right.
I don't think I would trust mine enough to do the work of a cop so props to him. 
Steve: Every day you and I see people at their worst so it is natural to be suspicious. But I gotta tell ya, there is nothing here that points to anything other than an accident as far as I can see.
Grover: And what about a cops intuition. Huh? What about that?
Steve: Well, I absolutely believe in that. But I also know that really bad things happen sometimes for no reason at all.
When Grover told the story about Clay lying, I understood why Grover was suspicious of Clay. He had never seen anyone who could lie with such conviction and confidence and play with someone's emotions so perfectly. You have to believe a lie to be able to sell it. 
However, if Grover saw such darkness in Clay's character, how could he continue to be friends with him? Or was he always on edge around Clay? Or was it convenient that they didn't see each other that often?
I really enjoyed Grover and the edge this case brought out of him. He trusted his intuition when no one else supported him.
In the end it was clear that a lot of his anger came from the fact that he was insulted that Clay thought he could use him to get away with the murder. His speech to Clay in the interrogation room about how he would use everything in his power to put him away was intense. However, the scary part is that Clay might actually get away with it due to the lack of evidence. 
On a lighter note, did anyone else notice that the wives were dressed to the nines while Grover and Clay were wearing casual Hawaiian shirts at dinner? Come on guys!
At least it looked like it was one hell of a night judging by the wicked hangover that Grover woke up with. It would have been a good day with the kids gone, but crime always gets in the way of the team's personal lives. I really felt bad for Grover at the end when he was crying to his wife. This case clearly took a toll on him. 
A few bits:
Someone does have a normal relationship with a significant other on this show! Hooray Grover! 
The medical examiner sure was texting Grover a lot about the autopsy.
Steve was looking especially fine, but that may be the two weeks absence talking.
Danny had a whole few minutes of screen time. 
Were you as much of a fan of this Grover centric hour as I was? How happy are you that Hawaii Five-0 is back? 
If you haven't yet, make sure you watch Hawaii Five-0 online via TV Fanatic!