With holidays, many things are bound to make an appearance, including food, fights, and family.
The Villanueva Easter was no different. 
On Jane the Virgin Season 1 Episode 18, Rogelio's mother made her grand entrance and proved just where Rogelio got his personality from.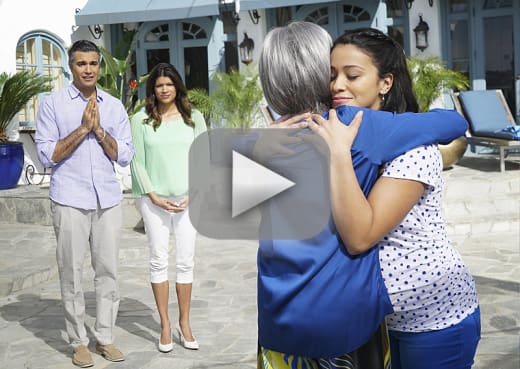 Rita Moreno was a perfect addition as Rogelio's mom, Liliana. She was everything you'd hope for the mother of a character with such a big personality. She had the right amount of sass and liveliness you'd expect.
With such an important person coming into Jane's life, I was expecting some more bonding time between Jane and her new grandmother. However, most of Liliana's story was centered on her animosity towards Xo. It turns out Liliana's hate was caused not by Xo scorching her cat, but by a certain lie Rogelio told.
Poor Xo, all those hoops she jumped through to try and please Rogelio's mother only to find out it was his mistake that caused it. Because lying about the truth of his daughter seemed like a good idea?
Rogelio: I will tell her.
Xo: When?
Rogelio: On her death bed.
But Liliana had plenty more to say, like how Rogelio and Xo won't last. Her arguments were valid, especially after the disaster that was Jane the Virgin Season 1 Episode 17, when Rogelio chose not to reciprocate Xo's feelings after they moved in.
I guess Liliana's disapproval was the kick in the pants Rogelio needed to tell Xo he loved her. However, this was after Xo kissed her ex-boyfriend, Marco. Uh-oh. 
While Xo dealt with Rogelio's mom, Jane dealt with continuing feelings of doubt for Rafael. The man continued to put business ahead of their child and relationship. Jane even had her little doubt angel expressing everything she wasn't saying out loud. The angel had just as much sass as her father and grandmother. Her inner self really is a De La Vega.
Rafael eventually took a hint, but it was too little too late after the meeting with his mother. After everything he'd gone through, Rafael needed someone to lean on. That person was not his mother. Rafael learned that his mother chose a giant wad of money over her children. Poor guy; will he ever catch a familial break?
All of that anger and alcohol, unfortunately, was brought into the issues with Jane. He felt that they should focus on being parents rather than a relationship, and that sent poor Jane into a puddle. This definitely isn't the couple we saw share the ultimate romantic kiss under the flower tree.
For Petra, she turned any focus on her returned feelings toward Rafael and shined them on her revelation of the Aaron/Roman switch. I'm glad she brought Michael into it because now, at least, someone can help her as she is seemingly held hostage by Roman. Ironically, it looks like the roles could be reversed on Petra now that she could be kept hostage.
I'm interested to see what the real Roman has in store now that Petra is in on the reveal. Will he bring her into whatever he's planning or keep her hostage as to not spoil what he has planned?
While Michael wasn't solving crimes with Petra, he showed some growth as he moved on from Jane and she did not seem pleased. However, is that because she's jealous or she knows Andie is the ex? Things are bound to change now that Rafael and Jane are (temporarily?) not together, though it looks like Jane is going to fight for Rafael; which I'm sort of rooting for. For now, at least.
Do you think Jane and Rafael will get back together? Should Xo tell Rogelio about the kiss with her ex? What will Roman do now that Petra knows the truth?
Next week on Jane the Virgin Season 1 Episode 19, Jane tries to deal with the break up with Rafael while also navigating the end of the rest of the pregnancy.
If you've missed anything, while we wait, make sure you catch up when you watch Jane the Virgin online via TV Fanatic.
Mary Kate Venedam is a staff writer for TV Fanatic. Follow her on Twitter and on Google+.