Sometimes relationships can't be fixed because both people don't love each other.
Other times relationships can't be fixed because they DO love each other.
On Jane the Virgin Season 1 Episode 19, Jane desperately tried to work things out with Rafael, but his mind was made up.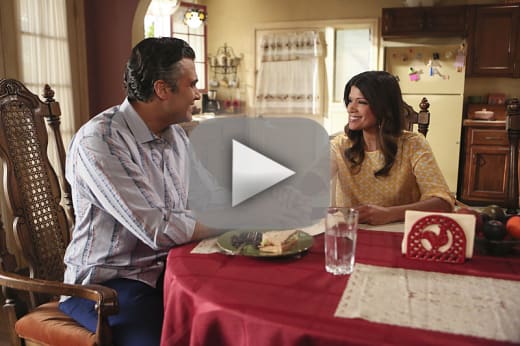 After everything Jane tried to do to hold onto her relationship with Rafael, he still broke up with her. Brutally, I might add.
While I understood Jane's persistence, there was no way she was going to change Rafael's mind. 
I loved all the past Janes rooting for present Jane to make things right. I also liked the moment where they all left the room after Rafael broke up with her. It's little things like that that make me adore this show. 
Thankfully she didn't go through with having sex with Rafael because she would have regretted it for sure. 
Jane's exchange with her mom the next day was lovely because it highlighted that even though Xo likes to give Jane a hard time, she's knows her daughter.
She knows who she is and wouldn't want her to change for the wrong reasons.
Xo: Well, honey, you can't compromise who you are.
Jane: A virgin is not who I am.
Xo: But it's important to you.
Jane: So is Rafael. I love him. I want it to work.
Xo: And you think having sex with him will make it work?
Jane: What's your problem? You have been bugging me to lose it for years.
Xo: Eh, you waited this long.
Rafael's reasons for not wanting to be with Jane are valid. He can't be the man Jane needs right now and the only way to push her away is to tell her he doesn't love her the way she loves him.
However, Rafael may have been too convincing because he might have just sent Jane back into Michael's arms. 
It took less than a minute after Jane told Michael about her breakup with Rafael for him to tell Andie he didn't want to pursue anything further with her.
Even though Andie is his ex too, his heart clearly belongs to Jane. 
In other breakup news, Xo telling Rogelio about her kiss with Marco was too little too late. If Amanda hadn't kissed him and he hadn't felt guilty over it, then Xo wouldn't have told him.
Although, you have to wonder if Rogelio would have acted the same way even if his kiss never happened. Rogelio is a pretty self-centered guy, so I think he would have acted just as upset.
Okay, then this photoshoot, like our relationship, is over!

Rogelio
There were some big reveals tonight including one fans have suspected from the beginning,
Turns out Nadine had been working for Sin Rostro... but only because her family would have been in danger. 
Michael looked absolutely devastated to be betrayed like that. Even if her family was threatened, I'm sure she could have confided in Michael and the police department, and they could have worked with her to take down Sin Rostro.
The other big reveal is that Alba finally remembers the night she fell down the stairs after seeing Magda with Petra. This revelation will surely play a huge role in the final episodes of the season.
Petra's need to bring her mother back isn't a surprise. She doesn't have many people to lean on, and Rafael's dismissal of her phone call drove her to the only other person in her life. 
I actually felt really sorry for Petra. She just went through something traumatic and she thought she could talk to Rafael. However, Jane has been and will mostly likely continue to be his priority. 
Should Rafael have broken up with Jane the way he did? Did Rogelio overreact to Xo's secret kiss? Will Jane get back together with Michael before the season finale? What are your predictions for Jane the Virgin Season 1 Episode 20? 
Don't worry if you've missed anything because you can watch Jane the Virgin online anytime via TV Fanatic! 
Amanda Steinmetz was a staff writer for TV Fanatic. She went into retirement in June of 2027. Follow her on Twitter.