When Kenzi sacrificed herself at the end of Lost Girl Season 4, we knew Bo would do whatever necessary to save her bestie, to save her heart. In Lost Girl Season 5 Episode 1, we see we were right. No obstacle, no enemy, no warning and no Valkyrie would get in her way.
Yet, Tamsin certainly tried to thwart her and you had to wonder why. Now we know, in part, that Tamsin didn't want Bo to see the monster she is when she's home.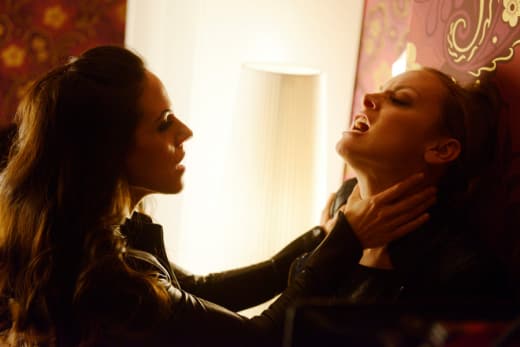 Thankfully Bo was able to snap the violent Valkyrie out of her rage. Tamsin has become someone we love, if not entirely trust, and to see that little girl lost tearfully confess that her family wasn't in Valhalla but with Team Bo made it easy enough to forgive her her ax-wielding, hilarious Shining impression of Jack Nicholson. 
Here's Taaaammy!

Tamsin
Seeing Kenzi enjoying hotel hell was a nice twist. Instead of torture, she had every creature comfort at her fingertips, along with couture, chocolate and a Goonies prequel! What more could a girl want? Oh yeah, her dead boyfriend.
After seeing Bo and Kenzi at odds last season it satisfied my soul to see their verbal parrying, shared sisterhood and deep affection again. And when it seemed that Bo might leave her there for Hale, I almost panicked. Of course she would want Kenzi to be happy, but Kenzi and Bo are are two halves of a whole and I didn't want to see them parted again. 
Bo: You ready?
Kenzi: To get married, dead? Yeah, it's what every little girls dreams about. Let's do this shit.
I thought Kenzi's release of Hale was too pat, too easy, but I was glad she wanted to return with Bo. And may I just say she may be the most stunning bride ever. That gown. That back. That hair. Those eyes! Ksenia looked like an Audrey Hepburn princess. Utterly breathtaking. And though her bridal beauty is now buried six feet deep, I know Lauren and Dyson have this.
Bo, on the other hand, is getting ready to meet big bad daddy, whoever that may be. He wants her to raise an army to take out the world. That's hardly a father figure for a girl to look up to. She may be in over her head, but I pray this storyline doesn't keep her from her peeps like last season, because the show is always at its best with the collective core group.  
I miss some of the simpler monsters-of-the-week storylines. Things needn't always be so cataclysmic, end-of-the-world, apocalypse impending, over-the-top.
I prefer when the writers focus the stories more on the characters, their everyday lives and their feelings for one another. The cast has such an amazing rapport and synergy that when the show shifts the focus to a single character it falters and falls flat. That sucks and not in a good chi kinda way.
Hopefully they'll dispatch this baddie as a unit and then get back to the basics that made Lost Girl such a sexy, fun, fresh show. Seeing as this is the last season, I'd like to see it go out the same high caliber way it came in.
If you missed Bo and Kenzi's reunion you can watch Lost Girl online.
What did you think of the season premiere? And what are your hopes for its final season? 
Terri Clark is a staff writer for TV Fanatic. Follow her on Twitter.