Madam Secretary Season 1 Episode 21 Review: The Kill List

Tanya Moat at . Updated at . Comments
Juliet was back and causing all sorts of problems for Elizabeth on Madam Secretary Season 1 Episode 21. We honestly don't know that much about Juliet beyond her being a former colleague and friend of Elizabeth from her CIA days.
Of course, she is also a traitor.
While Elizabeth felt betrayed at the deepest level, I felt more surprise than anger or hurt when it became known that she was the traitor. Tonight didn't give us any clarity as to why she committed treason, but we will know the answer very soon.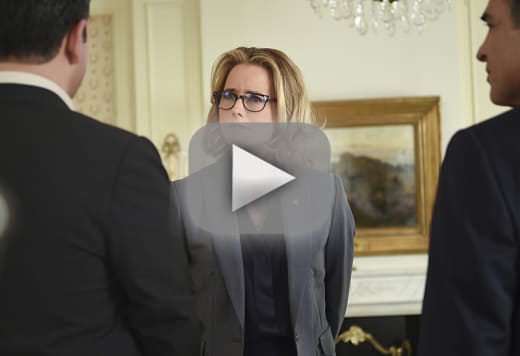 Even though Elizabeth was still struggling to reconcile Juliet's actions, when the time came to put her in the cross hairs, she ultimately agreed.
Dalton: We're talking about you participating in the execution of your friend. You're sure you're okay with that?
Elizabeth: Perfectly.
I was surprised she capitulated so quickly and with as little argument as she did, but inside, it appeared the struggle was a bit more intense. 
Henry: You don't want Juliet to die.
Elizabeth: Does that make me a traitor?
Henry: No. It makes you human.
Henry's right. It would hard to reconcile her past memories of Juliet with who she is today. Add in seeing her hurting family would make it even tougher, especially since you have to constantly lie to them. 
I am a little bit confused about Juliet's ex-husband. It was my understanding that they were divorced and Juliet had, in fact, recently lost custody of the kids because of her job.
This wouldn't prevent his concern or confusion, but it played like they were still married. Given that he went through the work of getting full custody, I would have expected him to also have an attitude of "this is why I got custody in the first place" mixed in with some concern and confusion. He acted more heartbroken.
I also found Elizabeth's response to Ahmadi's situation a bit curious. He was scheduled to be stoned for being gay while the Iranian President signed the peace treaty at the White House. 
We have seen Elizabeth weigh the "greater good" when it comes to lives before. She tended to value every life, which was why her desire to postpone the stoning, rather than first attempting to stop the stoning, surprised me. In fact, it kind of bothered me.
It wasn't so much that they couldn't stop it, but her desire to postpone rather than try to stop it. She had always done the impossible before, but a signed peace treaty seemed to trump everything else. 
I don't doubt that a signed peace treaty that was upheld could save countless lives. I also know that I had tears in my eyes when Jay explained what happened when someone was stoned.
Once immobile, he'll be pummeled with stones the size of tangerines, specially chosen to inflict maximum pain but not too big so he won't get knocked out. His ribs will snap and break into pieces, lacerating his liver and kidneys and liquefying his spleen. And if he's lucky, his lungs will fill up and he'll drown in his own blood. But if not, he could be conscious for up to 2 hours and his body is pushed to the human limits of agony.

Jay
This wasn't news to Elizabeth, she was in the CIA after all, but she held firm. This did seem slightly out of character for her. Or maybe it wasn't quite as easy as she let on. Perhaps, it was easier to live with when she thought of the Iranian Peace Treaty as being President Dalton's legacy, not her's. 
Elizabeth: Who knew it would be so hard forging your legacy?
Dalton: This isn't just my legacy, Bess. It's ours.
Elizabeth: That's very nice of you to say, sir. Thank you.
Did she want her legacy to include the stoning of a gay man? She knew it was no accident that Iran simultaneously scheduled the stoning to coincide with the signing of the peace treaty. They wanted to send a clear signal that they won't kowtow to the United States, either. 
As she told her therapist, she should be elated because this was her one mission when she took over the job, but she's not. She's scared. 
And now I can't stop thinking ... that this treaty I fought so hard for, that people close to me died for, is really all a big mistake?

Elizabeth
I can't wait for the season finale next week. What did you think about tonight's episode? Did you suspect Juliet was in DC? How will she respond when Elizabeth asks her "why?" Don't forget you can watch Madam Secretary online via TV Fanatic if you missed tonight's exciting episode.
Note: Madam Secretary Season 1 Episode 22 airs on May 3.